the pop up festival site is popping up!
So I know you've already written this weekend's Pop Up Festival into your diaries…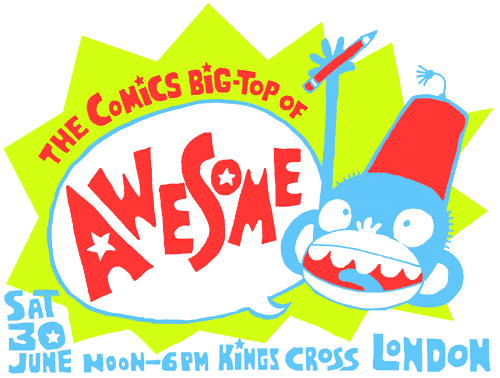 …and I thought you'd like a peek at how the site is coming along! Here's a map of the location, Granary Square, next to Central Saint Martins art college, and about a five-minute walk across the new build area from Kings Cross and St Pancras stations. Granary Square is a huge covered area, so rain or shine, the festival will be AWESOME.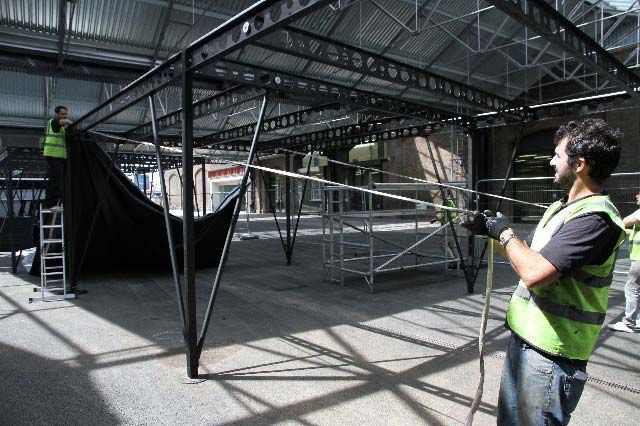 Find out details of the day's events and our comics line-up here!
Edit: We have lots of Phoenix Comic creators on our team! And for top-notch creators, there's news just in from the Phoenix Headquarters: We're on the look out for more standalone feature four-pagers. And ideas for genius one-off puzzles. So if you're very good at making comics, have a think about it! Details here.

And while I'm at it, here's a peek at some of the Pop Up curators, past and present. We met up last night at a social for the Society of Children's Book Writers & Illustrators. This is a great organisation to join if you make books, comics, do school events, etc, and want to meet other like-minded people and find out more about the industry. The events are always very serious, as I'm demonstrating here with Astrosaurs creator Steve Cole and last year's Pop Up curator (the Upside-Down House!) writer Philip Ardagh. I've just spotted a meteor falling straight toward the Young Vic bar, where we met. Run, everyone!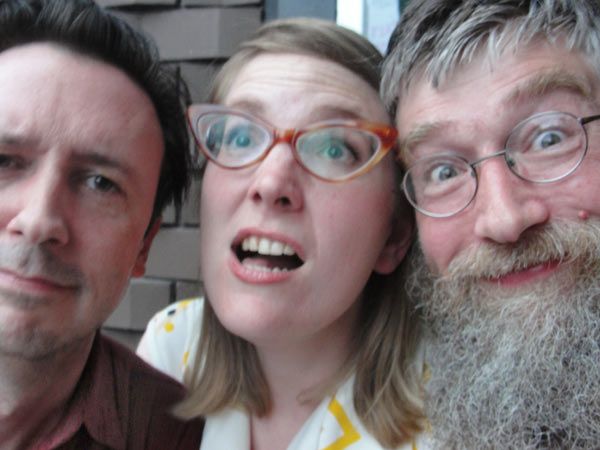 We like to examine our work through lots of different lenses.
Writer Candy Gourlay did such an awesome job with Pop Up last year that the team have asked her to do it again! I can't wait to see her Beanbag Cinema and Filipino-style FIESTA! Here she is, chronicling the SCBWI proceedings.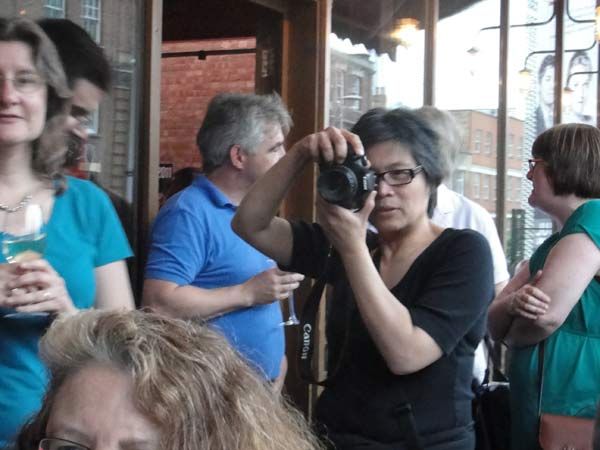 That's Jackie Marchant on the left, who's just about to launch her first book with Macmillan, I'm Dougal Trump and it's Not My Fault. We all took photos with the book looking absolutely thrilled, as I'm sure we will be when we've read it. Looks good, Jackie!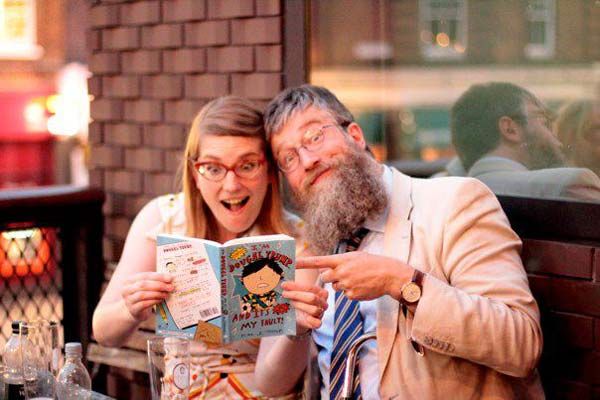 Photo by Candy Gourlay
Of course, Philip can't give a straight compliment, oh no. It pains him so.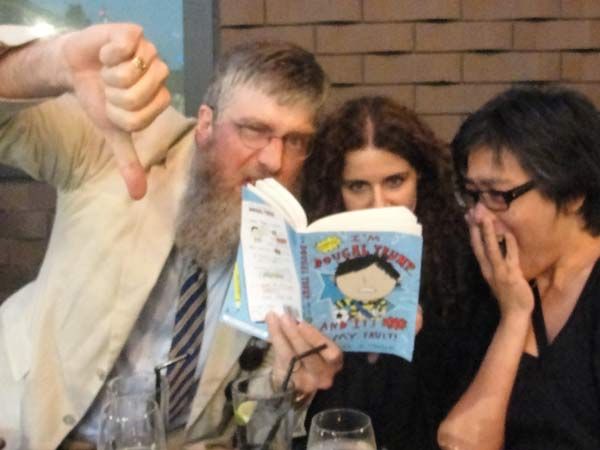 And Candy with writer, illustrator and puppeteer extraordinaire Sue Eves (who, sadly, didn't bring along her puppet dog that evening, even though lots of people were asking).
Elissa Elwick had a very dodgy photo of her with the Ardagh beard as a wig. You can find a slightly more subdued version of the photo if you trawl her lovely blog.
Writer Steve Hartley had come down from Manchester for events and came for the drinks. We aren't quite as close as this photo might suggest…

Photo by Candy Gourlay
…even though I have been inside his pants and touched his giant bogey.
Here's writer Anita Loughrey, who organised the evening. Thanks, Anita!

Photo by Candy Gourlay
See you this weekend at the Pop Up Festival!