blubbering in an oxford coffee shop
Saturday night was great fun, seeing Sally Nicholls launch her first novel, Ways to Live Forever. I read it on the train up to Oxford today, and I was a little early for my meeting and managed for finish it in a coffee shop. Fabulous book… VERY bad idea, reading it right before a meeting! I got all caught up in the story, weeping copiously, and since I'd already got soaked in the rain walking from the train station, I cut a very sorry figure when I hauled myself into the publisher's office. I met up with the publisher, my editor, and a designer who'd come all the way from Brighton for the meeting! I think we covered a lot of ground and it was all very exciting. Here are a couple pics from the launch, of Sally and her mum.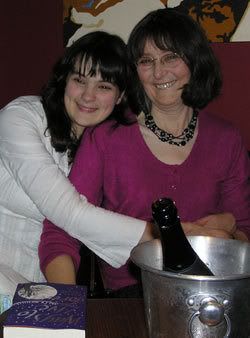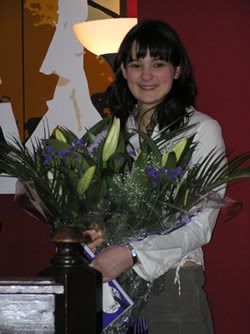 Maybe you remember that little story I wrote for a writing competition. I just got sent this badge thing to tell me I won third place. Hooray!

My friend Dan's been helping me update my website recently, with some new pictures in the gallery. People might recognise a lot of them as pieces that started out as experimental pieces for my blog and ended up as proper portfolio pieces.
And I was going through my Christmas cards the other day, and Japan won hands down for the best stamps. Here's my most favourite: