wow. wow, wow, wow.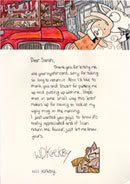 Will Kirkby, you totally rock my world!!! It is wonderful and humbling to find someone who can paint Vern and Lettuce ten times better than I can! 😀 Look at those moles on the Routemaster!!


I am so happy I almost don't know what to do with myself. I think I will go run a Chinese fire drill around my apartment block and whoop so madly the neighbours call the guys at the Maudsley hospital.
The unfolded A4 sheet came with this pink label appropriately stuck to it, and he made this drawing on the packaging. (For the boat and jacket reference, go read Will's The Sea comics at chamonkee if you haven't already.) Awesome.