world book day tour, part 3
At Winchester House School, they don't go for inelegant little things like microphones, they have much more eye-catching amplification devices.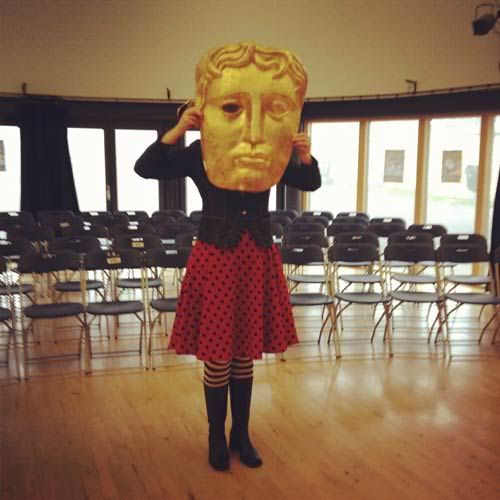 For World Book Day, I did storytelling, character design and comics workshops with the kids, and I was glad to get their feedback from Director of Studies Louisa Farrow. She wrote:
The children I have come across since were genuinely enthused and there is now a rash of comic book drawing which is wonderful to see. On Friday afternoon, when I was talking to some of the children about your talk, they all got their sketchbooks out and started showing me their drawings inspired by your work. Here's a particularly lovely comment:
'I learned that you don't need to be famous to publish a comic – just make one!'
And when I asked what was the best thing another boy said, 'She got involved with us.'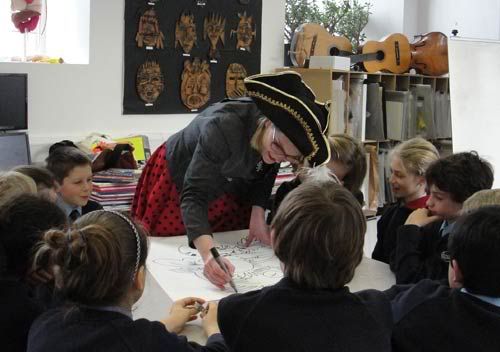 Some other comments: 'I learned how easy it is to make a comic and how much fun it is.'
'I learned to be more free with my art and that less detail could be more effective.'
'She was very imaginative, funny and an awesome drawer.'
So, Mission Comics Ambassador accomplished! I advised the kids that the best way to learn how to make books and comics is simple: make books and comics. All they need is a sheet of paper and, to self-publish, a photocopier. If they make lots and lots of books and comics, they'll get better and better and eventually someone else may want to pay them to publish their work.
Winchester House turned out to be a very fancy school! I started to guess that when I got to the entrance and saw the packaging:
I think they might be growing those kids organically as well, but I don't think they taste just like chicken. (I didn't check.)

I did several sessions, and here's some comics we made with the smallest group, in the art room. I had them design characters, led them in a Comics Jam, then started them off on making their own comics that they could self-publish as easily as taking them to the photocopier. They all made some bright covers to house their comics:
Here are some of the Comics Jams we did; each panel is drawn by a different person.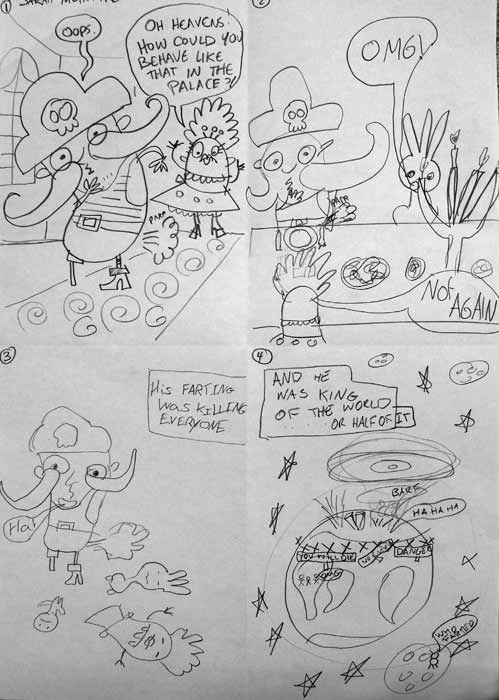 Halfway through the session, a newspaper reporter came in and took some photos. He had me sprawl dramatically across the table… just as I would in any of my comics workshops, of course.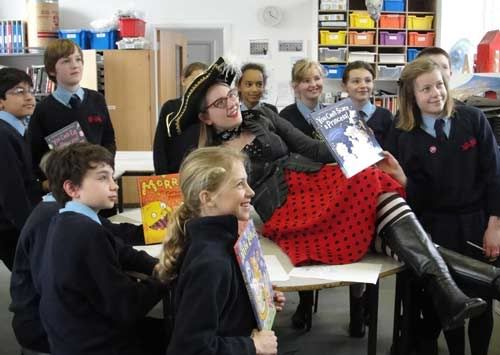 Do you see the guy taking a photo in the top left corner here?
Well, that's the art teacher, Tobias Till, and he does AMAZING printmaking work. I came back and looked at his website and was gobsmacked. Remember how I was playing around with some lino cut work? Well, I'd love to attend some of Toby's workshops, those kids are very lucky. Here are a couple samples from his website. Part of a London A-Z: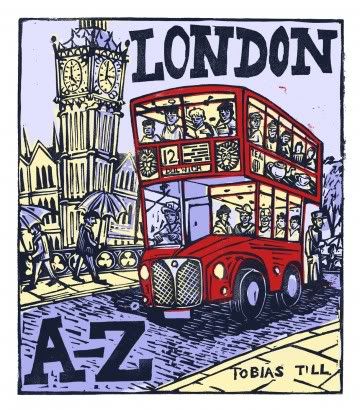 An incredible depiction of the view over London City Airport:
And here's the art block, in the converted old stable buildings: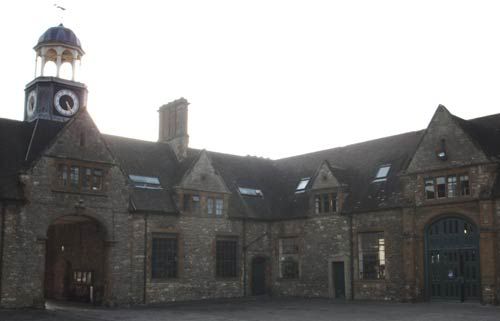 Thanks so much to Toby and to these two women, Louisa Farrow and publicist Louise Stothard, for making my visit such a success!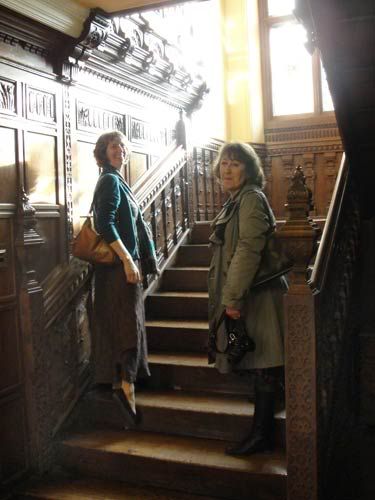 I had fun nosing around the place, the architecture has a lot of intriguing little details. The figure on this reminds me of an old comic my grandmother used to have, about a tin soldier and a paper ballerina, who are watched over by a fierce satyr carved into a wardrobe. I used to dream a lot about that figure.
Ha ha, even the water was fancy! And we got fresh lychees for our picnic lunch, yum yum.
Louisa took Louise and me on a little tour at the end, and I took a few photos. The lunch room on the right used to be a boxing room.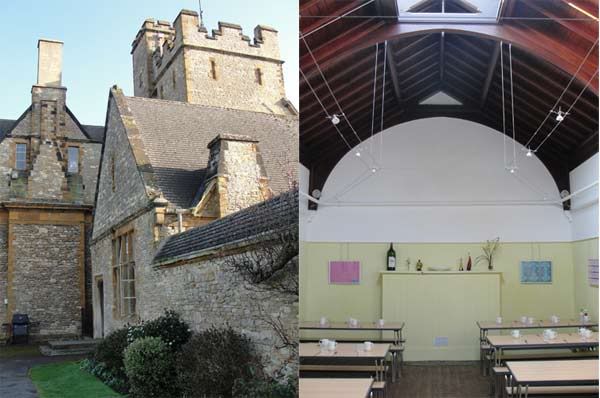 But I was disappointed, their fireplaces were rather understated.
When we finished, Louise and I popped by another school's hall for the launch of Niki Phillips' first book, self-published with Matador, called The Liffy Flows On By. (The school kids had baked their own scones and were serving a cream tea to the adults, which was rather lovely.) Niki's done loads of research into her husband's and family's past, and the war, and written a story based on those characters. After what I'd been telling the kids about self-publishing, and just going for it, it was great to see someone who'd done just that. (Here's an interview with Niki Phillips.)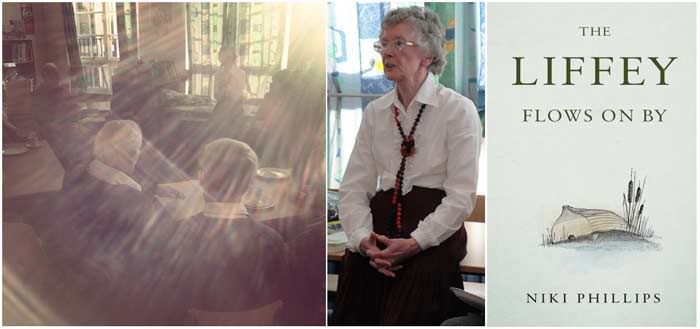 And then it was time for this pirate to go home, very tired, but pleased to see so many kids getting excited about writing and drawing and stories. I hope some day I'll run into one of them at a comics festival or one of their book launches and they'll say, 'I remember when you came to my school and we made comics together.' That would be very cool.