work past and future
Thanks so much to Armadillo magazine for reviewing the six books in the DFC Library, and particularly for their write-up about Vern and Lettuce here! You even get a peek at one of the pages. (The tower block in the second panel is based on the Clifton Estate in Peckham.)
The Amazon link goes to Monkey Nuts instead of Vern and Lettuce – also a FINE BOOK! – but here's the working link.
You might have read the writer and illustrator Philip Reeve's somewhat pessimistic blog post about the future of the book. When I read it, I was about to write a comment, but then I realised I had no way of knowing where the book would be in 40 years or so. So I decided to wait 40 years and then send him a letter about how books are all the rage now. I dashed it off, it's just a bit of fun, but Philip's posted the whole thing over here on his blog: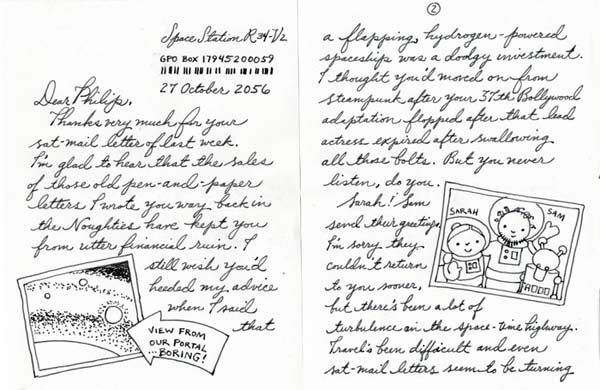 Click here to see the whole letter
Just a couple other things: Someone's made a LEGO version of the Cutty Sark clipper ship! (The Cutty Sark is one of my oldest clients. Before the fire, I used to be Ship's Illustrator! (There's a rather long story in that.) I hear that restoration work's progressing well.
And I'm bookmarking this link to The British Postal Museum & Archive. So many lovely stamps, posters, cards, envelopes and photos to trawl through, and I'm such a fan of real letters on paper. My New Year's Resolution at the start of this year was to write more letters, and I made a comic/short story about it that you can read online called Dear David Lasky.