weekend doings
Okay, I'll start with some random sketches I made: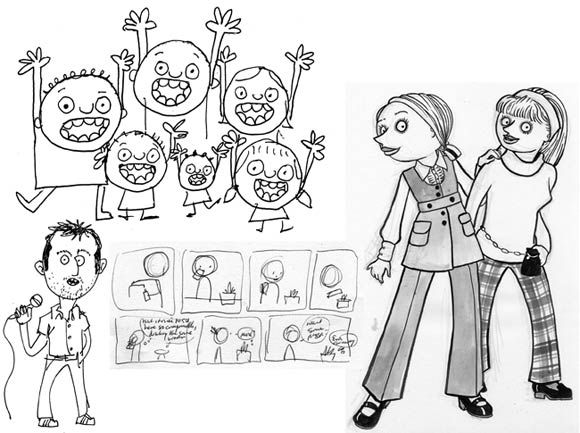 You can read some newsy updates about the Caption comics festival in Oxford this August over on Bugpowder and on Forbidden Planet. (I'm going to talk about cross-over stuff in the picture book and comics industries.)
On Friday night, I went to see work by an American living in London, Charles Michael Reid. He'd be doing some on-site installation work for the past week at the House gallery in Camberwell, where I used to work. His artwork draws hugely on comics, and there's some great stuff on his website here. If a certain funding comes through, we're really hoping he can stay on to coordinate exhibitions in the House gallery space.

DFC buddies Emma Vieceli (emmav) and Gary Northfield both had their big birthday parties on the same day! So I went party hopping with John Aggs, Viviane Schwarz and mondoagogo.
Confession time, Gary, I was supposed to give this card to you from my neighbour friend, but I mislaid it… so it will come to you a little bit late! Eek. But isn't it lovely?

Here's Gary with his dad:


And one of Viviane, who discovered the German Deli near Borough Market on her way to the Anchor pub on the South Bank. She bought rusk crackers with a rather disturbing child on the label, some hyper-caffeinated chocolate in a cool tin and some fizzy babies-breath-flavoured drink mix.

Polaroid! Here we are, deep in discussion about coming up with a studio name which combines the fact that we've all been doing sheep comics and will be based in an old police station.
Emma's party was in an amusingly goth pub called Ben Crouch with Hammer horror soundtracks in the toilets.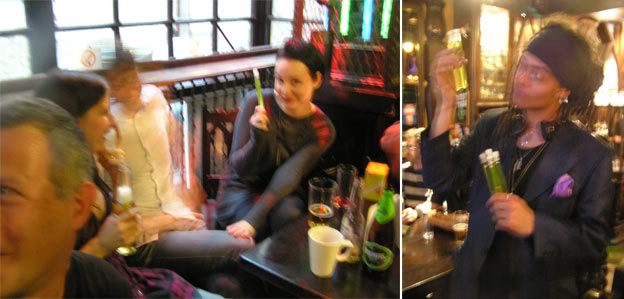 John bought some toxic green sludge in test tubes, which Anna and I were suckers enough to glug. Here you can just about see Emma and Marc Ellerby (burnt_jamb). And John, with his evil potions.
Remember that adorable hamster at MCM Expo? Well, I met her properly this time! Her name's Joanna Zhou, she's part of the Sweatdrop Studios collective, and she makes those gorgeous Momiji dolls that I am always wanting. She gave a hamster Momiji doll to Emma for her birthday and I was falling over with the hamster cuteness.