walking with dinosaurs and alex and a few sphinxes
This morning I met up with writer and illustrator Alex Milway to discuss some planning stuff for the Crystal Palace Children's Book Festival. This year the theme's going to be MONSTERS and feature COMICS! (Sat, 23 Oct, mark your diaries!) Last year Garen Ewing did the poster, showing one of Crystal Palace's big dinosaur's on the communication tower, so I thought I'd better get over there and see the dinosaurs to make this year's poster, and Alex gave me a great tour.
So far I've only drawn a few dinosaurs on the train ride back: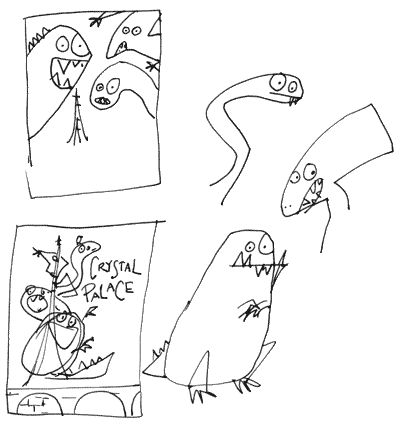 The park in Crystal Palace is amazing, it was the world's first science park and has all these very old sculptures of dinosaurs, based on what they knew then about them. So they're not very accurate, but still very cool. And it's also where the huge Crystal Palace from the Great Exhibition of 1851 was relocated until it burned. But I'd never realised just how immense the whole thing was until I walked through its ruins today. I swear, you could've seen that thing from the moon.
Here's me, looking silly on one of the concrete sphinxes: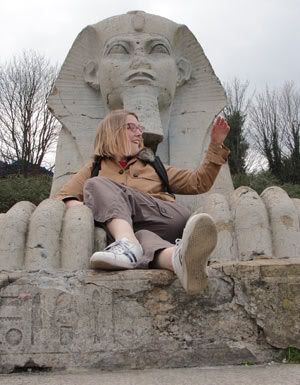 The dinosaur park:
And the cool railway station, where I caught the train back.
More monsters: Getting excited about the publication of Drew Weing's Set to Sea comic. That guy (drewweing) is one of the best draughtsmen out there.
And you can listen to an interview with my fab friend David O'Connell (tozocomic) at the UK Web & Mini Comix Thing over on the Wild Tyme blog (about a third of the way through). Here's the direct link to the mp3 file. Thanks for the mention, Dave!