vernon god little
The other night my lovely friend Emma got us tickets to go see the theatrical adaptation of Vernon God Little at the Young Vic. Emma and I actually saw the play a couple years ago or so, and we loved it so much that we decided we had to revisit it.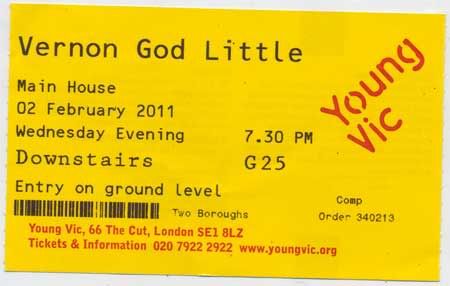 If you haven't read the original book by DBC Pierre, it's a carnival of absurdity about a boy in small-town Texas named Vernon, whose best friend (a gay Mexican boy named Jesus) kills 17 people and himself in a school shooting. Because Vernon was out of class at the time, and found holding Jesus's bag of ammunition, he's arrested for abetting the crime. When a wanna-be journalist sheister named Lally shows up at Vernon's house to get his first really good news scoop, and seduces Vernon's mother to get an inside look at the situation, the whole debacle kicks off, common sense takes a holiday, and everyone in town gets caught up in the thrill of being in the media spotlight.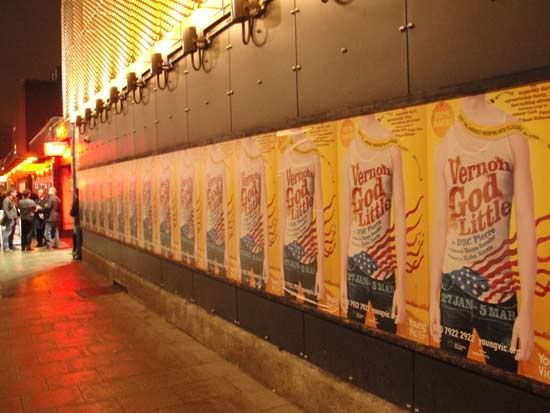 It was fascinating seeing the play twice; the first time I think there was a bit more physical comedy in the casting of the characters, but this time I think the music may have been better. I'd definitely recommend it if you want a very good laugh. (It's running until 5 March, here's the website.) I saw the play the first time just as I was coming up with Vern the sheep, and while there were actually three Vernons that influenced his naming, this was definitely one of them. I think Vern the sheep has something things in common with Vernon Little, who gets carried along by everyone else's excitement and stubbornly but unsuccessfully tries to bring things back into order. (Note: It's not really a kid-friendly play, this one's for the adults. Although three-quarters of the audience seemed to be under 21.)

Our friends Colin and Emma. (Thanks so much, Emma!)
And just a shout about an upcoming event at the Oxford Literary Festival. Nicolette Jones invited me to do an event based around my latest book, When Titus Took the Train on 3 April. Hope you and the family can come along! Booking details here.