vern vs mo-bot!
Today Neill Cameron, Garen Ewing and I met up with Crystal Palace Children's Book Festival coordinator Alex Milway to do a festival promo event at Kingswood Primary School in Gipsy Hill, southeast London. Garen and Alex did their thing in the morning, then after lunch, Neill and I then each talked about how we made our comics, Vern and Lettuce and Mo-Bot High. After that, our characters went into COMBAT MODE! I made a quick drawing on the train, thinking of how Vern could look kitted up to fight a Mo-bot: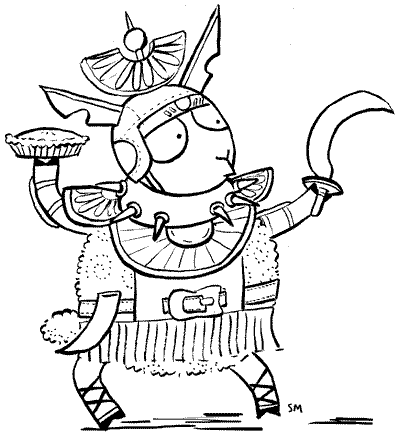 Then we threw Vern and the Mo-bot into the thick of it! We took turns let the kids decide what Neill and I would draw to arm our characters. They liked the comics talk, but when the fight started, the kids went completely ballistic! It was brilliant!
*Hey, if any TEACHERS or LIBRARIANS are reading this: Neill is your man for school visits!* All the kids could think about afterward was robots and drawing robots, Neill was like a rock star. You can contact our DFC Library publicist, Lauren Bennett, to discuss booking and rates at lbennett at randomhouse.co.uk or Neill Cameron himself (based in Oxford, willing to travel) at neill at neillcameron.com.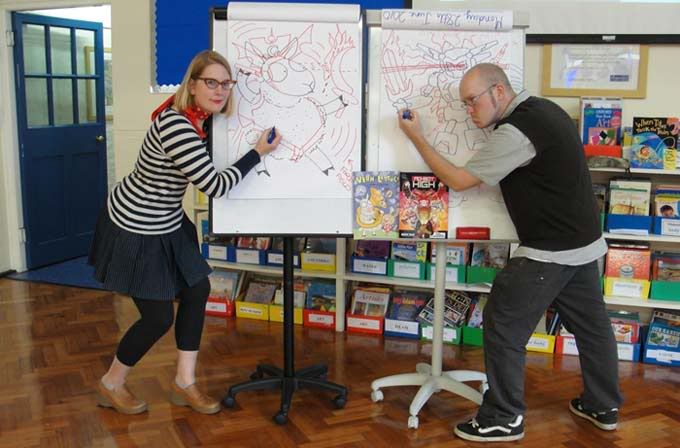 Poor Vern didn't fare very well at the final vote; the Mo-bot won hands down. But considering the Mo-bot's designed for combat, and Vern is a sheep, I think the sheep did pretty well.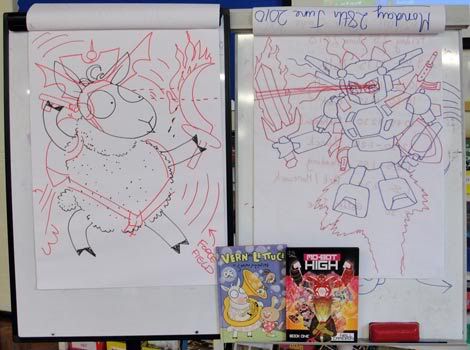 And here's the event we were promoting, which features COMICS and MONSTERS! Oct 23, coming soon, all Londoners, mark your diaries! Visit the Crystal Palace Children's Book Festival website.
And finally, VERN AND LETTUCE LAUNCHES TOMORROW!!! Copies have already been arriving for the last two days, and shops are already stocking, so Vern and Lettuce are truly going live! Stitch London coordinator Lauren O'Farrell and I are throwing a joint stitch/launch party on Thurs, Oct 21, at a pub near Waterloo station. I'm not putting out a general open invitation because we need to make sure there's room for the knitters, but if you're interested in coming along, do drop me a line (sarah at jabberworks.co.uk) and I can send you an invitation.
Oh, one more thing, I absolutely love this video, Bottle by Kirsten Lapore.