vern and lettuce launch party!!!
Last night my new book Vern and Lettuce was well and truly LAUNCHED! Yay!!!!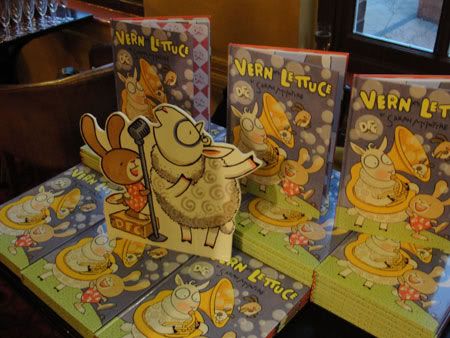 This is the first published book I've both written and illustrated myself (in the past I've illustrated books), so for me it was a very big deal! I realised Vern and Lettuce go to several parties in the story, so I've included some footage among the other photos: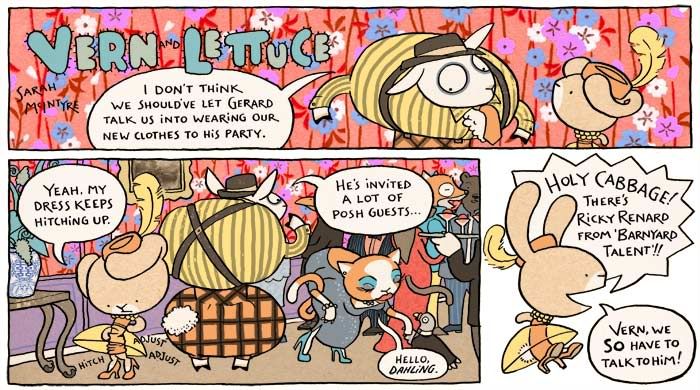 I know just what Lettuce felt like, my dress was a bit hitchy, too. Thanks, Philipa Dickinson, the very enthusiastic MD of Random House for coming along to show your support of the DFC Library series! It's great to know Random House is going nuts about comics. Hurrah!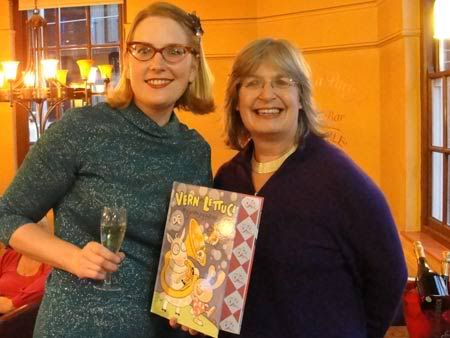 Yours truly and Random House MD Philippa Dickinson
A big thanks to the book's editor (and editor of Morris the Mankiest Monster) Hannah Featherstone. (My other two comics editors, while the strip ran weekly in the DFC magazine, were Ben Sharpe and Will Fickling). And thanks to best-ever publisher David Fickling!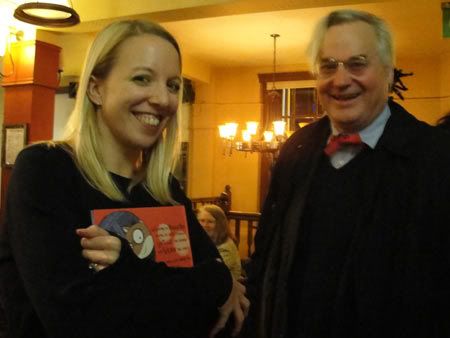 Editor Hannah Featherstone and publisher David Fickling
My super-talented, super-organised studio mate Lauren O'Farrell co-hosted the evening with me, as it was part book launch, part Stitch London craft event. So people sat down to tables full of craft supplies and MADE SHEEP! Best thing ever. Thanks, Stitch London people, for all your goodwill and support! Here's the DFC Library's Spider Moon creator Kate Brown, and her partner Paul Duffield (who also makes comics).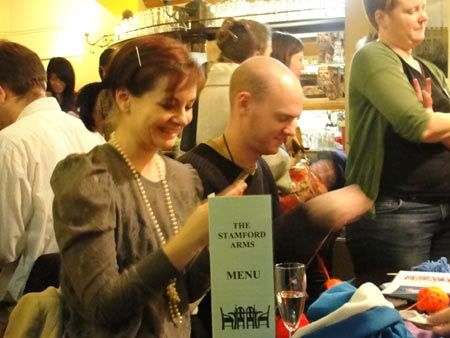 Kate Brown, Paul Duffield and Clare (GingerKnits on Twitter)
In that photo, you can also glimpse a menu of the Stamford Arms, who not only do excellent food and drink, but they were incredibly helpful and generous hosts. The manager, Conor, is the loveliest guy you'll ever meet and the two illustration students who worked the bar really looked after us. If you're ever in need of a party venue that's warm, comfortable and conveniently near Waterloo Station, the Stamford Arms is your best bet. (The knitters have known this for a long time already.)
Here's the poster image I made (which I never actually got around to printing up, so here it is!)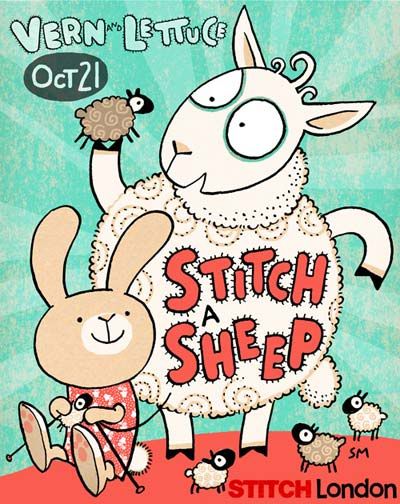 And look! Lots of lovely handmade sheep! I didn't manage to get any photos during the award ceremony, but Lauren took some, so I'll post those later. Congratulations to everyone who came away with their own sheep! They were great.


Stitch a Sheep results (one has Twiglets for legs!)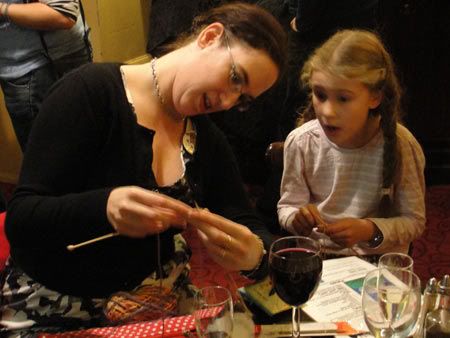 Stitch London member Amy teaches young knitting enthusiast Eleanor (daughter of horror fiction writer Nick Cross)
Here's Lauren O'Farrell (deadlyknitshade on Twitter) who really made the whole party come together. (Thank you SO much, Lauren!!). And Amy is holding a lovely pin she knitted of King Cupcake's crown (since You Can't Eat a Princess! is her niece's favourite book, hurrah!).


Knitters Sarah, Amy, Lauren and Silvie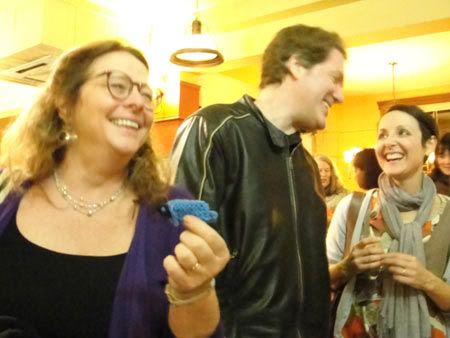 Caro Fickling (David's wife) with her knitted sheep, illustrator-designer-typographer Rian Hughes, James Allen's Prep School librarian and children's lit PhD candidate Nicola Jones
Note: I actually used to believe this, that if I sprinted fast enough from the bath to the bedroom, through one of my parents' dinner parties, that no one would be able to see me. I maintained this illusion until I was far older than I really should have been.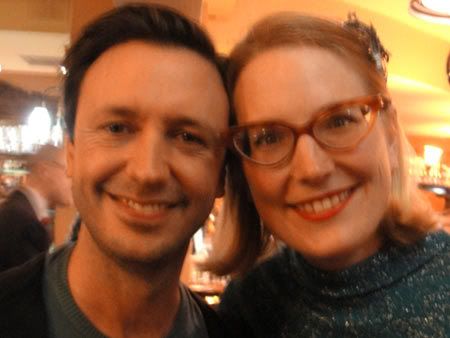 Second most likely candidate to run through a party naked: writer Steve Cole. Also best candidate for whipping up a huge roomful of children into a frenzy of excitement in ten seconds flat.
Comment left on Steve's blog yesterday by a fan named Anna:
I am only nine years old but me and my fourteen year old brother are a big fan of marvel comics like you. I particularly like x-men and I really like wolverine. You might have the 'comic genuis' title but I am too and I can prove it!! Q. Why did Spiderman say to Batman you have eight black legs growing out of your back? A. Batman said to Spiderman I'm trying to be you!!! Ha Ha Ha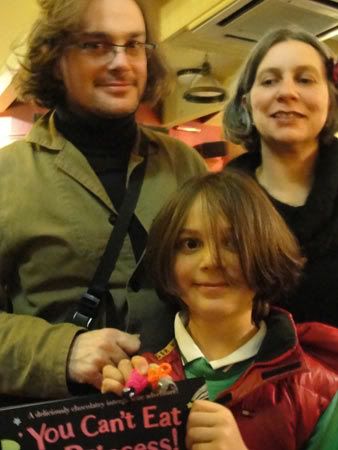 Comics-supporting family extraordinaire: architect Barnaby Gunning (yup, the Lego House guys), his wife Lucia and son William with his newly crafted sheep and a space book you might recognise

Here are comics artist Faye Yong (who drew Manga Shakespeare's The Merchant of Venice among other things, and comics writer Fehed Said, both shocked and, ahem, surreptitiously showing off their sparkly new wedding rings. (John Aggs always complains about these lovebirds' excessive romantic soppiness. Comics love.)


Faye Yong and Fehed Said
No party's complete without its life and soul, writers Anita Loughrey and Candy Gourlay (Have you read Candy's fab new novel Tall Story?)


Anita Loughrey and Candy Gourlay

Hannah Featherstone and David Fickling Books office manager Matilda Johson (the one who tells off David when he's been on e-mail for too long!)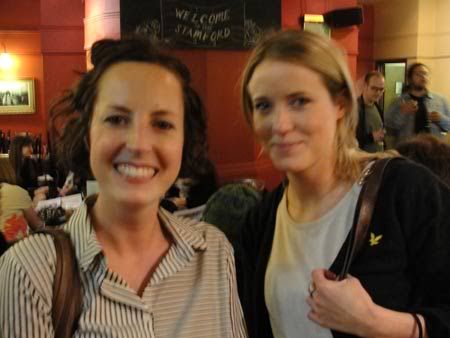 My acting agent Jodie Marsh and her assistant Lucy Simmonds. Over Lucy's shoulder, you can just make out the DFC Library's Dave Shelton (Good Dog, Bad Dog) and DFC creator Faz Choudhury.

Illustrator and writer An Vrombaut and writer of 'tween fiction' Fiona Dunbar. That's writer and illustrator David O'Connell looking over An's shoulder.)
…I just have to post An's animation Little Wolf, which includes a sheep with great sound effects.

Little Wolf YouTube link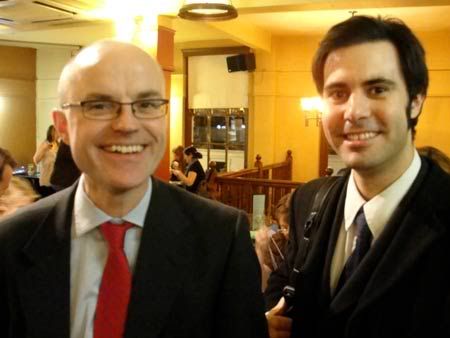 My best-ever friend and long-suffering patron Stuart Pyle (who bears more than a passing personality resemblance to Vern the sheep) and comics supporter Dave Mansfield

Publicist Rosi Crawley and comics journalist/editor/writer Tim Pilcher

My fab neighbour from down the street, accountant Cassandra Omorodion, me, and you can just catch a glimpse over my shoulder of long-time friend Caroline Smith

Writer Sally Nicholls (who recently moved to Oxford), comics artist Oliver Lambden, writer Sarwat Chadda

Kate Brown and Paul Duffield

So last night, BOTH the McIntyre Sisters were partying! With the 8-hour time difference, I was able to ring my sister after I got back from my party, to wish her well just as she was getting ready for hers. Cool coincidence, but the same night we were launching the first book I'd written and illustrated, she was having her first solo show of her paintings in Seattle. A big night for both of us! I can't wait to hear how hers went. Her partner, Mike, e-mailed me these photos of her making penguin-shaped canapés.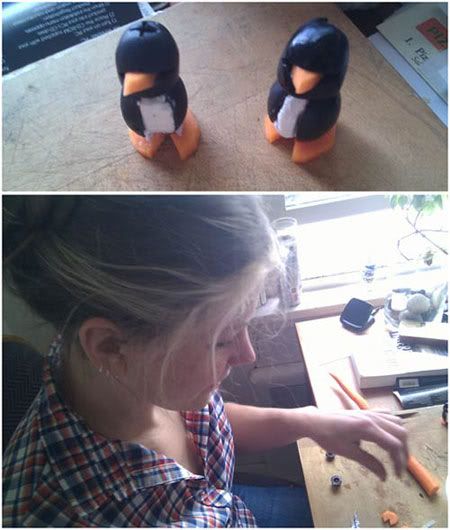 A lot happened last night! I missed out on seeing some of the comics crowd (which we made up for in knitters), who were at another fabulous-sounding event, the launch of That's Novel: Lifting Comics from the Page, an exhibition at the London Print Studio, on Harrow Road. (Thanks to the few people who somehow managed to hit both events! Paul Gravett was very apologetic about the double-booking.) Follow lots of great web links over on its website. Do go along and see it!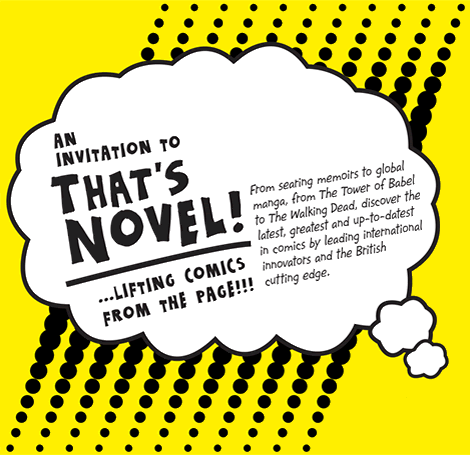 And thanks to the Londonist for plugging this Saturday's Crystal Palace Children's Book Festival! Read the article here.
Oh, one more thing, John Aggs just posted on Facebook: Whoever lost sunglasses at V&L party I have them. Please don't contact me and make me return them because they're badass.