vern and lettuce in alaska!
Another Vern and Lettuce sighting! This time it was by Joy Watanabe in Seldovia, Alaska. She caught sight of the little guys whooping it up in their tractor, going back and forth on the wooden bridge over the slough.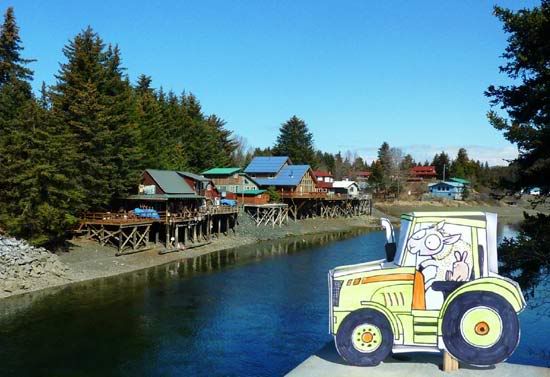 That's my uncle's family place, about five houses along. Seldovia is the most beautiful place in the world. (You can see some of my drawings and photos if you click on my alaska tag.) I'm very envious of those critters, have a great time, guys! I'm particularly impressed with their driving, since there aren't actually any roads going to Seldovia.
Feel free to download and colour your own Vern and Lettuce tractor here, and keep them going on their amazing road trip!
Here's a little map to show where Seldovia is, way down there on the Kenai penninsula.