vern and derek's last day at alexandra palace
Vern loved the Ally Pally Knitting and Stitching Show even more than I did, since, as a sheep, he's never been so popular. These people love their wool! Vern even got extra points with a punter by dressing up as a pirate.

My studio mate Gary Northfield's Derek was an even bigger hit because he is the daftest sheep in all the British Isles.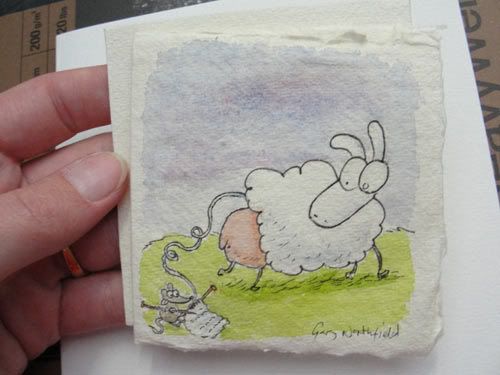 For some reason, the words 'Derek the Sheep' just seemed to roll off people's tongues as the passed our booth, at intervals of five minutes or less; as we got more and more tired and silly, we invented synchronised chair-dance movements to accompany this particular refrain.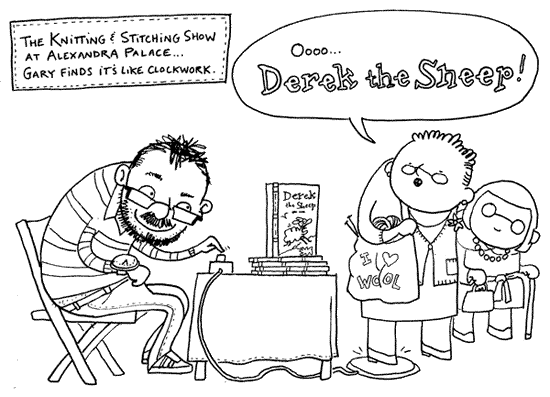 I had a very quick run around the stalls on Saturday, but made a marvelous discovery in the work of Susie Vickery when I spotted her embroidered comics on the wall.
Susie divides her time between London and Mumbai, and I'm very much hoping she'll come along to Comica Social Club and Laydeez Do Comics meetings to meet the rest of the comics crowd… another woman to add to our numbers, and one whose work really stands out! You can see details of her comic on her website; I can't link directly but in the menu bar, click on It's Not the Job, It's the Cabbage: The Lives of Tailors.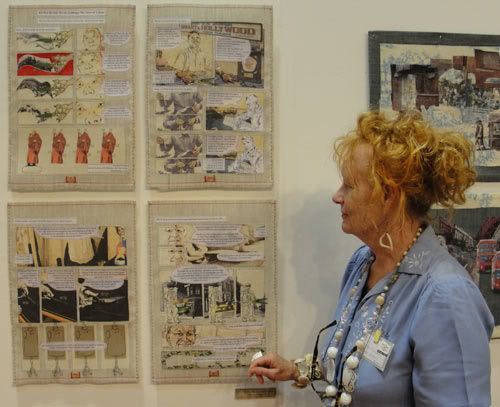 Just as I was leaving her stall, Susie and I somehow got talking about south asian folk art, and I mentioned how I'd done an illustration project ten years ago that had left me fascinated with the artwork coming out of a rather obscure project in the lowlands of Nepal. It's been an ongoing dream of mine to travel out there, learn from the artists and do a project with them, but when I wrote to them, I never heard back. My sister tried to visit for me when she was in Nepal a few years ago, but she hit a record heatwave and escaped to the mountains. But it turns out Susie has lived there and actually knows these artists personally! When she told me that, and all the people she knew out there, and how a visit could be possible, my heart almost fell on the floor right there at the excitement of it. It would be tricky at the moment to work into my book schedule, but I really want to try to make this study trip happen at some point, maybe even live out there for a couple months. SO exciting to hear about it from Susie, and such an amazing small-world encounter.
While meeting Susie was amazing, we had an awful lot of less-than-successful conversations with passersby. Knitters can be a funny bunch; I think they're a lot like comics people in that we're obsessed with making things and we can go for days without talking to anyone, so when we do say something, it goes all wonky. We had a lot of what Gary and Lauren called 'tumbleweed moments', when we'd deliver an attempt at a chirpy, upbeat line, and the person would stare back at us in stony silence. It got to the point where we started finding it terribly funny and daring each other to try to sell comics to the least likely looking customer, but then we learned our lesson when we got into some mega-long conversations with those same people who would never dream of buying any of our stuff. But that was kind of interesting, too.
And we didn't have any way out of our stall except by crawling under the table, so we made lots of elegant entrances and exits and surprised a few people by rolling into their ankles. (Photo of our stall here.)
All in all, it was a great festival, I had a brilliant time with two of my studio mates Lauren O'Farrell and Gary Northfield and we met some lovely people, including lots of Lauren's pals from the 8,000-strong fabulous group that is Stitch London. Thanks so much to everyone who stopped by and said hello!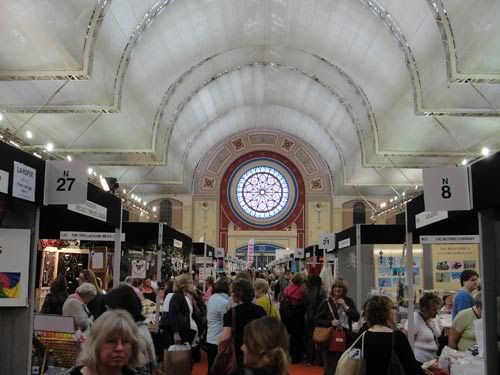 Have you seen the fabulous Stitch London article in the G2 section of today's Guardian? One of the special honours that the city of London can bestow on a person is the right to drive sheep across London Bridge (which, by the way, Woodrow Phonenix's mum has the right to do, and has done!). Deadlyknitshade and friends didn't wait for the Queen's permission, they did it by stealth, as is their way:
To follow up the sheep theme, we're having a Stitch London launch party for Vern and Lettuce on Thursday, 21 Oct, at a pub near Waterloo Station (where we'll make little sheep). If you'd like an invitation, do drop me a line!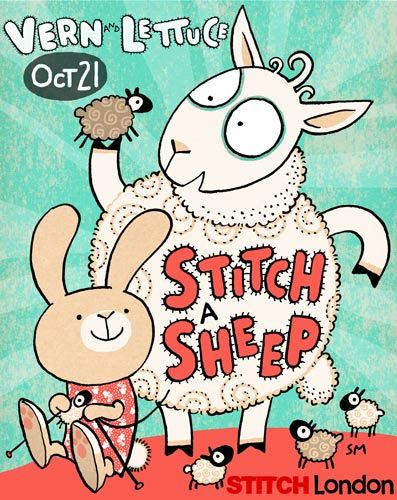 I had to include this fab comic made for me by Maisie Jones, about her visit to The Fleece Station a few weeks ago with her sister and librarian mother, Nicky. We talked about making comics about real things that had happened to us, and she went home and did just that! Thanks so much, Maisie!!! I'm very much hoping she'll keep going and contribute a page to Vern and Lettuce's online zine, The Pickle.
And one more thing that's slightly unrelated, but just because Lauren and I think he's the bee's knees, here's a great new interview by 'Thirst for Fiction' with writer and illustrator Philip Reeve. Hurrah!