united agents illustrators evening
We had a rough start yesterday at the Fleece Station studio, losing our power (and heat) for about four hours. And had I printed out any of my artwork yet to take along to our agent's portfolio party? Oh, no.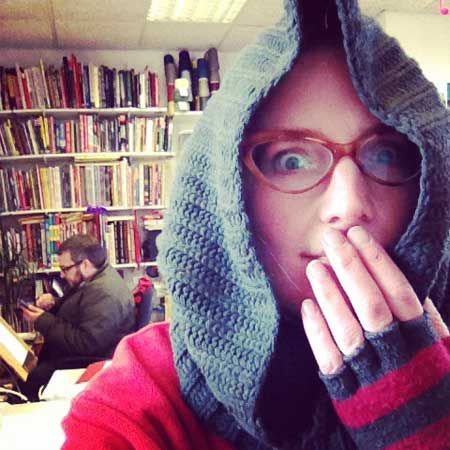 Fortunately my studio mate, Gary Northfield, had a beautiful printout of some pages from Teenytinysaurs his book that's coming out with Walker Books in Spring 2013. (He'd been given it by his editor at Angoulême comics festival in France last week.) Isn't it lovely?
So here we are in Soho, in the kitchen/living room of United Agents, setting up books and other stuff we've made, on every available surface. That's Elissa Elwick's wee beastie in the front, that she made for her degree show, then made look a bit more friendly in a picture book. And here are the two Jamies setting up: Jamie Smart and Jamie Littler. You can just see David O'Connell, Emma Thomson, Jess Mikhail, Gary, and Jim Field behind them. I'd never printed up a black-and-white artwork portfolio before, so I picked out some pieces I've done recently, for fun, including the illustrations to Philip Reeve's In the Bleak Midwinter.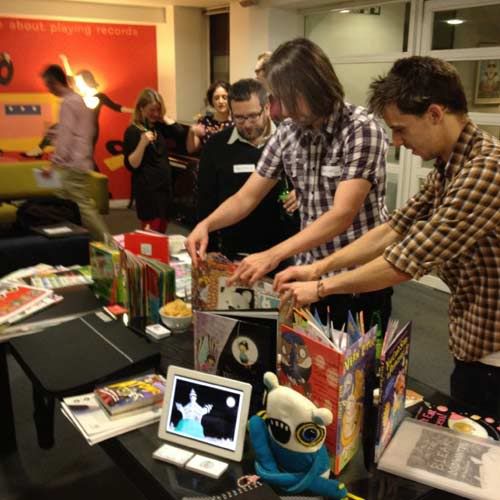 The best thing about the night was getting to hang out with all these illustrators who are usually just a name on a book or a picture on the agency website. And it was fun to discover some I'd never heard of before, such as Kate Hindley, who'd come all the way from Birmingham for the evening. Wow, her work is beautiful! Such fabulous colour palettes and lovely little characters and landscapes. I was very taken, as you can see: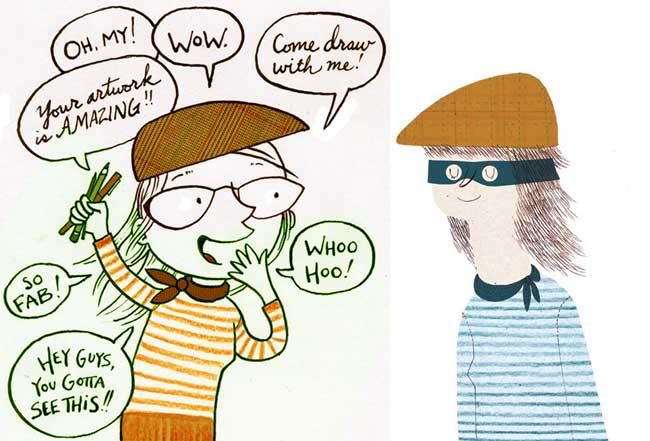 That's my drawing on the left, the other one I shamelessly nicked off Kate's website. And here's Kate herself! I think I scared her a bit, being so effusive about her portfolio, ha ha…
And another illustrator who came a long distance: Britta Teckentrup, all the way from Berlin just for this event! And there's Elissa Elwick in the centre, and Kim Geyer on the right, hanging out in the kitchen before the editors arrived.
And arrive they did! Wow, that room was MOBBED. But in a good way, it was lovely seeing a lot of people in publishing I knew, or had only met briefly once or twice (and whose names I'd inevitably forgotten… sorry, everyone!), and some I'd never met but had heard lots about.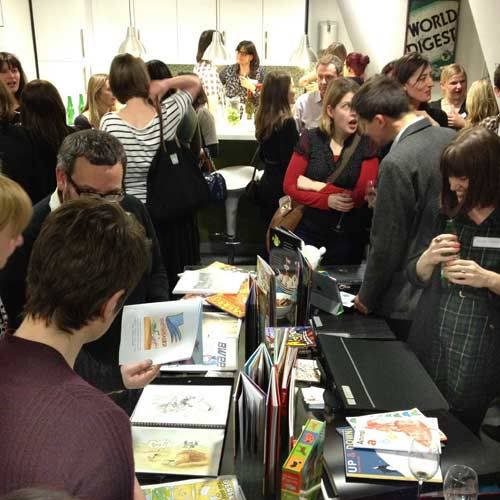 There's our lovely agent, Jodie Marsh, rummaging for drinks in the fridge, and Ali Pye and Kate Hindley.
Ros Asquith only popped in briefly because she had to run off to a charity exhibition at the Illustration Cupboard that she was taking part in, but it was great to see her. Whenever we meet, we always wave our hands around and say things like, Dahling, we MUST do lunch one of these days, but we almost never do (probably because we're both freelance and we're not really Ladies Who Lunch, as much as we'd like to be). She's the one of the two people who talked me into being on the Society of Authors children's book committee, so if everything there goes completely nuts, you can blame Ros.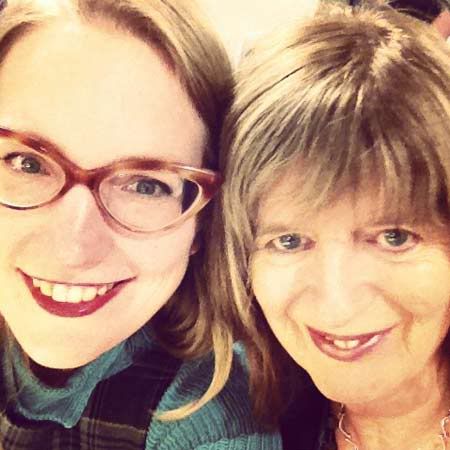 Here's David O'Connell, who had only just finished writing a fabulous chapter book that he intends to illustrate. He was just going to bring business cards, but Jodie liked the story so much that she printed up a bunch of A5 manuscripts for editors to take away, and Dave ran out almost instantly.
Then the security guy at United Agents kicked us all out and we retired to the pub. (Here are Jim Field, Jamie Smart and Gary Northfield.)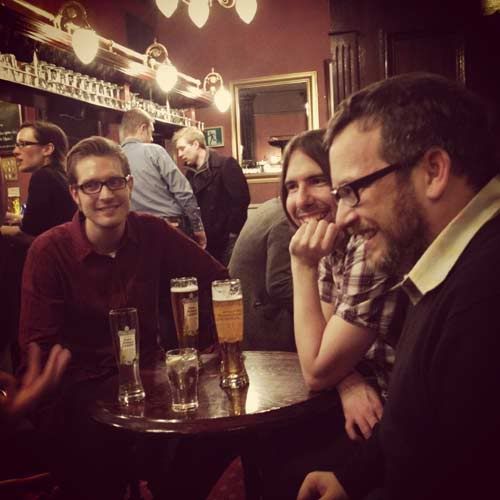 Our fab agent, Jodie, trying to talk over the noise made by a lively hockey team sitting behind us.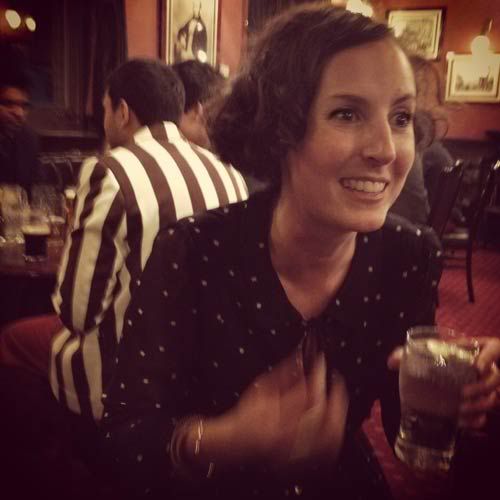 Here's one of my fave Scholastic people, Fiz Osborne. Even though she's an editor (and not my editor) she once got sent to the Bath Festival with me as a publicist, and we had such a brilliant time. (Here's the picture I drew of her as a Fizzasaurus Rex.)
Oh, and just one more peek at Gary Northfield's Teenytinysaurs sample pages, because it looks so very fab.
Ah, and what is Cooey the Pigeon doing on top of one of Jamie Smart's comics? Well, there's this amazing new weekly comic for kids (and grown-ups) called The Phoenix comic, and loads of the United Agents people are involved or submitting new ideas. And my other studio mate, Lauren O'Farrell has let her knitted friend review the latest copy. Read about it on the Fleece Station website!