unicomics – hertfordshire starts up a big new festival!
This is going to be great! The University of Herfordshire is hosting a brand new comics festival and convention in St Albans with an exciting line up (including me!).
Here's their description:
Welcome to UniComics: a celebration of all kinds of comics for all kinds of people. Created by a diverse team of arts enthusiasts, our aim has been to ensure that, whether you're an über-geek or a young newcomer, UniComics has something for you.
This year, we hear three veritable comics superstars – Pat Mills, Dave Gibbons and Kevin O'Neill – reminisce about their early careers on seminal British comic 2000AD, while Mills joins Gary Erskine, Nick Jones and Will Brooker to celebrate a similarly iconic British title, The Eagle. Be mystified by The Paper Cinema's 'live animation' performance, while budding comics creators can be inspired by such talents as Dave Gibbons, Ian Edginton, Marcia Williams and Sarah McIntyre, and families can craft their own personal comics with our family diary comics workshop. Further inspiration is available at ComixBox, where a great line-up of artists are on the clock to show off their wares! There's screen fun, too, as kids can enjoy a Ben 10 adventure and adults can immerse themselves in the Watchmen Director's Cut. And save some energy – and cash – for our UniCon marketplace, offering a stunning array of comics to start or expand collections.
Here's a peek at a few of the many events; click on the image to read the synopsis of mine on Sat, 24 April, 111am: Hungry Aliens and Manky Monsters. Book your place now!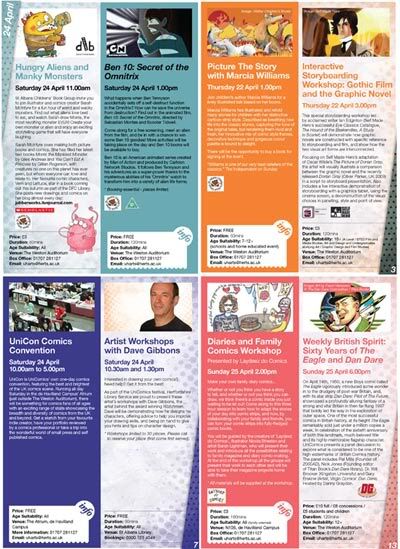 You can download the brochure as a pdf here to read about each event in depth. (For my London friends, St Albans is just a quick hop up the line on the Thameslink trains.)