today is buko-pandan flavoured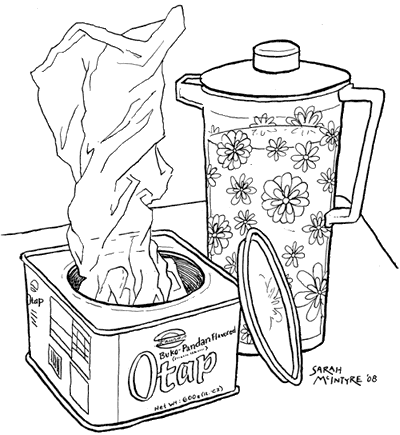 According to the label, 'Buko-Pandan' translates as 'coconut-screwpine leaf'. My friend Dan and I each bought a huge tin of biscuits in Chinatown on Sunday and pried them open with pennies on the train and rode along sampling our purchases. Mine were green and somewhat disappointingly tasted like those bland sort of Danish biscuits you sometimes get at Christmas, those ones where some of them are shaped like pretzels.
This is a quick still life I drew to wake myself up. WAKE UP, SARAH!!! I have so much to do today and I keep nodding off, it's killing me.
Here's an odd little Kid Koala video I recently discovered on the-radio83's page, made by Monkmus for the Some of my best friends are DJs album and released in 2004. I like the floating pallbearers.

Edit: Own-It have just now posted their upcoming events schedule, get in quick if you want a place at one of the London talks. They can give you a lot of good info on legal rights, contracts, copyright, etc for illustrators and other artists. (They're similar to the useful AOI Business Start-up Classes.)
Edit 2: My friend David Barnes just sent me this link to the United Nations Universal Declaration of Human Rights read in Russian (just in case you can understand Russian). It's another addition to the growing audio library at the marvel that is LibriVox. If you have some recording equipment and a good voice reading aloud, they're always looking for volunteers.
…Whoa, very cool, Remix Fight choose David's reading as this month's fight mix! Edit: Here's one David recommends!