there are cats in this consequence
This morning I finished off my contribution to the illustrators' game of Consequences that's been going on over on the Booktrust blog, organised by the fabulous Polly Dunbar. (Remember her and her penguin from my Wigtown post?)
The only thing is that I can't show you until it goes up on the Booktrust blog, so instead, I'll show you the one that went before me, by the supercalifragulistic Viviane Schwarz. (Have a look at the original Booktrust blog post here!) Viv's just just been given the packet by Alexis Deacon, who'd added his bit, after Polly drew on it, then Emily Gravett and Petr Horacek. So I walked over to Viviane's and she worked on it while I did a bit of sketching then took a catnap on her lovely new red sofa. Here are some photos I took of her drawing:

Viviane Schwarz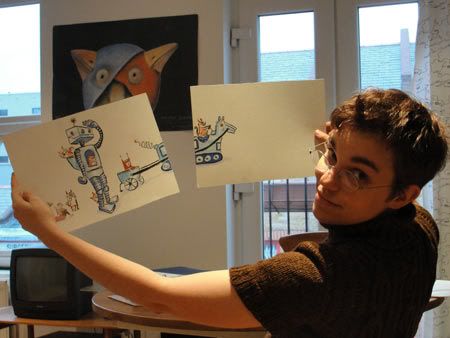 Ta-DAH! Here's Viv's finished drawing and all the drawings spread out and pieced together on her floor:


I'm sure you know Viviane's cat books, but she's also coming out with a graphic novel this spring with Walker Books called The Sleepwalkers. Oo, I just found a synopsis on the Waterstone's website:
Bad dreams just got good in this inventive and bold new graphic novel from Kate Greenaway shortlisted Viviane Schwarz. When you are afraid to fall asleep, when all your dreams are nightmares, write us a letter, put it under your pillow, we will rescue you…It is almost time for the old and tired Sleepwalkers to return to the waking world. But before they go, they must conjure and train three new replacements. For who else will look after the Sleepwalking House and be there to answer the call of a child frozen stiff with fear, trapped in a nightmare? This is the story of the new Sleepwalkers…Filled with action and adventure, and all things that go bump in the night, three brave new heroes tackle the weird and the wild in this uplifting and reassuring story about pulling together as a team and having the confidence to stand up to your fears. This is a striking new direction for Viviane Schwarz, shortlisted for the 2010 Kate Greenaway Prize. This is the perfect antidote to any child's worrisome, sleepless nights. Created in the classic tradition of comic books, this accessible format is ideal for newly-independent readers, and developing visual literacy.
The envelope is getting pretty shabby, but everyone's adding bits to it as well:
If you're as much a fan of Viv's work as me, don't miss her brilliant sounding event at the new Just Imagine storytelling centre in Chelsford, Essex (only a quick ride from central London by train, ten minutes' walk from Chelmsford station). Just Imagine will be getting a website, but for now you can find out about its events over on the Just Imagine Facebook page.
And the next person to take up the baton is the marvelous Ed Vere, who is also working with me and Neal Layton on Monsterville at Stratford's Discover centre. Good times!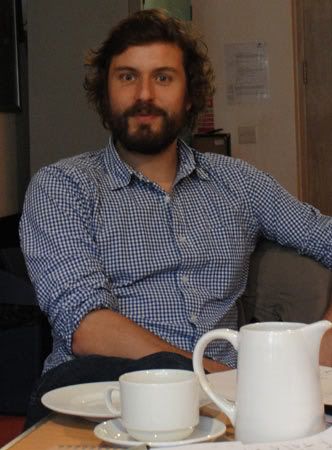 Ed Vere
Just one more thing, as I was walking through Viv's neighbourhood with her, we spotted this mysterious poster: