the vern & derek show goes to ireland!
Thank you, Tom Donegan and Children's Books Ireland, for setting us up with such fabulous festival gigs over the past few days! The only times I've ever been on telly were at protest rallies (with over-designed placards), but my studio mate Gary Northfield (creator of The Beano's Derek the Sheep) and I got to appear as guests on Ireland's RTE live kids show Elev8 and talk about making comics!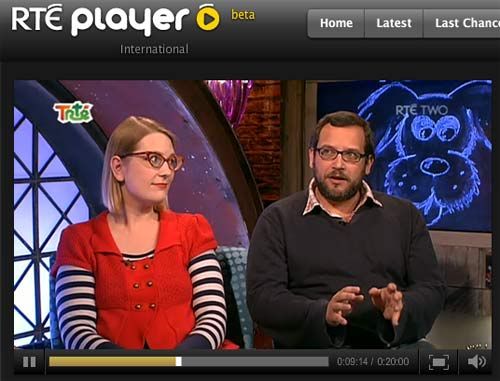 Click on the pic to watch the show
We felt like real stars! I didn't feel nervous, but my mouth did run away with me a couple times, so I think I was, a bit. Thanks so much to presenters Diana and Ivan, they made the whole thing a lot of fun.
The funniest bit was watching Gary get pancake makeup. The lady even put makeup on his hands! Oh, and the other funny bit was hearing Gary say 'bum' on live telly, and cracking up in the elevator just before they let us out. (I realised in watching it that you can catch a glimpse of us moving about… yeah, we're actually dancing like crazy.)
Another cool thing was Tom setting us up for dinner in Dublin with illustrator Niamh Sharkey. Her work really influenced mine when I was first starting out to become an illustrator. Niamh's The Giant Turnip was the first book Stuart ever bought for me, having seen it in a shop window and thinking I might like it. (His taste was spot on!) I think Niamh's work made the penny drop for me, that it could be just as important for human and animal body shapes to have a rhythm to them than to look realistic. Anyway, our restaurant, Shebeen Chic, had a photobox and we all squeezed in: Niamh, Gary, Tom, Cliodhna Lyons and me. (Here's Niamh's blog post about it.)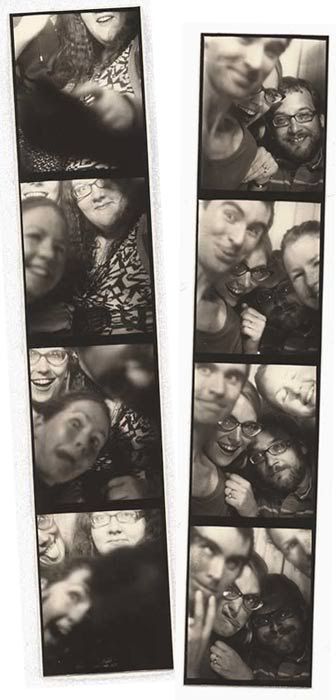 CBI had a highly organised team of librarians driving Gary and me (not to mention the other 48 other illustrators, writers, puppeteers and storytellers) to our 18 different workshops (9 each) in Leixlip, Celbridge, Maynooth, Naas, Newbridge, Athy, Trim, Dunshaughlin, Ashbourne and Dunboyne. We had fun making quick reccies around town in the evenings. Here's an old shopfront that caught our attention on Naas high street. We peeked through the windows and it looked like something from that film 84 Charing Cross Road. Cool!
And we did a bit of sketching. Here are some drawings Gary did of me:
We picked up a copy of Jamie Smart's Find Chaffy from Barker & Jones bookshop in Naas and ogled it in the pub. Gary got very excited when he got on a sudden roll of finding Chaffies.
And we found these amazing Black Rider hoods with glowing eyes in the pound shop down the road.
CBI looked after us so well, we got to stay at the Dunboyne Castle Hotel… very swish!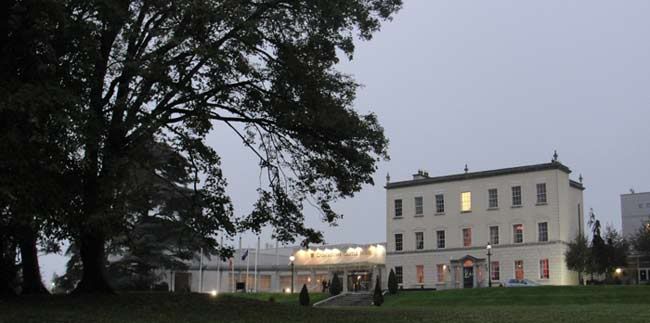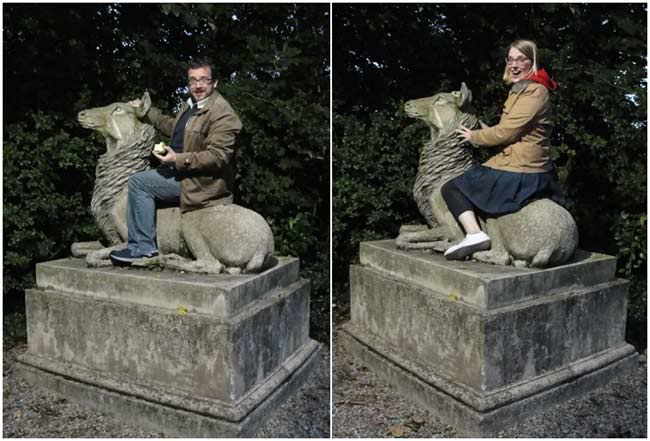 Gary was drawing history pictures for some of his workshops, so I convinced him to draw a Henry VIII in my sketchbook. Score!
Some of the libraries were pretty impressive, here's the one in a former church in Trim: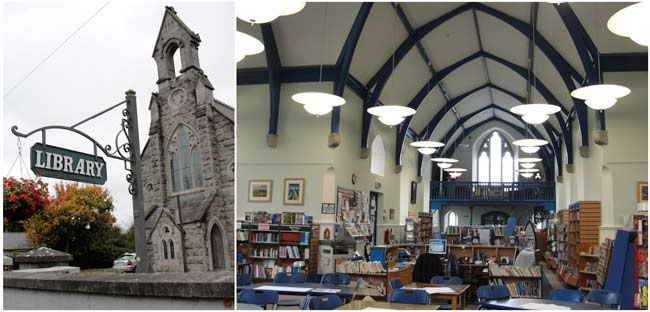 And Trim Castle! (You might recognise it from the filming of Braveheart.) I'll have to go back, I only managed to snap these photos from a speeding car. Thanks so much to everyone who made this a great trip! We love Ireland!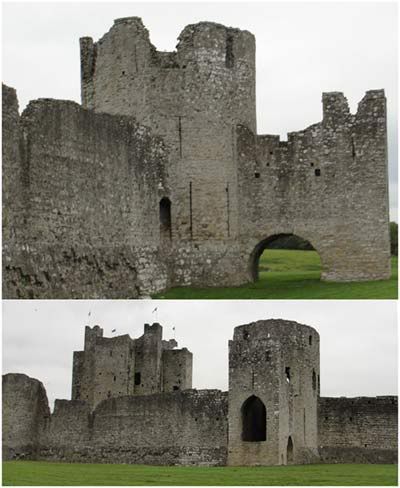 And not to be outdone, on the same day, our fab studio mate Lauren O'Farrell (aka Deadlyknitshade) appeared on ITV's This Morning with Philip Schofield and Knit the City activists Lady Loop, Shorn-a the Dead and The Fastener. We're storming! That is, YARNSTORMING!
Huge thanks to Big Issue Scotland for your fab review of Vern and Lettuce!
On to the British International Comics Show tomorrow in Birmingham for an 11am signing of Vern and Lettuce, then the Cheltenham lit fest for two events on Sunday (details here!). The comics workshop is sold out, but there might still be room in the Monsters & Aliens session.
And one more thanks to Cliodhna Lyons (ztoical) for giving us a DVD of the amazing Oscar-nomination Irish animation she worked on, The Secret of Kells. I won't embed the trailer, because it was so Disneyfied that it almost put me off seeing the film, but don't believe the trailer. This film has jaw-droppingly unique, beautifully stylised and textured artwork. I'll finish with a few stills from it, this is one you'll need to hunt down and see.