the railway children, waterloo
I think I can call 2010 my Year of the Railways. Not only did I illustrate a book about a train adventure (When Titus Took the Train) and get mistaken more than once for being a trainspotter while making preparatory sketches, but I travelled a lot by rail for events. Even my last blog post involved reading Stop the Train! by Geraldine McCaughrean, which was about a pioneer settlement with an existence completely dependent on the railway. So to top it off, last night we went to see our young friend Molly Jones perform in The Railway Children, a play in the former Eurostar terminal of Waterloo Station. We'd had the tickets for ages, and had really been looking forward to seeing how they'd use a real steam train in the play.
We knew Molly only had one line, and we thought we'd only see her occasionally appear, but she must have been playing her part as the station master's daughter on stage for at least a third of the play. Well done, Molly!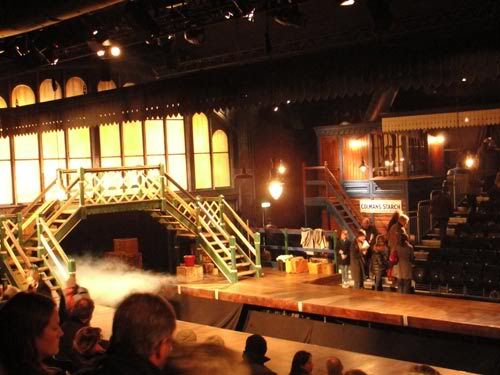 Stuart and I were hugely impressed by the way they used the existing platform as a stage, with extra bits of stage floor on wheels, scooting along the rails. When the steam engine pulled in, spewing smoke, I actually got a bit choked up, it was so lovely.


The Yorkshire tourism board was out in full force in the lobby (the old Eurostar waiting lounge). There was even a huge map puzzle on the floor that we could walk on.
Look, we're in Yorkshire! (Third time in two weeks!) Great play, thanks for inviting us, Molly! Here's a lovely comic her sister Maisie made this year about a visit to our studio.
We were very sorry to miss Neill Cameron's Mo-Bot High party in Oxford last night. I'm sure it was a blast, can't wait to hear all about it!