the bologna foxes
Here's my latest promo piece, based on my visits to some of Bologna's yummy trattorias.
We had a great workshop at the SCBWI conference by sassy writer and illustrator Pat Cummings from Parsons in New York about doing promo pieces, so I hope she'd like this one. I'm sorting through the big stack of papers I picked up at the fair. I love the classy look of the 'Books from Finland' promotional magazines. One of my favourite books at the fair was this little volume called JUJU, designed by Kati Rapia. It's not the sort of book I'd usually go for, but it just felt perfect the way it was crafted, a sewing guide for creating clothing for girls out of recycled fabrics. I hope they manage to sell the English rights for it.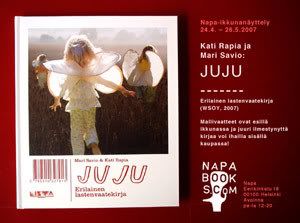 Speaking of crafted, I just got a parcel of wool socks knitted by my ultra-fabulous aunt in Glasgow. Aren't they amazing!


My friend Layn is reviewing a book for Write Away and pointed me to the beautifully designed website of Alice Melvin. And in Bologna, I stopped by Kids Can Press to have a closer look at Stéphane Jorisch's Jabberwocky book. I wasn't so keen on the rest of their books, but their beautiful new 'Visions in Poetry' series really jumped off the shelf. I had a look at another Jorisch book, which is also now visible at Lookybook, The Owl and the Pussycat. The publishers are looking solely for Canadian illustrators, and if I was Canadian I'd be very tempted to drop them a line.