teeterers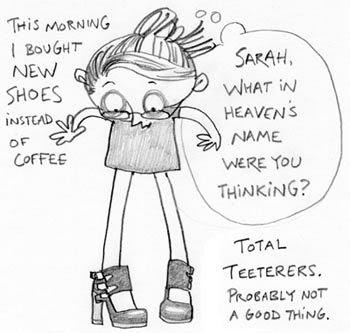 Just a quickie sketch this morning, I've been too caught up with my totally impractical footwear. I really need to wear things that are good for shlepping around south London. They're not quite as silly as my friend's Jimmy Choo shoes that she bought for 200 quid. The heel broke the first time she wore them and when she took them back to the shop, they refused to fix or replace them. The sales lady asked how she'd broken them, and she said the heel had snapped while walking to the tube. The lady sniffily replied, 'Well, they're not shoes for walking in, they're shoes for getting in and out of taxis.' Best anti-advert I ever heard.
I saw my former Camberwell tutor, Janet Woolley, the other day, and she said she was taking her class to see the London Transport Museum's exhibition, The Art of the Poster. I totally love that kind of stuff, so I'm going to be sure to get down to Covent Garden at some point. The show runs until 31 March next year.
I see the UK Web & Mini Comix Thing is taking bookings for tables, don't miss your chance. I just wrote it into my diary: Sat, 28 March.
And I wrote a couple hasty reviews of book launches, Art for Baby, with a whole shebang of not-so-young-anymore YBAs contributing, and a party by Indian publisher Tara Books, whom I'm actually finding quite exciting. They have this amazing handmade artist book ethos, and their screenprinted pages look and feel and smell so nice.