TALL STORY launch party
It's out, at last! You can finally buy Candy Gourlay's novel Tall Story in shops! Last night I put on a pair of heels (a bit of TALL cosplaying) and headed to Waterstone's Islington Green to celebrate the long-awaited book's launch. (You can read an extract here.)

Cover artwork by David Dean
Tall Story explores that wonderful and terrible gap you get when families are split apart across vast distances, immersed in different cultures; in this book, between London and the Philippines. Throw in a case of one boy's giantism, basketball and some sibling rivalry, and you get a book that seethes with tension, longing and hilarious mishaps.
The party was loud and heaving, and everyone very jolly. Here's our publisher David Fickling, Philippines Ambassador Antonio M. Lagdameo and the fabulous Candy Gourlay.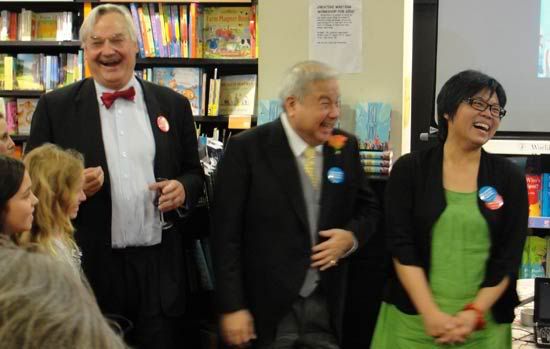 Loads of Candy's friends (many of them writers themselves, and many of them SCBWI members) and neighbours (more than a few who have acted in her mini films) came out for drinks. Here you can see two of her kids, her husband and her neighbour, BBC's Claire Bolderson.

At the end of the presentation, Candy showed a video she and her relatives in the Philippines had made, singing together across the world to Bob Marley's One Love. I only remembered my camera has video toward the end of the song, but you can get a little glimpse around the room here:

Congratulations, Candy! Now, everyone go out and buy this book!