taking them epaulettes up a notch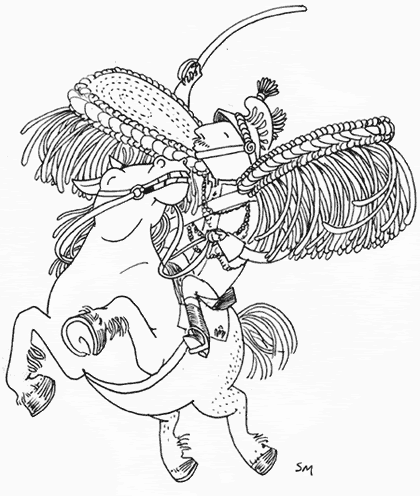 There were a couple great drawings of epaulettic enhancement in yesterday's comments by bandersnatch_02 ahd ztoical, which made my own drawing of fluffy epaulettes look, frankly, pretty wimpy. And we can't have that.
Good news for me, I met my deadline and got the last of my picture book artwork turned into Scholastic UK yesterday… big relief! I'm not allowed to say anything about the book, yet, but I'll fill you in as soon as I can. It's all very exciting. Katherine (the editor) and Rebecca (the designer) were very happy with it and I brought in some fairy cakes to celebrate. Except I'd never made fairy cakes before, and it all got rather fraught when I made a double batch of batter and then realised I'd lent my cupcake tin to the neighbour, who had gone out; then the fairy cakes came out with a very strange texture, kind of like cornbread, even though I'd been following Nigella's recipe so diligently; then the Royal icing had a weird taste that got better after you chewed for awhile, but didn't compensate for the initial 'ew' feeling when you bit in. I hope, for their sake, the Scholastic people just quietly tipped them into the bin after I left.
How embarrassing. I don't think I'll be getting my Domestic Goddess certficate anytime soon.