superheroes on the loose
Last night I went to the launch party of the new SUPERHEROES play town at the Discover Children's Story Centre. And I met the fearsome dude in charge: CAPTAIN STEVE MAY, at your service!
It was a little sad to see our Monsterville had been wiped off the face of the planet, but times move on, and the team at the Discover centre are always looking for awesome new setting to blow kids' minds. And they've done it again! So Steve May was the artist who worked with the team to design Alphabet City, and he did a great job. The exhibition runs until 4 November, so do get over to Stratford, east London, to run around and find your inner superhero!
The first thing you'll find is a handy rack of superhero capes.
Okay, now I know that the brilliant Edna Mode says capes are all wrong…
…but they're iconic superhero apparel. Isn't this a dynamic duo? All kitted up! These two totally rock.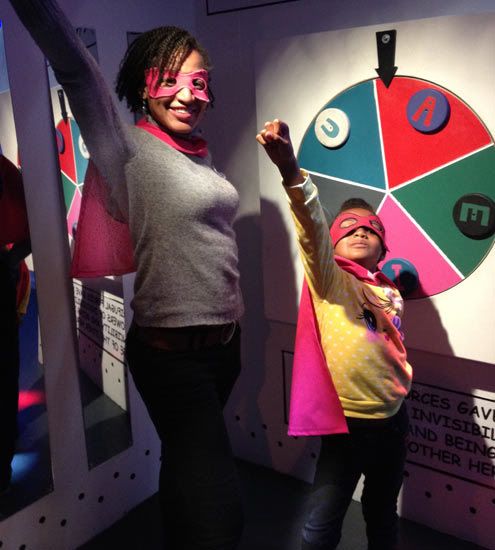 Yup, then it was my turn. Caped and badged, A-class superhero that I am.
Okay, two more of that superchick, just because she personifies Awesomeness.
Now some photos of Alphabet City for you. Here's how it looks, before you even enter. Alphabet City is full of consonants, but visitors need to help rescue its vital vowels.
And once inside…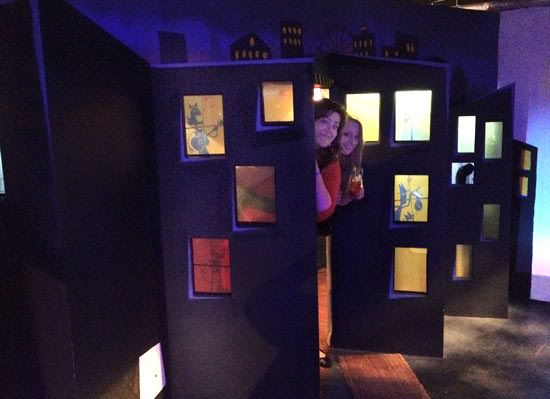 Lots of fab interactive stuff for kids to do and touch and drive.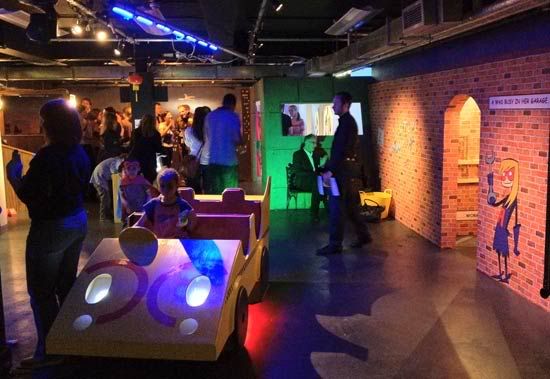 And here are some of the fabulous Discover team who made it all happen! From the left, it's Eleanor Butler, Paul Callaghan, Steve May, sound engineer Sam Hooper, Director Sally Goldsworthy and Arena's Caroline Thomson.
Oh, and here is Paul blushing as Sally goes on about how Awesome he is. He was the main technician who made everything happen in Monsterville, and we all have such tremendous respect for this dude.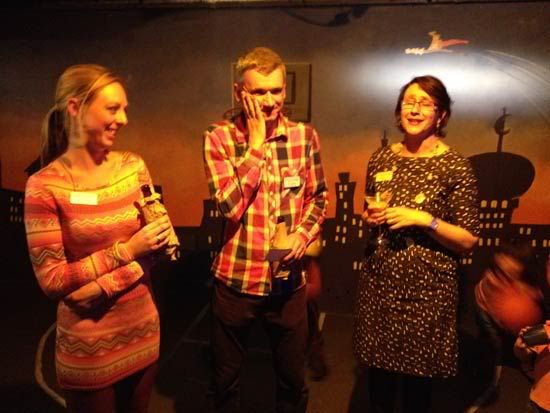 More photos from the night… here's illustrator Adam Stower and me:

Thanks to Arena Illustration for the photo!
Writer and storyteller Margaret Bateson-Hill and caped Discover supervisor Amelia Osborn.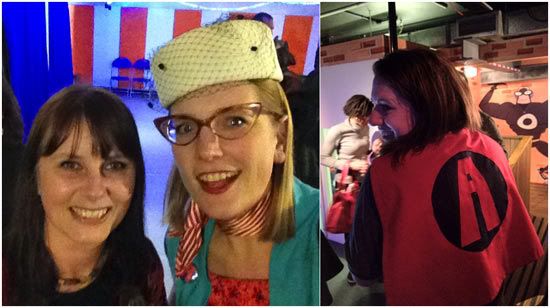 The drinks were a mix of very elegant (the bartenders doing a trick with toasted orange peel here!) and… in keeping with the urban theme, not quite so classy. Loved the paper bags.
Steve May, me and Marcus Kirsch:

Thanks to Arena Illustration for the photo!
Michelle Danso, Tamlyn Francis and Adam Stower: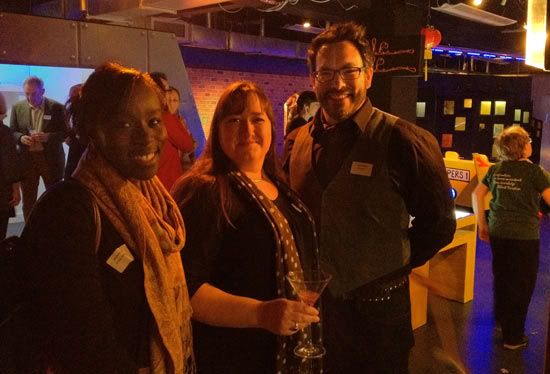 Thanks for a great evening, Discover people! And everyone, keep an eye on the Discover Centre, always loads of amazing things going on there. And see you tomorrow at London's Comiket festival! (Here's my write-up from last year's Comiket, it was fab.)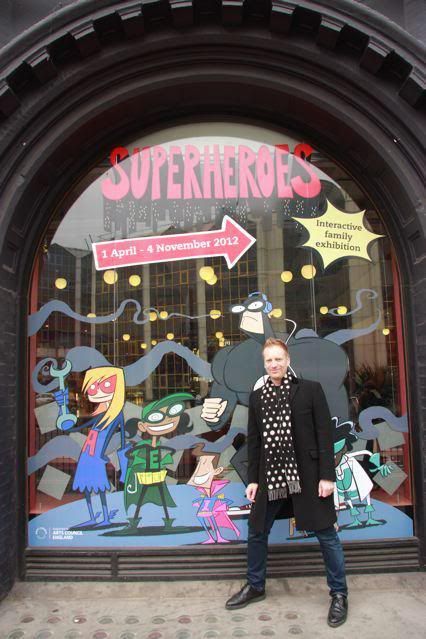 Photo nicked off Steve May's Facebook page