super noodle adventure squad
Yesterday Woodrow Phoenix came up with a ruse to see our local DFC man, James Turner (eruditebaboon). Unfortunately James's day job got in the way, but we found the Super Animal Adventure Squad moping around his house, bored out of their skulls waiting for James to come home from work. We felt a bit sorry for them and took them out for lunch. I don't think we'll be going back to that cafe, it was SO embarrassing. James, please teach your animals some table manners! You can't take comics anywhere.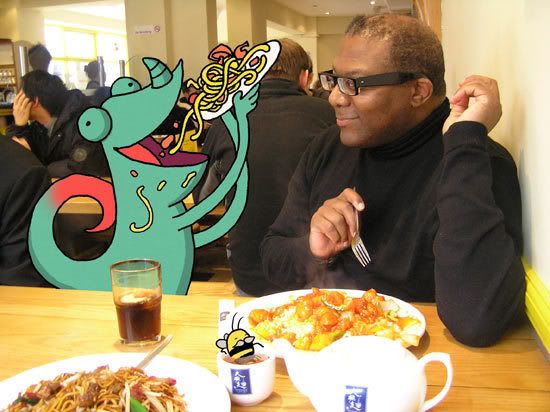 London: I just realised there are only four more days of this exhibition at the Dulwich Picture Gallery: What are you like, featuring work by Mini Grey, Quentin Blake, Andrew Marr, Brian Eno, David Adjaye, David Shrigley, Donald Urquhart, Eric Clapton, Jack Penate, Lauren Child and more.
From the website: The idea is taken from a Victorian game of describing yourself with images of your favourite things: like a self-portrait. 45 people in the public eye have been asked to illustrate their 8 favourite things from a list of 12 – their favourite animal, book, clothes, comfort, food, pastime, place, possession, music, shoes, weather and pet aversion (the thing they love to hate!) … Not a bad idea, if you're stuck for something to draw!
That exhibition ends on the 18th, and I'm not sure I'm going to make it, but I'd still like to see their other exhibition, Saul Steinberg – Illuminations, which runs until 14 Feb:
Born in Romania, in 1914, Saul Steinberg originally studied as an architect in Milan, before turning to cartoons and illustration; making his name as a contributor to The New Yorker magazine. In a career spanning six decades he created over 1200 covers and editorial illustrations for the publication. A master of many trades, he also worked as a propagandist, a fabric and card designer, a muralist, a fashion and advertising artist, a stage designer and was the tireless creator of image-jammed books.
The exhibition covers the whole range of his work, from high art to low, from murals to magazines, from caricature to cartography. Political, satirical, witty and whimsical, Steinberg:Illuminations is an intelligent sideways glance at the energy and contradictions of the 20th Century; entertaining and enlightening for Steinberg followers and newcomers alike.
I first heard of Steinberg when my art college tutor cryptically included at the end of an e-mail to our class, 'Oh, and if we're lucky, Steinberg might be coming to our party'. No one could figure out who this Steinberg was, and I found this Steinberg on a web search and started marveling at his illustration work. And I also realised we wouldn't be so lucky if he showed up at our party because he was dead. In the end, we never did find out who Steinberg was, our tutor couldn't remember mentioning him.