sunbeam and doodle banter
Yesterday I had the most amazing shaft of sunlight illuminate my desk, just as I was sending in my weekly comic strip to Ben and Will, my editors at the DFC. So I mentioned the sunbeam in the e-mail, and Ben wrote back to ask me to wing some sun over to Oxford because – this is so English – 'It's a bit parky down in the sticks.' I asked if 'parky' was the English equivalent to 'dreich', a word used by my Scottish auntie (which is something like 'dreary', but that deep dreariness you only get during a Scottish winter). According to Ben, 'parky' is closer to 'soggy'. …Hooray, a new word for my keychain!
Edit: Okay, horrible confession! I was reading my e-mails too fast and Ben, the Riley Fungi, sent me a message saying that, actually, he'd said parky means chilly, not soggy! Huge apologies, Ben!
Then Will wrote back complaining that they don't get any sunshine in their basement workshop with its one tiny window looking up through the grating to the street, only mushrooms: 'In fact, we are mushrooms.' So we swapped little Wacom doodles of each other in our respective lighting conditions: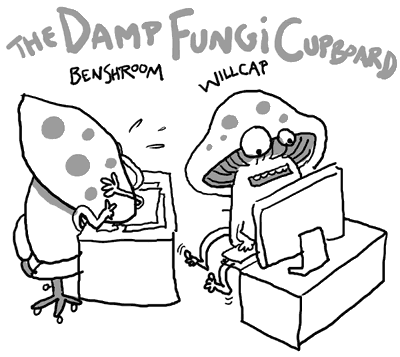 Here's my (very messy) desk with the last traces of said sunbeam.
Have you seen Garen Ewing's fab drawing of Tozo and Klikker?. Everyone loves Tozo. Edit: And Klikker. Sorry, Klikker!
I so wish I could go to the Saturday morning Autobio comics classes with David Lasky and Greg Stump in Seattle. Classes run 24 Jan – 28 Feb. I met David (dlasky) last time I was back in Seattle and it made me wonder what my parallel universe life would be like if I'd never moved away from my hometown and had got in with the Seattle comics crowd. Nice to know it could have been great both ways. I wonder what my artwork would have looked like and who would have been my major influences. Hmm, some musings for a less busy day.
And I don't know much about it, but this FCBG conference could be interesting. Some of the speakers include Axel Scheffler and Julia Donaldson (The Gruffalo), David Fickling (my publisher), Barry Cunningham (the editor who took up JK Rowling's books), illustrator Petr Horacek, and writers Melvyn Burgess, Tim Bowler (who was reputedly very inspiring at the SCBWI conference) and Meg Rosoff. It's in Worth in West Sussex, not far from Gatwick Airport, from 3-5 April.