stumptown comics festival – portland, oregon
Jet-lag and catching up means it's taken me a week and a half to blog this, but here it is, my Stumptown blog post!
My family used to go every year to the Oregon on holiday (Cannon Beach, to be specific – here's a photo. Cannon Beach was where a lot of the outdoor scenes of The Goonies was filmed.) Since it's our old vacation place, I've always thought of Oregon as my favourite state.
As I flew over from MoCCA festival in New York City, I drew this mini comic on the plane to Seattle and roped my parents into helping me put it together. Which I'm glad I did, as it turned out to be my best-selling item! (Apologies if you already read it in an earlier post.
There's been A LOT going on in Portland since I emigrated to Britain. It has a thriving arts and comics scene; in fact, such a scene that there's now a whole TV show called Portlandia that parodies the city 'where young people go to retire', 'all the hot girls wear glasses' and 'you can put a bird on something and call it art'. Portland residents have very mixed reactions about the series, it does hit a bit close to the bone (and particularly annoying if your art career involves a lot of birds.) But I love this clip. The '90s are how I remember America, so it's ALL STILL THERE… in Portland! Ha ha…
I was trying to think of things to draw in Seattle when I was trying out encaustic wax painting with my sister, so… yeah. The bird. I think in Britain right now it's unicorns, possibly shifting toward tentacled creatures. There was even a brief period where everyone seemed to put Abraham Lincoln on things.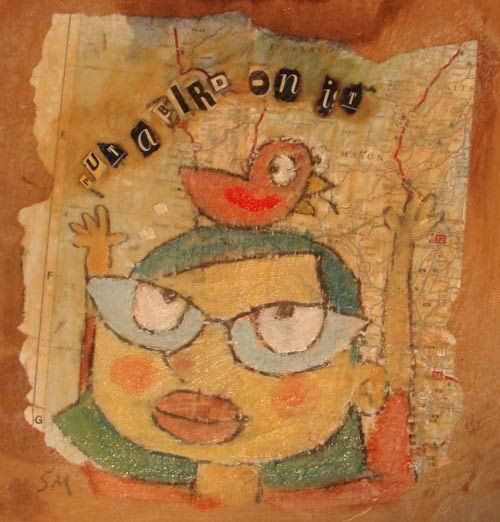 And here's how it looks if you put three birds at a table. Here I am with my fab table mates, my studio mate Ellen Lindner (ellenlindner) and Cliodhna Lyons (ztoical), pronounced 'Kleena'. I sold lots of copies of my new all-ages comic book Vern and Lettuce and generally felt pleased about its US launch.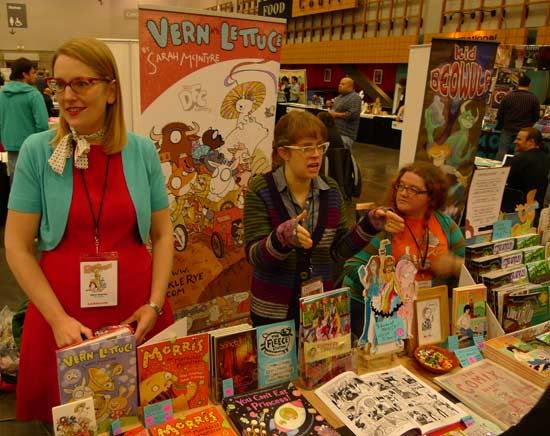 (Photo by my sister's partner, reporter Mike Lewis)
A big thanks to visitor Linda Wada (who knew of me through British comics creator Garen Ewing), who shot several videos during her day at the festival. It cracks me up that in this one, I'm signing a children's book while Ellen talks about polyamoury in the background.
Here's Linda making a video of Ellen signing her graphic novel Undertow
You might have seen this video by Linda on my earlier post, but it gives more of a general sense of what it's like to walk around the festival.
We really liked a lot of stuff about our crash pad, The Jupiter Hotel. The first thing Ellen and I did was decorate each other's chalkboard doors.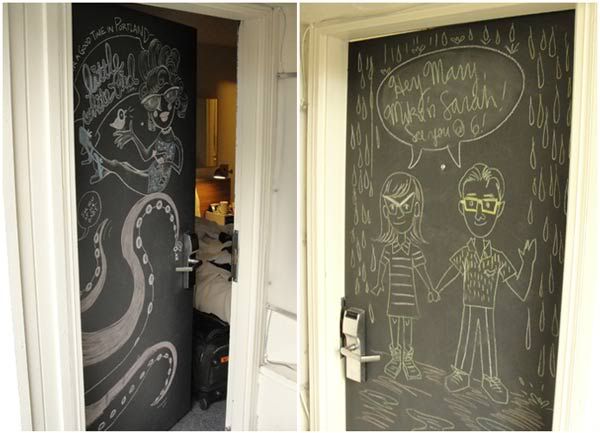 My sister, Mary, and her partner, Mike, came down by train with me from Seattle, and it was a lot of fun having them along. Mike took this great picture of Mary in the hotel lounge. Note the rather bizarre attacking world mural from Little Red Riding Hood on the outdoor wall.
Stumptown was great for meeting in real life people I'd only known over the internet. I knew Madeleine Flores from three different places – LiveJournal (hey-madeleine), Twitter (heymadeleine), and her Blank Slate book The Girl and the Gorilla (which I bought at Gosh! Comics in London, on 11-year-old Molly Bruton's recommendation on the Forbidden Plant International blog), but it took me a few minutes to click that they were all the same person!
Like MoCCA, the exhibitors were mostly adults, but that didn't stop 11-year-old Mackenzie Meredith from selling loads of Doctor Zombie comics from her table, written by her, lettered by her dad, Brian Meredith, and drawn by Erik Thompson. Very impressive!
We got to see Molly Crabapple draw this intricate mural over the course of two days.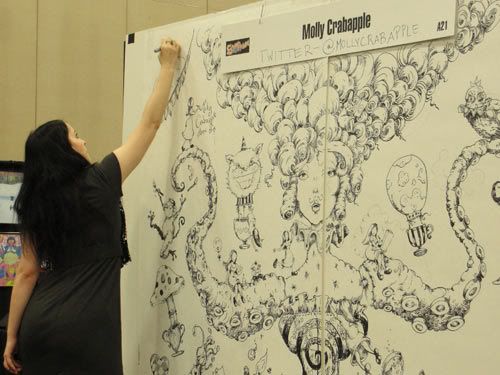 Lovely Gingerbread Girl comic, drawn by Colleen Coover and written by Paul Tobin: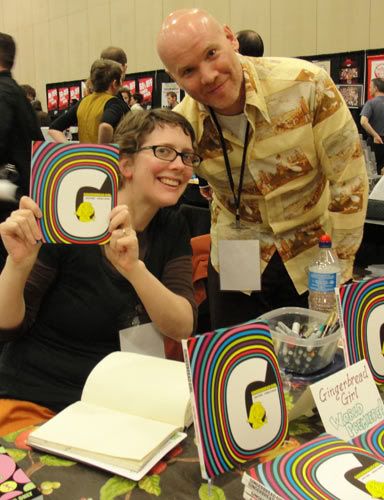 While he didn't have a table, I was hugely pleased to see Seattle-based comics creator David Lasky (dlasky). He's currently working on a graphic novel about the Carter Family, and we had fun playing around with his comic about Serge Gainsbourg and Jane Birkin (or Dave Gainsbourg and Ellen Birkin.)
Our whole festival experience was made loads more fun by having a table next to comic creator and DreamWorks animator Scott Wright. (Thanks for being such a fab tablematey, Scott!)
One of my big discoveries at the festival was the work of Tyler Parker, who went to art college in the south of England (Brighton) but now lives back in the USA. I love his colour palettes and sense of design, do have a look at his blog.
I'm hoping we can get Sarah Oleksyk over to London to talk at a meeting of Laydeez Do Comics. She knows a lot about women in comics and has a lot of interesting stuff to say. Speaking of which, I was wondering if there was a database of UK and Irish female comics creators and Cliodhna pointed me toward this handy list, Splinister, compiled by Maura McHugh.
One Stumptown highlight was meeting amazing photographer Elisa Lazo de Valdez (visioluxus). I love her updates on LiveJournal, and I was pleased as punch to find out that the person who makes some of the gorgeous and haunting paper masks in her photos is actually her husband, paper artist Phillip Valdez. Wow, what a team! Have a look at both of their websites, some truly brilliant stuff there. Caution: Some of Elisa's photos include (very tasteful) nudity, so possibly not safe for viewing at work.
Eliza originally trained as an illustrator, and their daughter, Sophia, also loves to draw. Thanks for this picture, Sophia!
A few more creators and links, here's Liz Baillie with her Freewheel comic:
Jonathon Dalton (jdalton) and his Mayan-Aztec graphic novel Lords of Death and Life. I read it on the plane; great stuff, and I love the historical setting and intricate decorative details.
Have a look at the lovely website of Matt Sundstrom. I bought his book of Portland drawings, and it made me want to go and make a book of London drawings.
Being back in America, I kind of overdid the whole thing of catching up on food that's not so readily available in Britain. (Breakfast pancakes were the worst culprit.) But one thing that's never tempted me has been red velvet cake. I've always been put off by the fact that a single cake uses up something like a bottle and a half of red food colouring. But Ellen, her husband (Comix Influx translation website coordinator Stephen Betts), Mary, Mike and I went to a restaurant that specialises in southern cooking, and that's what Ellen ordered.
It's just so RED! Ellen explained that it's sort of halfway between chocolate and white sponge cake, and when tasted a few bites, it was pretty good.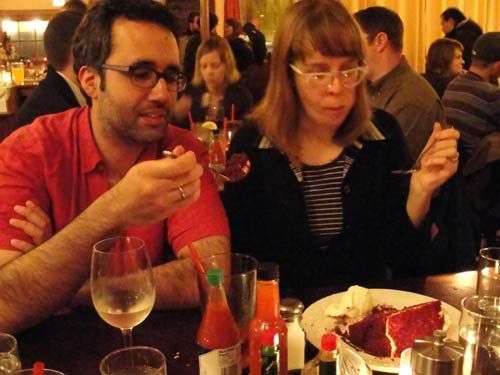 We ended up having quite a few of our meals in the Jupiter Hotel restaurant, the Doug Fir. My sister and I couldn't get over the stripped-log decor, we really loved it. Here's Stephen with Seattle-based comic creator Scott Faulkner (inkboy) (with whom I met up on other visits to Seattle, along with David Lasky, Mark Campos (mr-sadhead) and Jim & Mary Woodring). Scott's part of Seattle's Bureau of Drawers comics group.
And I wanted very much to see more of Elisa (visioluxus) that we met again for breakfast at the Doug Fir.
Actually, I started using the Doug Fir as a sort of meeting room, and the wait staff started teasing me a bit when I came in for second breakfasts. (I only had tea the second time, honest!) But here's a gang of us from college who almost spontaneously rallied on Facebook. Great to see you all! We had a lot of stories to catch up on, breakfast wasn't really long enough.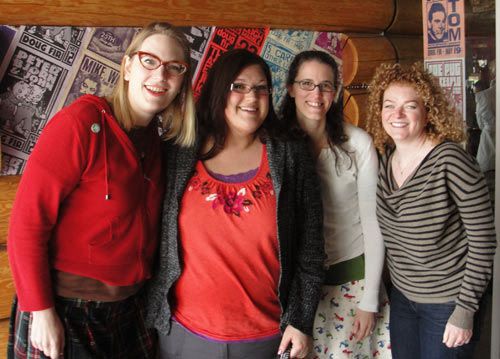 Me, Rachel Duncan, Amy Rohrer Dorr & Heidi Lahart
I absolutely love the bride we passed several times between our hotel and the city centre. Its shapes are so beautiful, and I love how it has this strange little cottage on top.
We went to see a performance by a Jesse Reklaw, creator of a comic called Slow Wave, who also plays guitar in a band, but we got there pretty late and only caught the tail end of the show.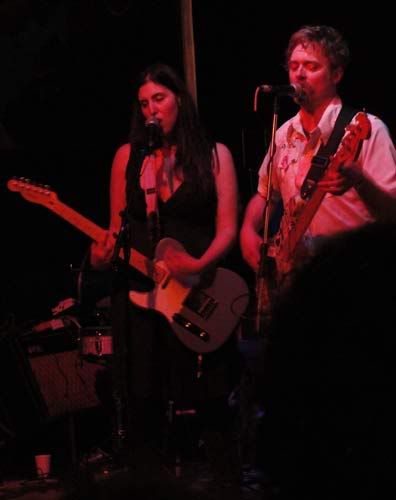 And here's us dinging around in the freezing cold Portland night. It was such a shock coming back to England in full summer weather.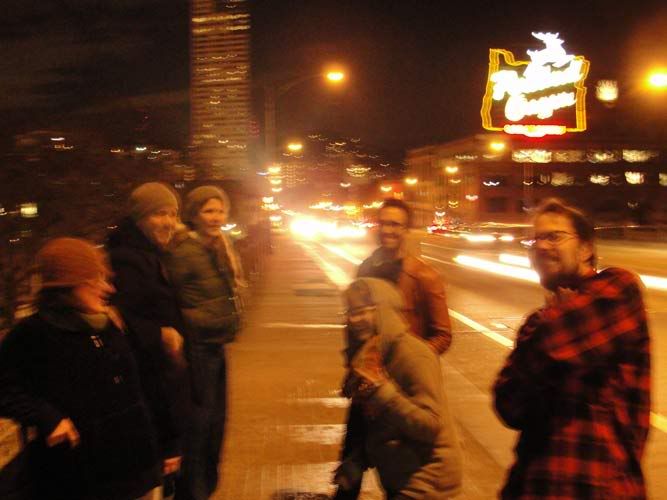 Stumptown was fabulous! You can see Ellen Lindner's write-up of both Stumptown and MoCCA over on our studio blog, The Fleece Station.