stitch london – knitted pigeon launch!
A huge congratulations to my most excellent studio mate Lauren O'Farrell on last night's launch of her new book, Stitch London! (You might remember she only just launched Knit the City… this knitting genius is on a roll!) Most of the partygoers managed to wriggle by Plarchie the squid without being eaten or molested by his long tentacles, but the Fleece Station offers its most sincere apologies and sympathy to the friends and families of the non-survivors.
We couldn't stand by their carcasses grieving for too long because there were CUPCAKES. (Such a good distraction in difficult times.) And pigeons! Knitted pigeons. Find out more about Stitch London over on the website! (And buy a copy, this will make FAB Christmas prezzies.)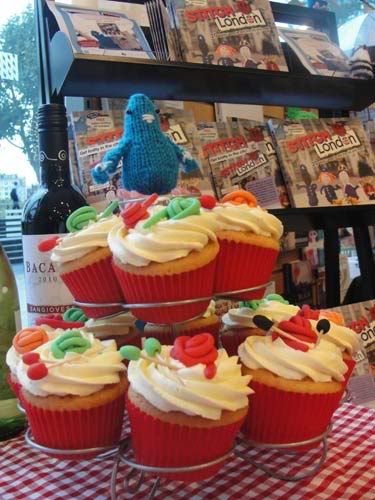 Foyles bookshop on the South Bank provided an amazing venue for the launch, and being so very much about London, the book fits in well there. Stitch London is a great souvenir to take away from the city and a great way to celebrate it if you live here all the time. I think the knitted corgis are my favourite patterns.
Oo, another pigeon! They are always poking their heads around the door of our studio, and nothing represents London better than a pigeon, really. The scruffier the better, so don't worry if your knitting skills are not up to scratch, there's something in there for everyone.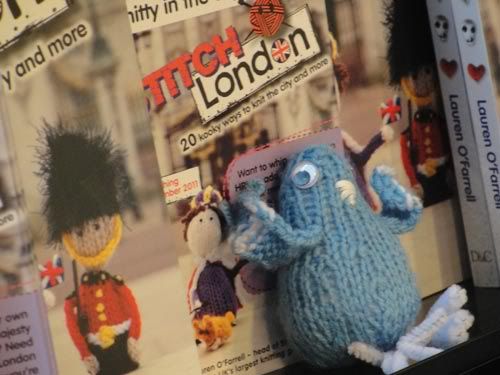 Oo, look! Lauren's included the whole Fleece Station in the book, hurrah! Thus launches our new careers as fashion models. We did a lot of riding up and down the East London Line to get these shots.
Cool book cosies, eh? I'm trying to remember which cosy went with which book. I think Gary's holding a monster book cosy (possibly one of Alex Milway's books), Lauren's holding a cover for Philip Pullman's Northern Lights, Ellen's holding a Penguin book, I'm reading Harry Potter, the book's designer is reading Mortal Engines and…. hey, Lauren, what's that grey book on the lower right, the one with the flame?
Here's Lauren's editor and Lauren giving little speeches about the book. This week Lauren's celebrating five years of being cancer-free, and proceeds from the sales of the book are going to support Leukemia and Lymphoma Research. Lauren used to have a regular city job, but the shock of almost dying made her change tack and start doing what she really loved, which was creating wacky knitting installations and using knitting to bring together people in need of support and community.
Foyles stocks great books. Stuart found The Book with a Hole by Herve Tullet and I had fun running around the party, mucking about with it.
Here's Lauren's publisher at David & Charles being eaten by one of Plarchie's compadres.
Lauren's sister Natali, was also dinner.
Oh my goodness, Perri Lewis is FIERCE!! (She was also my Guardian editor for Vern and Lettuce and will be appearing with Lauren on today's Alan Titchmarsh Show.)
Hey, look, Gary Northfield's on telly again!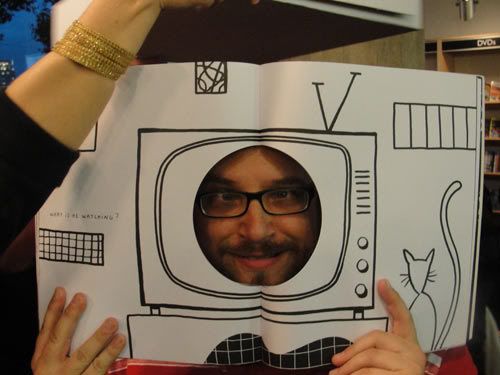 Following on from what I wrote earlier about Lauren deciding to do what she truly loves to do, I just saw this speech by Steve Jobs at Stanford's graduation ceremony. His passion and determination reminded me a lot of how Lauren approaches life, when he says, 'You've got to find what you love… keep looking and don't settle'.

Rest in peace, Steve.