staying sane with philippa perry
I went over to Clerkenwell Tales yesterday evening to hear Philippa Perry give a talk about her latest book, How to Stay Sane. I knew about Philippa because of her graphic novel, Couch Fiction, about her work as a psychotherapist, and she'd spoken about that book at Laydeez Do Comics. Here's a peek at yesterday's notes: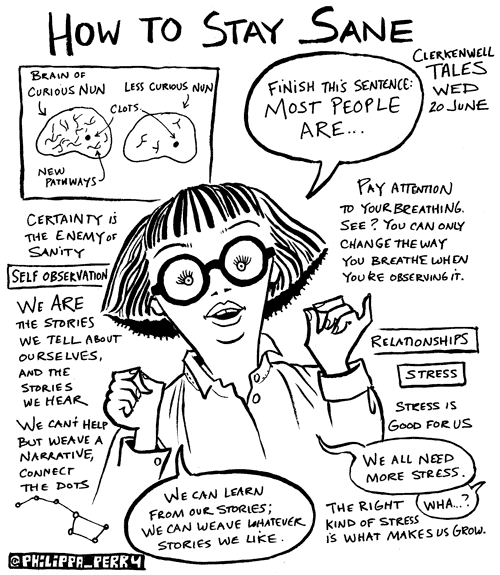 I'm always interested in the areas where comics overlap with other media, or where two distinct styles come together, or where someone comes to comics from a background other than illustration; I think that's sometimes where the most interesting things happen. With Philippa, it's comics and psychotherapy, and since I don't know much about psychotherapy, it beckons as a rich new field to explore. And it's exciting that Philippa has embraced the medium of comics for one of her books. How to Stay Sane isn't a comic, but the topic's still a fascinating one. She's appeared on panels with Darryl Cunningham, creator of Psychiatric Tales, so I suppose that's made me see just how amazing comics can be in taking complicated and controversial subjects and unpacking them in a new way. Philippa had us do a couple exercises with her, and one was to finish this sentence with the first word we thought of: MOST PEOPLE ARE ______. The first word that sprang into my mine was 'funny', and then when I went home and posed the question to Stuart, his word was… 'funny'. Which made me laugh.
So, lots has been going on with the Perrys lately! Not only has Philippa had a book out, but her husband, Grayson Perry, has had a three-part programme running on Channel 4. (You can read my earlier blog post of his exhibition at the British Museum.) Grayson is another one of these people whose work jumps a gap, between fine art and comics, and the stuff he comes out with is vibrant and intensely relevant to the stuff that's going on in our daily lives here in Britain. He taps into a lot of the folk art and religious art traditions that I love, and he's good at explaining his work, so everyone can understand at least some of what he's doing. And he does that in Channel 4's In the Best Possible Taste, which you can watch online (at least in Britain) for another two weeks for the first episode and a bit longer for the next two. In it, he attempts to figure out what defines the tastes of the working, middle and upper classes, and in his exploration (or 'safari'), he keeps sketchbooks, takes photos and turns his research into huge digital narrative images, which he then has Belgian carpet manufacturers turn into tapestries.
You can see the tapestries in London at the Victoria Miro gallery until 11 August, details and images here. The way Grayson draws and works stories into his pictures has a real affinity with indie comics, and I think a lot of my comics friends would find the whole process, from research to tapestries, very inspiring.
And I just had to include this shot. Look, my fabulous studio mate, Lauren O'Farrell (aka Deadly Knitshade) in her fabulous new dress, in front of her knitted Monster Phonebox on Trafalgar Square! How awesome is that. You can find out more about her BT Artbox project over on her Whodunnknit website. Hurrah, Lauren!