stage makeup and lotsa links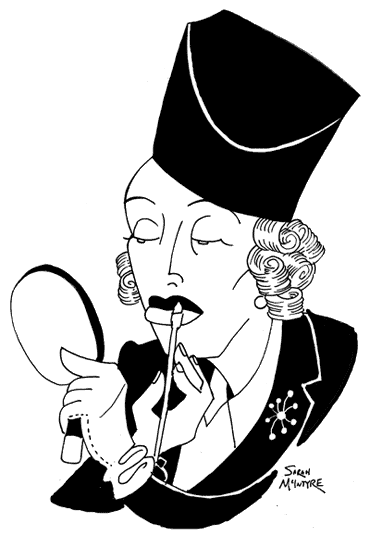 For today's morning sketch, I did a freehand ink drawing loosely based on a photo of stage actress Gertrude Lawrence.
I'm very sad about what's happening with Proposition 8 over in the United States. libba-bray has written a thoughtful blog post about it here.
joeyweiser just posted a breakdown of how he makes comics in Photoshop, most likely very useful.
There's a great interview with the DFC's Jim Medway and Adam Cadwell over on Matt Badham's blog. (Jim's just right now posted a new painting to the Super Comics Adventure Squad.)
Hey, there's lots going on over at the Forbidden Planet International blog right now! Including:
*a link to the BBC video report about the new Hergé Museum, and there's some commentary on its PR so far.
*Ted Dewan talks about Boys and Violent Imagery. Ted's done the DFC's Doodle-It page and I met Ted on my very first visit to David Fickling's office. When I realised who he was, I had a fan-girl moment and rather surprised him with how well I knew the details of his Crispin the Pig book. He's making a kids book with lots of picture of boys stabbing and bashing each other, I think I'll need to see that.
*Gary Northfield's comic about Anne Frank. Last time I had coffee with him, he told me he was doing a funny comic for National Geographic Kids about the assassination of Martin Luther King Jr, which made me think, better you than me! But I have no doubt he pulled it off marvellously.
*Have a look at Matt Badham in conversation with Oli Smith. (And note the London Underground Comics event on 27 June.)
*a review of The Picture of Dorian Gray, adapted in comics form by Ian Edginton and Ian Culbard;
*notes on the return the Franco-Belgian classic Spirou;
*commentary and link to the Bookseller Century: 100 most influential people in books today. It's interesting to see a lot of the people I've been meeting these past two years; the English publishing world is not very large.
*the Sherlock Holmes film trailer, wiht Robert Downey Jr and Jude Law. It doesn't look very Holmesian, but it looks like it's picked up on that particular brand of humour I've been missing in recent Bond films; might go see it.
*and finally, a link to the Hi8us Comix competition, including a trip to Spain and a chance to work with Midlands comics people, including the DFC's Laura Howell and Asia Alfasi (whom I mentioned a few posts ago).
…Okay, this is getting silly long. Just go look at the blog yourself!