SQUAD DFC sets forth!
Squad DFC sets forth!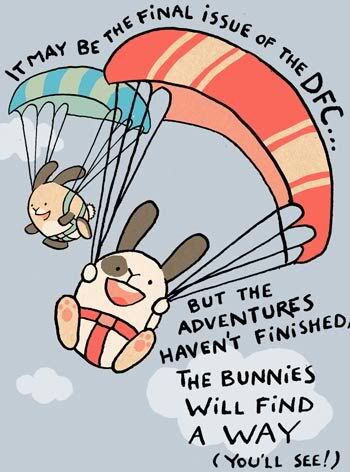 Today's very sad, in that the last DFC is dropping through letterboxes and there's no word about a buyer coming to its rescue.
…BUT! But the DFC is not over, suddenly there's this hugely talented pack of comics artists and writers running around who know each other, love each other's work, have caught the DFC spirit and are set to do huge projects, perhaps some of them together!
So to start things off, we present to you, the SUPER COMICS ADVENTURE SQUAD! (Yes, we're all big fans of James Turner's Super Animal Adventure Squad.) It's a forum for the DFC people to come together to show what's happening now, and we'll update it regularly with fresh news, comics and pictures we've made. If you love comics, picture making and storytelling, this is a site to bookmark and revisit; go on, have a peek!
If you haven't yet seen the DFC, or are hanging to see the end of some of the stories, the DFC has just reworked their website to show remaining episdoes here. That means – for free! – you get to see episodes of Woodrow Phoenix's Donny Digits, Kate Brown's Spider Moon, Wilbur Dawbarn's Bodkin & the Bear and the Etheringtons' Monkey Nuts.
Garen Ewing has said a lot of things I would say in his blog post today. And I said a lot of it already here. So I thought I would show you a few development drawings from early DFC days.

In December 2006, I sent an e-mail David Fickling, on Paul Gravett's suggestion, and this reply pinged back from David that same evening (or early morning, I should say, about 5am!):
Dear Sarah,
Thank you so much for writing. I woke up in the middle of the night and
logged on (for want of anything else to do) and found your work which I think
is lovely. So I think you can definitely say we are interested. I am
dashing about for the next few days but would like to tell you more about the
comic. Perhaps we could meet? Are you able to come to Oxford? In the
meantime I shall pass your email on to my colleague Ben Sharpe so that he
can fill you in with more details of the DFC.
David and Ben asked me to do a sample comic for the mockup DFC they were making to convince their investors, so I thought I would do something about a sheep:
I hadn't done many comics before, but my favourite comic, Calvin & Hobbes, had two characters, so I decided that one sheep wasn't enough, he needed a friend. So along came Lettuce. Here are some of my first drawings: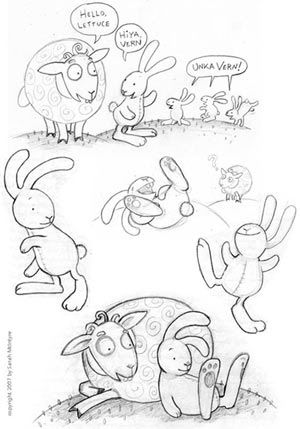 click on the pictures to enlarge
I was going to set the comic in the countryside, I kind of liked the idea of Vern living in one of those two-tone caravans. His home would be very humble, but he'd be incredibly house proud and have spent ages carefully decorating it. (In preparation for bunny madness to follow.) So I obsessed a bit over the caravan's interior, borrowing a look from Swedish painter Carl Larsson:
Lettuce's burrow home was much more chaotic:
Just as I was in full swing with this setting, I showed it to my friend Rachel, who looked at the drawings with a concerned look on her face. She went over to her pile of library books and pulled out a picture book by Jez Alborough with a duck …AND A SHEEP IN EXACTLY THE SAME CARAVAN! Even white and mustard two-toned. I was devastated. But this turned out to be a good thing. I went for dinner to my friends Vladimir and Antigone's flat, on the top floor of a tower block in Peckham. Looking down at the amazing view of London, I suddenly realised that a tower block would provide far more stories than the field with a tree that I'd been planning. Besides, I know more about living in the city, and there are always little dramas going on with neighbours.
So that was the beginning of a remarkable time of working with the DFC editors and getting to know the amazing people on the DFC team. And it doesn't stop here!
Please make the creators' day by leaving a comment showing your support over at Super Comics Adventure Squad! They'd love to hear from you: anything from 'hi, I'm a DFC fan' to your ideas, favourite comic episodes, your dreams for comics, or whatever you think will cheer up sorrowful but forward-looking comics creators.