space princess!
Today I got to visit the Discover centre in Stratford, northeast London. The place looks amazing, with bizarre interactive story items packed into every square inch – a giant black dragon in the stairwell, a vibrating bridge, wiggling signposts, and something that had Alex Richardson the publicist and me in hysterics, a door in the toilets that made farting noises every time someone walked in.
I wore my new costume that my fantastic friend Ellen Lindner helped me sew! (Well, Ellen sewed and I cut out some things and flapped around, made tea and stitched some of her quilt square while she sewed.) Alex wore one of my tiaras and brought me a princess than we can eat, and I led the kids in a raucous but hilariously fun session of making our own aliens.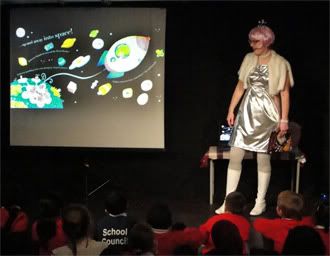 And to top it off, guess who walked in at the end! Remember that Olympics animation I posted awhile ago? Well, it was the marvellous director, Marc Craste from StudioAKA. (You can tell I'm a total fan girl because he even has his own tag on my blog.)
I was slightly embarrassed to be meeting him, looking a bit too much like Dame Edna Everage in my outfit, so I ripped off the pink wig as he walked up, only to realise I had about six bobby pins sticking out of my head, with hair everywhere. Ah, well.
Marc was there to do the workshop after mine… those lucky kids!
Edit: Oo, FPI have just blogged about the British Animation Award nominees, so you can get a look there at work by Marc and loads of other amazing people.