space princess hits leicester!
On Sunday night, Alex Richardson (my fab Scholastic publicist) and I took the train to Leicester to met up with fellow maker of book magic Lizzie Finlay. We had an excellent curry dinner with two comics friends, Selina Lock and Jay Eales and Lizzie's cousin, then spent all of Monday at the Leicester Tigers Rugby Club with 800 enthusiastic Leicester schoolchildren, ages 5-7. Lizzie took on half of them and led activities based her latest book, Little Croc's Purse, and I took my 400 into space with You Can't Eat a Princess!.

After I read out the story, I showed them some things I drew when I was a kid (such as angel fink and paper dolls). Then they helped me draw some aliens. In a later workshop, we made up new characters and stories based around a spaceship voyage.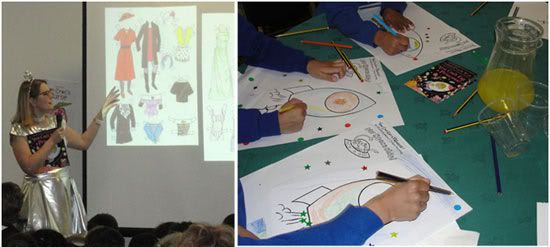 I love this space and aliens theme, the kids come up with the greatest stuff. A lot of them used a sheet based on my Draw your own spaceship sheet, but some of them just drew on white paper: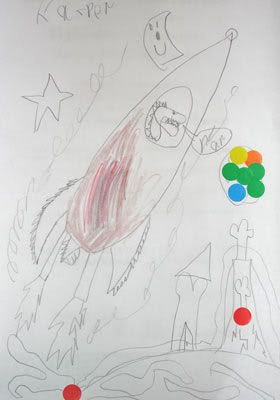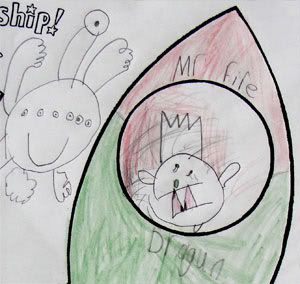 Thanks to coordinator Ellie Lee (on far right in the group shot), the gang from The Reading Shop and everyone who's been working so hard to make this event happen! That's Alex-the-publicist on the bottom left and a librarian named Jyoti in the beautiful purply-pink salwar kameez. The little middle picture is me being interviewed live in front of everyone on BBC Radio Leicester, which you can hear online here. (Move the little arrow about half-way along the bar, to the 1:08:38 mark.) I like the kid who pipes up that his favourite place to read is on the toilet.
Edit: Click here to read an article about the day in a local newspaper.