silly wee pirate
Here's a peek at another character study for one of my pirates in You Can't Eat a Princess!, tacked to the studio wall. Except I forgot to bring my camera leads this morning, so I've been messing around with something called 'Photo Booth' on my computer to get the shot, so sorry it looks a bit grainy. Try to think of it as salty sea spray, that's why you can't make out the pirate so clearly.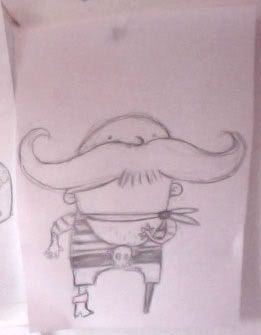 Then I took another Photo Booth snap of Gary and me in the studio, just because we like the sound the camera makes. We spent the last ten minutes fighting over where to put the stapler.
I'm doing two schools events on Monday for London's Pop Up Festival at Holborn Library. When I had lunch with Geraldine McCaughrean on Tuesday, she told us she was doing a FIVE HOUR storytelling event, and Philip Ardagh is also doing something huge for the main festival days on Sat the 9th and Sun the 10th. Have a browse of the programme to see if there's anything you or your family would like to go along to!
Philip Ardagh's event starts at 2pm on Saturday and Geraldine McCaughrean's event starts at 11:30 on Sunday, both at the main festival site in Coram's Fields in central London.