sheep swap 8!
Or, The Return of Sheep Swap! For the last week or so, Gary Northfield and I have been waving at each other over a gigantic stack of work piled up between our desks, but now we're buckling down and getting back into the world of Derek and Vern. (Read earlier pages here.)
Have you seen the great review of our Birdsong anthology over at Forbidden Planet International? Thanks you, Richard Bruton, for discussing each contribution in such detail! You can buy Birdsong here and I'll be taking some copies up to Hi-Ex in Inverness, 27-28 March.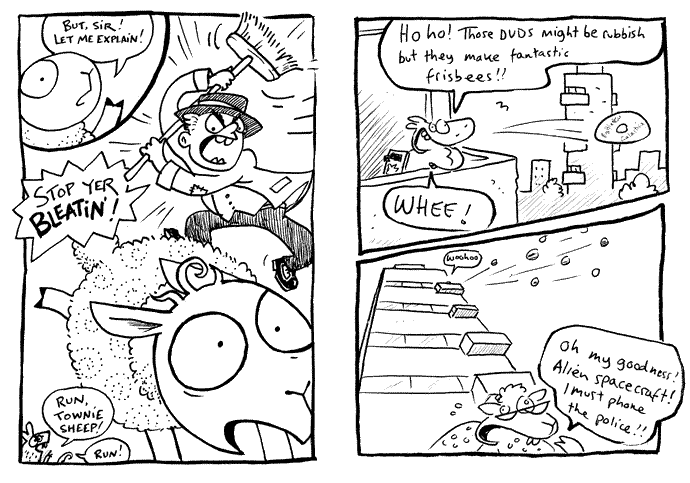 Some other diary dates:
May 28 & 29: Gary and I will be sharing a table at London's MCM Expo and supporting the DFC Library gang, who will be out in full force!
Saturday, April 24, St Albans: I'm leading a Hungry Aliens & Manky Monsters workshop at a new comics festival, UniComics, at the University of Hertfordshire. Keep an eye on this festival to see where it goes!
Thursday, 8 July, London: Get your booking in soon if you want to hear Giles Andreae and me talk about working together to make our book Morris the Mankiest Monster. **(Note that the date's changed from 1 July.)** These talks in the SCBWI Professional Series tend to fill up fairly quickly, so don't wait until a few weeks before.

If you're in Brussels anytime until Aug 29th, pop into the Belgian Comic Strip Centre to see the Moomin exhibition. We're hoping this exhibition will also come to London, fingers crossed!