see you at unicomics!
I think my 11am Hungry Aliens & Manky Monsters workshop is full now, but you can always turn up on the day and try your luck!
Our 2:00 Creating Comics for Kids panel was only announced fairly late, so you'd have much more chance of getting in. Come along and get copies signed of Dave Shelton's Good Dog, Bad Dog, Gary Northfield's Derek the Sheep (He might even sign your Beano if you ask him nicely) and my picture books, Morris the Mankiest Monster and You Can't Eat a Princess!.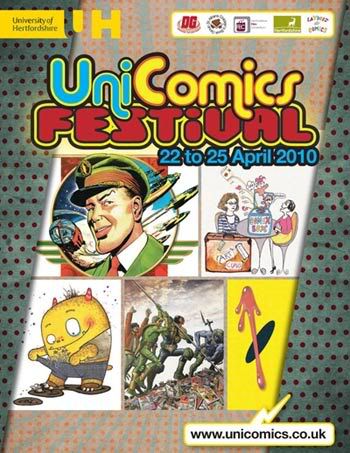 Stop by my table and say hi, and cheer up Stuart if he's looking a bit tired. Besides the picture books, I'll have Birdsong anthologies and a few copies left of my Dear Diary mini comic for sale.
Congratulations to Viviane Schwarz for being shortlisted for the Kate Greenaway medal! Whoo hoo!!! (And David Roberts, and Grahame Baker-Smith, and Satoshi Kitamura, and… actually, I couldn't make a very unbiased call on this one, they'll all such lovely people.)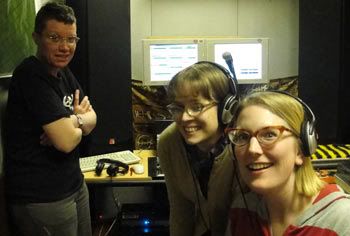 Last night my studio mate Ellen Lindner and I talked about our books and comics on the Old Police Station's very own Optical Radio with Val Phoenix on her show Odd Girl Out. I'm not sure if we're going to be able to post the podcast, but if you missed the live version, you can listen to it again starting at 1pm this Sunday at OpticalRadio.net.
Ellen and I had a lot of fun doing it, and even got a couple free glasses of champagne afterward from the students holding a fashion event outside the sound booth. Wahey! (That helped ease the agony of the Leaders Debate somewhat.)
Music diary date: You know the writer, puppeteer and sometimes-illustrator Sue Eves, who wrote The Quiet Woman and the Noisy Dog? Well, her rather fab DJ partner, Max Reinhardt, is organising a big music festival for Sunday, 13 June in Bernie Spain Gardens on London's South Bank, called Celebrating Sanctuary. I think I'll pop along!

YouTube link