searle exhibition and mad random house event
I absolutely LOVE the drawings of Ronald Searle, and a fabulous exhibition of his work opened last night at London's Cartoon Museum! (People might know him as the guy whose devious schoolgirls inspired the two recent St Trinian films). Do go along and see it if you get the chance, this gem of a museum is tucked a couple roads back from the main entrance of the British Museum.

Nietzsche meets Woody Allen, The New Yorker, 1992
(There were loads more amazing drawings, but the crowds of patrons and comics artists were so thick, this was the only one I managed to snap!)
Great to see some of the comics gang: the Fleece Station's own Gary Northfield, the museum's resident cartoonist Steve Marchant and his partner Françoise, one of Steve's friends and Guru in a Bottle's Ardi Kolah.
Before the event, I had an exciting but rather strange first-time experience of a publisher Sales Presentation, at the big Random House headquarters up in Ealing. The publicists had prepared like mad for it, and they'd brought in people from their outposts as far as Australia and New Zealand. The best parts were getting to see my fabulous publisher David Fickling and the author of Morris the Mankiest Monster, Giles Andreae. Yay! Giles and I did an 8-minute presentation where he talked a bit about the book's beginnings, then he read the text while I drew the body parts, bogeys and such that he was talking about until we had a finished picture of Morris. I'd never done that before (except a practice session with Ellen Lindner in the studio), so it was slightly nerve-wracking, but fun, too. Then I'd made up a Make-your-own-Monster party game that people played at the reception, and here's our monster-in-progress: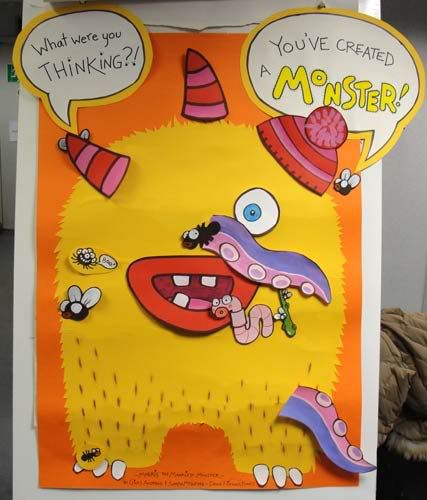 Here's Giles with the ever-fab writer and illustrator Nick Sharratt, who's done a lot of work in the past with Giles. (But no, Nick did not illustrate Morris the Mankiest Monster, despite what it says on the RH website. Continued thanks to everyone who keeps writing to let me know, apparently it's the most unchangeable website on the planet!) Look at them excellent trousers.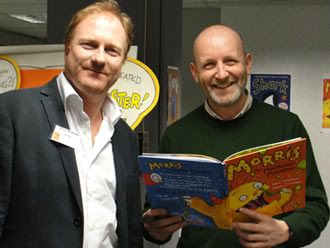 The good news and also the very bad news about Morris is that it's sold out of its second print run! You can still get a few books on Amazon, but the warehouse is empty and apparently there won't be any more books until May, which is slightly worrying. I wish they would have printed more books. (C'mon, Random House, throw caution to the wind!)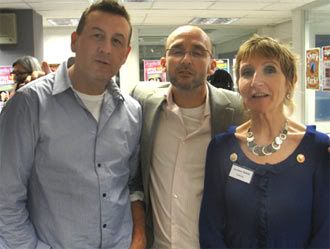 Here's the publicist Corinne Gotch, who did loads of work with her team to put on the event, and the two nice Australian rep dudes whom I was trying to convince it was absolutely essential we have an Australian Morris book tour. And fab Publicity Director Clare Craggs-Hall, who's been working hard with us to promote the upcoming DFC Library. (Look, there's Vern and Lettuce!)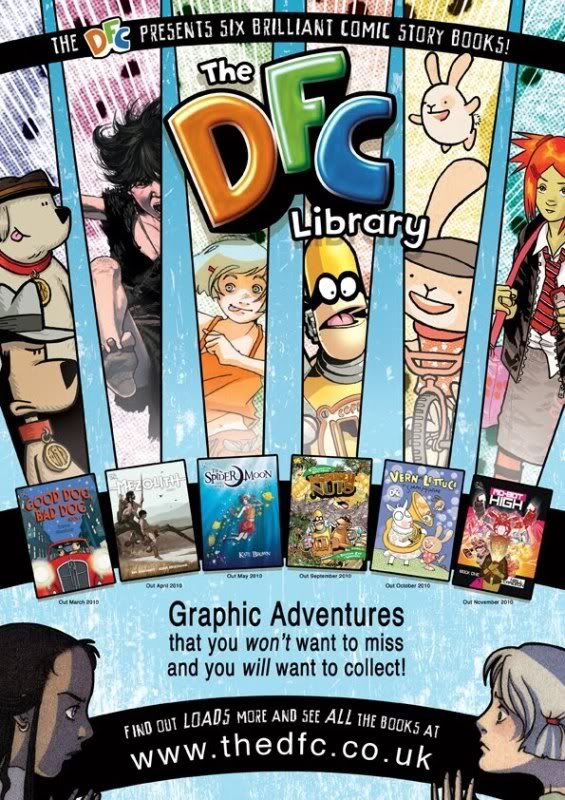 And I was dead chuffed to hear David Fickling raving about the work of my friend and Bologna travel buddy Candy Gourlay. She has a novel with David launching on 17 June, called Tall Story. If it's anything like Candy, it's going to be funny, thoughtful and utterly brilliant. I'm so excited to read it. Here's the cover, and Candy with me and writer Fiona Dunbar at the Fleece Station party.