reviewers' day
Today I spent the morning at a Reviewers' Event for Write Away, organised by my fab friend Nikki Gamble and hosted by Walker Books in their lovely headquarters. (Let me just say, their caterer makes the best brownies ever.) I sat very still and listened attentively for the first couple talks, but then I started to fidget, even though the other talks were fascinating, so I stayed focused by keeping my hands busy drawing pictures of the speakers.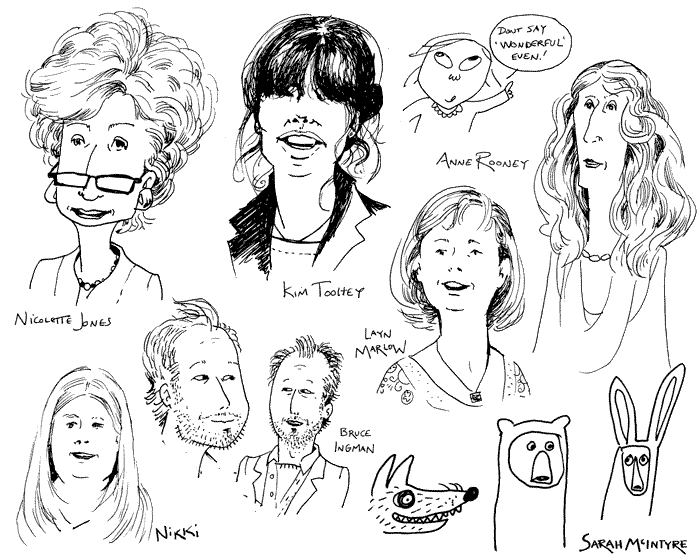 (I didn't draw Anthony Browne but you can see the sketch I made of him a couple weeks ago here.) I've written some reviews for Write Away and I really like doing it, partly to add to its great educational database, but partly because when I have to write a review, I pay way more attention to the book than if I was just reading if for myself. Reading a book critically and having to think why a book works and doesn't work is such great training for making my own books. Generally, if I don't hugely like a book straight away, I don't bother looking at the rest of it, and this forces me to ask myself why I don't like certain books, which is also good training. But it can also be hugely awkward if I really hate someone's book and I suspect I might at some point end up in the pub with that person or their editor. Reviewing books brings up a lot of dilemmas like that.

So I was so glad to hear what other people had to say about reviewing. We got to hear from one of Britain's leading children's book journalists, Nicolette Jones, who urged reviewers to look at a book's illustrations with as much attention as they put into reading the text. She disparaged articles almost wholly spent describing the picture book's writing and plot and, in the final sentence say, '…and the illustrations wonderfully complement the text'. She showed us illustrations and had us think of possible fine art references and influences hidden within them, including Pieter Bruegel in Where the Wind Blows by Raymond Briggs, various European Pietà scenes in While You Are Sleeping by Alexis Deacon and Diego Velázquez in a picture by Chris Riddell. But she warned us that if we make references to fine art in newspaper articles, it's nearly always the first thing the subeditors will cut out. (Apparently it makes the article sound too highbrow to them, since picture books in Britain don't generally get the kind of scholarly analysis they get in countries such as the USA. Surprisingly, loads of Brits – even comics people! – who still see picture books and think, 'aw, that's just for kids' and think no more about them.)
Anthony Browne is always urging people in Britain to become more visually literate, and this time he focused on transformations in stories: taking something ordinary and changing it into something else. He echoed what Walker's Deirdre McDermott had said just before him, that a book's pictures shouldn't replicate the words and that both should tell a story; in Anthony's books, he uses lots of little visual details in the backgrounds as foreshadowing techniques or to enhance the book's feeling of strangeness and mystery. One example was the first scene of his book Hansel and Gretel, where we see the mother standing over the child's bed, casting a shadow on the wall; the curtain opens just above the shadow's head, its shape forming a pointed witches hat. He and Deirdre both talked about leaving space in the pictures for more story than the text gives, and Anthony held up a copy of Chris VanAllsburg's The Mysteries of Harris Burdick as a great example. In this book, an editor claims to have been given pictures and the beginnings of stories by a writer, who left and never returned with the finished stories. So the reader is left to wonder. Anthony said that his son had been so disturbed by a particular picture that, as a good father, he'd had draw another picture in VanAllsburg's style to show his son a comforting scene of what happened next. This book also inspired Stephen King to write his short story The House on Maple Street.
Walker Books publisher Deidre McDermott showed us some great samples of books they have in the works, describing their goal as simply making books that children will enjoy, then saying, 'our aims are mostly good' (immediately making me laugh by thinking about what their few nefarious goals could be). I also had a giggle while she was using pictorial vocabulary to describe a manly, swashbuckling pirate scene by Andre Amstutz, where she kept stumbling over the fact the background was peach coloured. (No, peach doesn't seem very piratey, does it?) "I just don't like the word 'peach'," she said, before moving swiftly on.
We also got to hear from writer and illustrator Bruce Ingman. (Ha! I just figured out how his website works… have patience and keep clicking on Trafalgar Square!) For some reason, I've written in my notes, The Magic Current Bun, which appears to be written by John Symonds. (Recommend it, anyone?) He talked about putting autobiographical bits into his books, and how that makes the books seem real to him, even if no one else can recognise the characters. (He identified himself as the sausage in one of his books, and during the coffee break, I saw the sketchbook in his pocket, in which he's drawn several more sausages.) The first time, as a kid, he realised he could bring real life into his books was when he read Meet my Folks by Ted Hughes, and he was fascinated by the opening of the Pink Panther show, where the cartoon characters get out of a 'real' photographic car:

(YouTube link)
Like McDermott and Browne, he said that illustrations should never exactly echo the pictures, quoting Quentin Blake, who says we should always illustrate what comes just before or just after the text. Bruce also encouraged us to be open to different media in picture books, and to judge what works in the book's own terms, in the context of that medium. (Anthony made a similar point, saying that sometimes illustration techniques can actually get in the way of telling the story, like when you're watching a film and you're uncomfortably conscious that the actor's acting.)
Writer Anne Rooney gave a talk that really addressed the awkwardness that comes with not liking a book. Unlike in other literary circles, where people often enjoy slagging off each other's work, people who talk about children's books tend to be much more careful. And major reviewers get away without having to say negative things because there's usually so little space in newspapers devoted to picture books that they save it for the books they like. Anne argued that it's not just a matter of taste, that books can be judged by objective criteria:
*What does the book set out to do?
*Does it achieve it?
*Is that a worthwhile aim?
She argued that it's perfectly acceptable to criticise a picture book if doesn't measure up to one of these points, but that we need to give a well-reasoned argument, so it isn't just slagging. She used her review of one book as an example of a book that failed in its objective. In this book, the message is that we need to stop making so much noise, so we don't miss the quiet things in the world. For starters, children don't particularly like to be told to be quiet. But the story features a quiet little shrew, who is shown not being heard. But then the narrator butts in and talks over him, so he never IS heard, and we don't know if he ever even has anything to say; just 'being quiet' turns out to be the whole message.
My friends I meet up with once a month for an illustration critique session gave the last two talks and made some points with several books they'd recently reviewed. Layn Marlow talked about Lear's The Owl and the Pussycat, illustrated by Kevin Waldron (Oo, have a look at some of the fab stuff on his website!) and Grandpa's Boat by Michael Catchpool and Sophy Williams. The book's about the death of a grandfather; I was interested when Layn pointed out the narrative significance of the book's figures facing to the left, the right or straight forward.
Kim Toohey (who's studying on the same MA course I did at Camberwell) talked about the oddities of Crazy Hair by Neil Gaiman and Dave McKean and the digital designer approach of William Bee in his book Whatever. (I also wrote a review of a William Bee book and got way too into comparing it to one of my childhood faves, Drummer Hoff.)
In all, a fascinating day. Thanks so much to all of you who made it happen!