random christmas party
Last week I went to the Random House Children's Book Christmas Party, and it's always an exciting shock to see so many amazing creators gathered in one place. (The first year I went, I got a bit overwhelmed.) I only remembered my camera about five minutes before we all headed off to the pub, but I managed a few random snaps. Well, this one wasn't random; I really wanted to get a photo of fab comics buddy Neill Cameron (creator of Mo-Bot High) and our superhero Posy Simmonds.

Neill Cameron & Posy Simmonds
Posy said she'd read my Vern and Lettuce and enjoyed it very much, which sent me running around with an idiotic grin on my face for the next hour.
Edit: Hey, I just found out Posy's speaking at the next Laydeez Do Comics event, just off Brick Lane in London on Mon, 13 Dec! Details here.

Here's Neill with the other one of my all-time favourite writers, Candy Gourlay, who also happens to write the most amazing stories. You've read her totally gripping Tall Story, right? Pick up a copy of Tall Story, Mo-Bot High, and it's Christmas sorted. (Aren't I helpful?)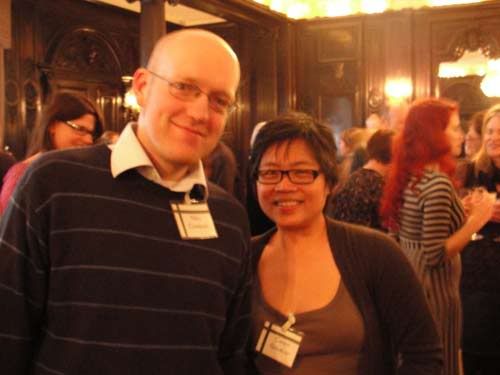 Neill Cameron & Candy Gourlay
And you always know it's going to be a good party when you see the extraordinary Mini Grey across the room (see some recent photos of her showing off some original artwork here), and Steve Cole, who almost instantly has me snorting my drinks up my nose and generally behaving innappropriately (and provoking such drawings as the Stevasaurus Cole).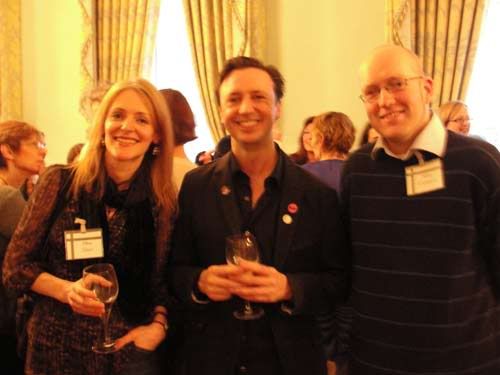 Mini Grey, Steve Cole & Neill Cameron
Besides the creators, it's lovely to see so many people who make things happen in the children's book world, including Joy Court, the Bookwitch and Carousel magazine editors Jenny and David Blanch.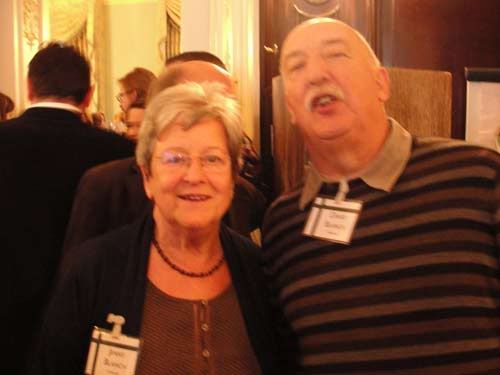 Jenny & David Blanch from Carousel magazine
I wish I'd pulled out my camera earlier, I could have papped a few more of these people, but go to the Bookwitch's excellent blog to read the most comprehensive review of the evening. (Hello, Bookwitch!)
Candy Gourlay and I got a bit overwhelmed by the noise levels and made our escape to dinner, where we revived enough to visit the SCBWI social at the Royal Festival Hall. Which was practically like going home to family, because not only were lots of SCBWI mates there, but Stitch London was meeting about a hundred yards away, so my studio mate Gary Northfield popped over to show some lovely new comics he'd bought at Gosh! Comics and I was able to get the bus back through the snow with Gary and our other fab studio mate, Stitch London organiser Lauren O'Farrell.
Thanks to the Stitch London gathering, I finally got to meet my newspaper editor from the days when Vern and Lettuce ran in The Guardian! Here's the marvelous Perri Lewis, who is a true expert on all things crafty. Get Perri and Lauren in a room and expect creative fireworks and explosions of yarn and felt.

Perri Lewis & Sarah McIntyre