rainy morning thames path
I just complained on Twitter that I couldn't have got more wet on this morning's cycle ride if I'd jumped right into the river. The heavy drizzle set in as soon as I got out of the Greenwich foot tunnel onto the north bank. But my head's been very foggy this week and it still felt good to get out.
I snapped a quick photo of one of my all-time favourite buildings, at Phoenix Wharf, near Limehouse. There's something about the texture of the paint on the doors and fittings, combined with the brick, that makes it look smashing. I wish I had a better camera to capture the colour, it has the most lovely glow.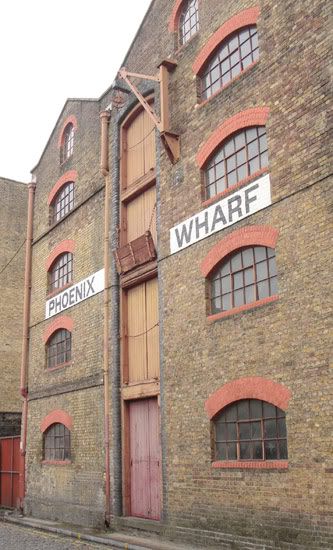 This is near St Katherine's Dock, where you can see how The Shard construction is coming along. Actually, you can see The Shard from almost anywhere in London.
I'd been hoping to make a morning sketch along the way; there's a cool-looking rusty old crane and a collapsed piling in Surrey Quays that I really want to draw. But I was so wet that I had to keep moving to stay warm. I'll have to try another time. Here are a few photos from studio lunch break yesterday. Lauren and Ellen at our fave Deptford cafe, Panda Panda:


We walk through Deptford Market to get to the cafe, and these signs made us laugh: Awful! Yay! Triffic! I Can't Believe It!
Awful seems to have sold out.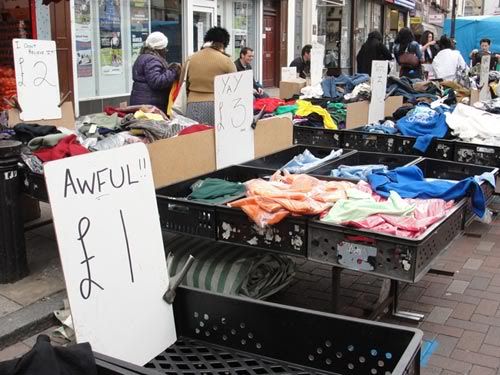 You can find anything at this market. Here's a rather snazzy-looking Weston single-phase watt meter. We were tempted but couldn't quite decide what we'd do with it.
Okay, and a few more shots where I geek out over Phoenix Wharf: