rainy-day doodle
I couldn't quite bring myself to cycle to the park this morning when I saw the buckets of rain hitting my window. Then I had to run a gauntlet of puddles to get the studio, wishing the most horrible things on the drivers who rushed by in their cars, spraying 7-foot-high sheets of oily water on the pedestrians. Why must they DO that?! I never hate actual people (when I know them as people), but I do sometimes hate motorists WITH A PASSION.
I doodled this last night. I like the way muralist and illustrator Jon Burgerman follows the older example of the artist Paul Klee in 'taking a line for a walk'. So I thought I'd do the same, making an abstract loopy line doodle, then filling in the spaces it makes with whatever random stuff my subconscious was throwing out at that moment.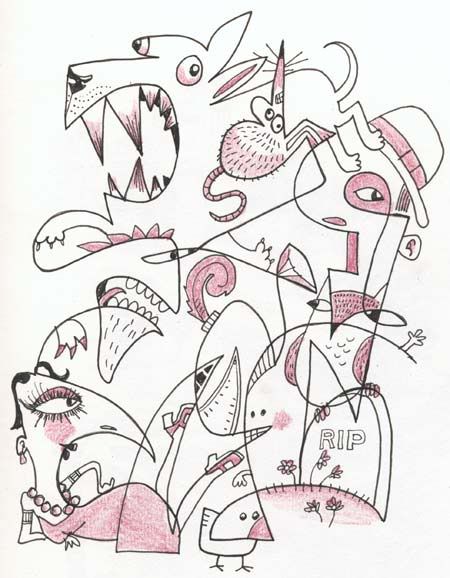 If you'd like to have a go at it yourself, feel free to attach your doodle in the comments here, it would be fun to see them!
On Wednesday, the writer Graham Marks visited our studio at The Fleece Station, to interview me for the marvelous interview and children's book review database that is the Write Away website. I've written 49 book reviews for it which you can find here, done loads of event reviews and interviewed David McKee and Freya Blackwood. (For the McKee interview, be sure to download the PDF version so you can see all the pictures. I even made a comic about that day, it was so full-on.) You can read Write Away's interview with Graham Marks here. It's interesting to hear him talk about his approach to writing, very plot-driven and with an emphasis on making dialogue sound like real speech, not like something you're reading.
I asked Graham which of his books he'd recommend as a starter, and he suggested Kai-Ro (pictured above), which you can read about at Write Away here. Speaking of Write Away, I'm still plugging the big launch party for its new story centre, Just Imagine, opening in Chelmsford, Essex on Sat, 15 Jan. I'm doing a big monster event with the writer Steve Cole, which you can now read about on his blog here! Come along and bring some kids along, too! Graham says he's planning to come along, as is Marcus Sedgwick.
Graham and I went for lunch at Panda Panda cafe and met up with Greenwich portrait and wedding photographer Rebecca Portsmouth. Here's the photo I took of her and Graham: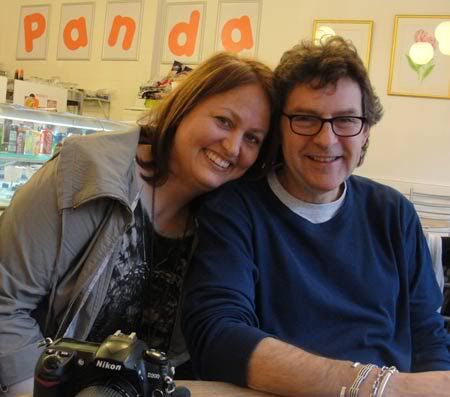 I met Rebecca through Twitter (beckyportsmouth) and we're always just missing each other at the supermarket or Panda Panda, so it was fun to connect at last. Here are a few photos she took of Graham and me with our fruit bubble teas.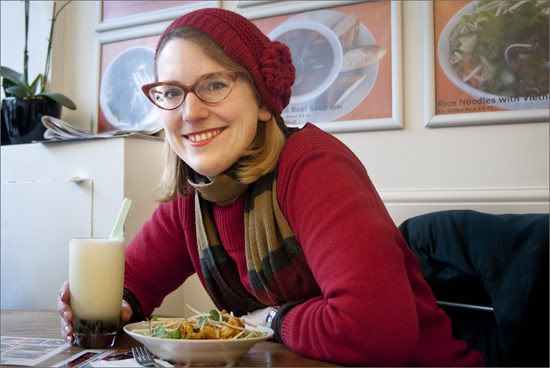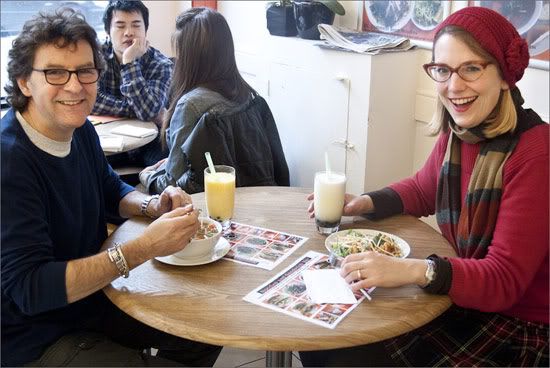 Thanks so much, Rebecca! Do visit her website if you're looking for a photographer, or just to browse her photos.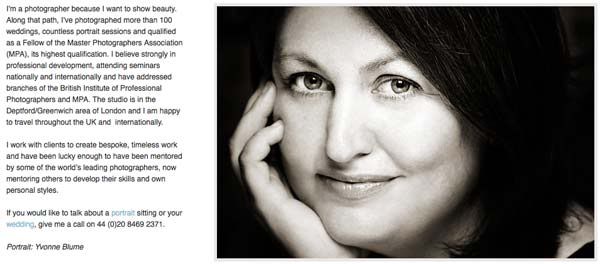 And Philippa Dickinson flagged this video made in a day as a protest to the planned closure of Glastonbury Library. I really hope the government changes its mind about all these library closures, it's madness.

Opening Times YouTube link
Description:
This a film that we shot and edited in a day.
It is a response to Somerset County Council's decision to close 60% of its library branches and mobile libraries in 2011, including the always busy Glastonbury library.
This is disgusting.
If you feel the same please show your support by joining the Friends of Glastonbury Library facebook page, or similarly by sending an email of support to saveglastonburylibrary@googlegroups.com