pub scribbling
I see that ryclaude has posted a comic I made for him last night. I didn't drink a lot of Sharp's Doom Bar, but just enough to keep me from drawing with any sort of clear exactitude. One of those comics you kind of regret in the morning, but no, je ne regret rien. Claude, I shall try to make you a proper cake some day, or at least draw you a proper cake.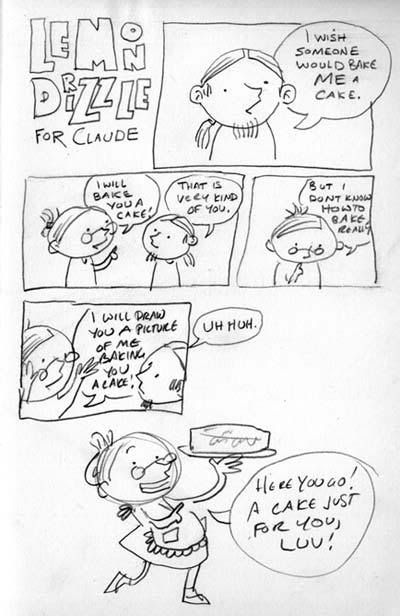 Yesterday Cliodhna (ztoical) and Will (chamonkee) were in town, so a bunch of us met up in the evening. A few of us, including Stuart, Will, ellenlindner, Stephen Betts (of Comix Influx) and tozocomic, started in the Lord Clyde , a beautiful old pub in one of the little Dickensian streets behind London Bridge station. The pub was so atmospheric that it included doors with heavy velvet drapes that we had to push through on entry, a cheery fire, and loudly singing old men in flat caps. Too funny.
Will and I went on to meet Cliodhna up in Kilburn at another pub with remarkably ornate Victorian decor, The Black Lion. (You can see a bit of the ceiling in this blurry photo):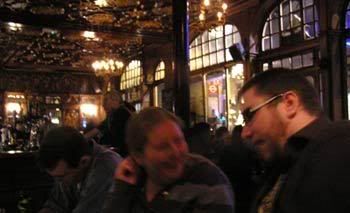 And I finally met harveyjames for the first time, now he's back in London after teaching at a school on Love Island in South Korea. We really, really hated each other, as you can see. So much that we drew lots of pictures for each other. The one I drew of him was particularly bad, but he hasn't posted it, so I'm safe so far.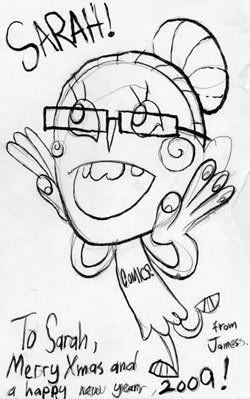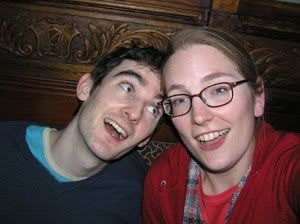 Here are Giovanni Spinella and Cliodhna, who were both in good form. Gio was one of the first comics people I met in London, and he has an accent as messed up as mine. I recently did a page for Cliodhna's charity GOAL anthology.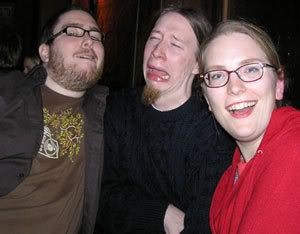 And here are Will and Claude, and I really don't know what they are doing.