princess spaghetti news!
Two exciting things happened this week! First, I got a parcel from Scholastic with the brand-new US edition of You Can't Eat a Princess!. Hurrah! This version is almost exactly the same as the UK edition, except it's slightly taller and narrower. I'm glad they kept the UK front cover, I'm rather fond of that one.
This version's published by a division of Penguin Books, called Price Stern Sloan. You see it on their website, hopefully buy it in your local bookshop if you live in the USA, and here's the Amazon link.
The other exciting thing that happened today is that I just saw the book cover pop up on Amazon for the sequel book! It's called You Can't Scare a Princess! and, instead of aliens, it features… da da DAAAAH… PIRATES! And they are very, very silly pirates indeed, for all they are swashbuckling. Mockup version of the book went to the Bologna Book Fair, but it goes on sale officially this autumn, on Sept 1st.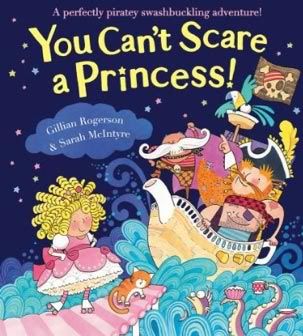 Hey, studio matey, I even managed to get a giant squid on the cover! And it's drinking tea. Here's a close-up:
Here's the last I saw of the artwork before I rolled it up and took it to my designer, Zoe Waring, at the Scholastic office. A proud moment, when it's all stacked up like that.