pop up festival: some awesome comics preparations!
Here's the latest update on this AWESOME COMICS FESTIVAL for kids, families, and everyone that's coming to London on Sat, 30 June! (You've marked your diary and and told all your friends, right?)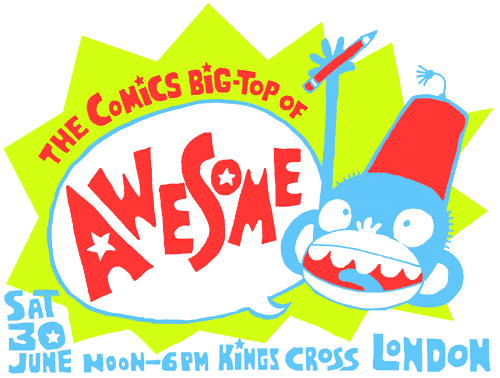 So the way it's been working is that Dylan Calder and his team at the Pop Up Festival have been working their tails off for our funding to host ten different creators to curate ten big marquees; five on Saturday and five on Sunday. So my tent is all about getting stuck in and making comics with help, fun times and feedback from the pros. And Central Saint Martins art college has jumped in to make the place look amazing! There are three art students busily working away to build the Comics Big-Top of Awesome. Here are the two I met at the first planning meeting, Isa Caruncho and Chiahui Liao, and we've also been joined by Maddy Rita Faye.
Friends of the Comics Big-Top of Awesome include Comica Festival, Megan Donnolley, Paul Gravett and Peter Stanbury, who run amazing comics events throughout the year; The Phoenix Comic, a weekly magazine delivery of comics awesomeness and where we sourced most of our team for the day, and Hélène Fiamma at the Institut Français has also said she's very excited about it and keen to help out in any way. Forbidden Planet International blog always give us awesome coverage and Gosh! London have been hosting loads of our creators' events recently and making a general awesome buzz for comics in central London.
We all hope this will get people excited and spark off kids comics festivals all over Britain. Can you imagine how AWESOME that would be? Think about it!
Here's the team: Sarah McIntyre, Jamie Littler, Gary Northfield, Nana Li, Jamie Smart, David O'Connell, Neill Cameron


And our three Central Saint Martins art students are turning out marvelous ideas and drawings! We thought we'd pack the space with fun, lively characters, and they've come up with all sorts:

Here are some early drawings they made of the space. The Big-Top 'Box Office' will be the place where people can get creators to sign their books and check the Events Listing and see when the different drawing battles and tutorials are going on, although the general comics making will go on throughout the day.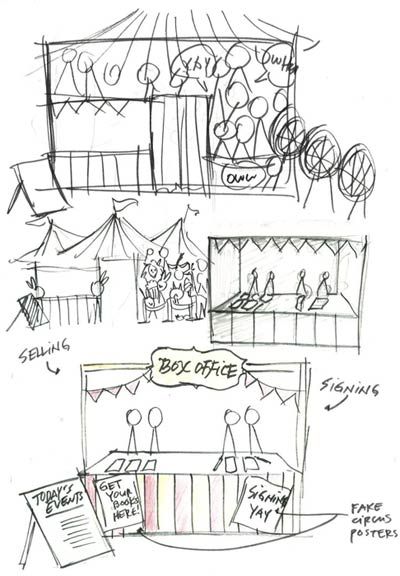 They're also building some Story Wheels, so people can spin them to get story starters for their comics. A sumo wrestler dragon from a swamp? A scientist robot in a haunted house? Who will feature in your story?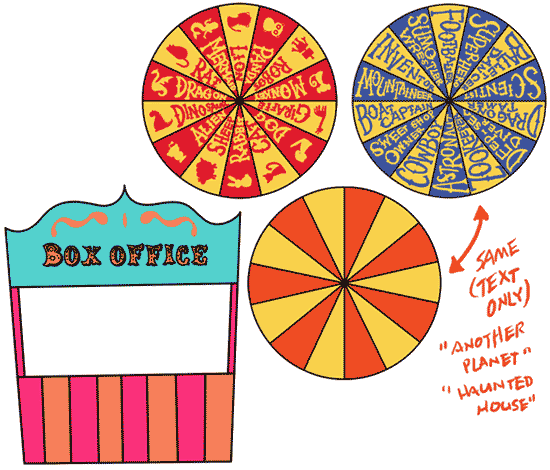 Loads of ideas have been flying around! Here are some sketches of a robot circus ringmaster, by the creator of Mo-Bot High, Neill Cameron, who will be joining us on the day!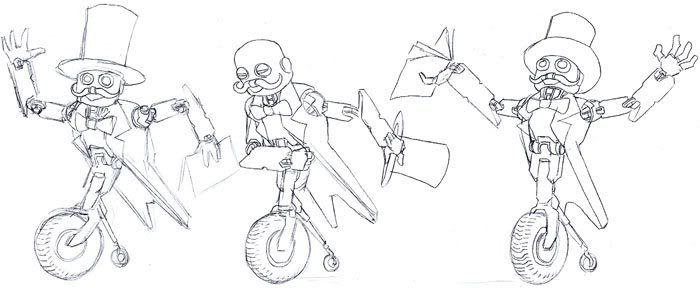 Besides the stage, we're going to break the tent into several zones for ultimate creating potential.
Zone 1: AWESOME IDEAS – This is where we'll have the story wheels and build our characters
Zone 2: AWESOME MAKING – Here's where the insides of the comics come together! Plunge your character into adventure in as many pages as you need to tell your story.
Zone 3: AWESOME COVERS – It's not enough to have an awesome comic, it needs to jump off the shelf! Make your killer zinging cover here.
Zone 4: AWESOME PROS – Meet with one of the fabulous professionals to have them look over your comic, talk with you and give you feedback. You're very welcome to bring along your portfolio or sketchbook at this point. (Adults, you're also welcome to bring them along, but we'll need to give kids and teenagers priority here if it's crowded.)
More fab character ideas from our art college team:
We're planning to have a big, in-your-face fairground entrance to the tent!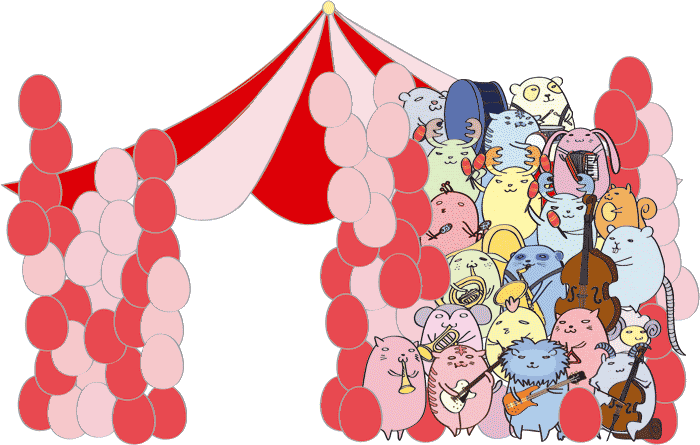 Here's the space, right next to the Central Saint Martins art college building at King's Cross. It's outdoors, but covered, so rain or shine, this festival will be awesome. And the Comics Big-Top of Awesome is only one of five tents going strong on the Saturday! And five different ones the following day.
So, are you excited yet? If you don't even live in London, this will be something worth coming into town for. Please spread the word, I always get people coming up to me later and saying, 'If only I'd known…!' and we don't want that to happen. Shout if from the root tops! Young (and old!) bloggers and journalists, this is a great time to flex your skills: there will be loads of great things to write about, blog, and your own comics to display. I hope bloggers will send me links and I can do a post-festival wrap-up here, so everyone can see your news and comics!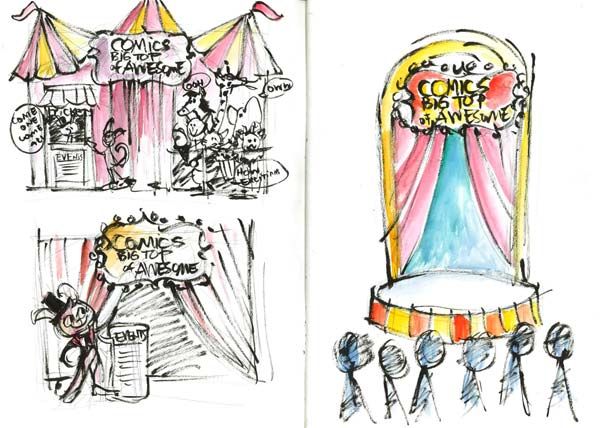 I'll attach some more development sketches from Isa, Chiahui and Maddy. Exciting times!
Read earlier blog posts about the Pop-Up festival here and here!