pop-up festival scheming… a new comics festival for kids?
On Wednesday, I went to a very exciting meeting! I'm one of the creators chosen to curate this year's Pop-Up Festival in London on 30 June & 1 July. A bunch of us met up with the Pop-Up team and the bookseller at The Guardian headquarters, just a stone's throw away from the festival site, near Kings Cross and St Pancras rail stations and Central St Martins art college. At the meeting, I made surreptitious little sketches of the assembled crew:
Here's the line-up with links: curators are writer & illustrator James Mayhew, writer (and occasional cartoonist) Candy Gourlay, writer & illustrator Laura Dockrill, writer Marcus Sedgwick, writer Nii Parkes, me, and not present, Axel Scheffler, Baroness Floella Benjamin and Francesca Simon. And the team we met with were director Dylan Calder, administrator Abi Palmer, storyteller Chip Colquhoun, trustee and writer/editor/translator Daniel Hahn and The Guardian bookshop's Joanna Lord.
So here's the deal! We'll each get a HUGE TENT and we get to do anything we like with it inside for a day! My idea is to turn mine into a big comic festival for kids, like the kind we have as grown-ups, such as Comiket, but with an emphasis on kids making and self-publishing their own comics. And I'm hoping to line up a few top-notch comics creators to lead workshops, help kids with their comics and generally make it a storming day.
And we'll even get set builders from the art college; I'm thinking this could be something on the scale of the monster village that Neal Layton, Ed Vere and I designed for the wildly successful Monsterville. Exciting! Here's Dylan showing us the Kings Cross new development.

And here's the actual space we'll be turning into a big, wild, colourful funfair of everything books and story related. It's right next to the art college and outdoors, but covered, so we'll be safe if it rains on the weekend.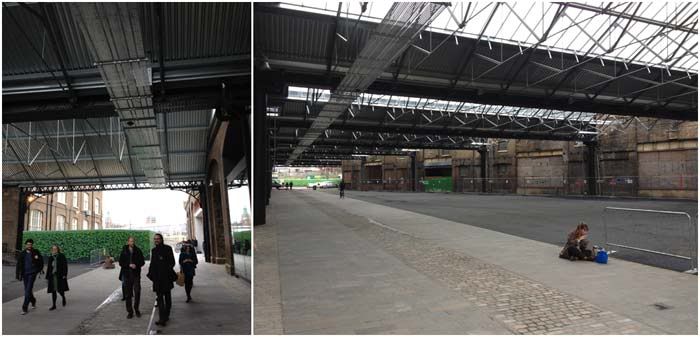 At our meeting in The Guardian building, we all discussed our ideas and helped each other brainstorm even more. Here I am, plotting, with Marcus Sedgwick and James Mayhew. (James was going on to the opera after the meeting, and had dressed up in a fab Rupert Bear style waistcoat.)
So you'll be hearing more about the Pop-Up Festival!
In fact, events are already happening; James is doing an Pop-Up event with Andy Stanton (of Mr Gum fame) at the Jewish Museum on Sun, 5 Feb, click here for details.
After our rocking meeting, Candy Gourlay and I celebrated with tasty treats from the amazing Gelato Mio at King's Cross station. Yum!