pop up festival preparations!
Wow, the Pop Up Festival site looks AMAZING! I went today for the schools and press launch, and got to see how our COMICS BIG-TOP OF AWESOME is coming along! It's all happening this weekend, and the comics festival-within-a-festival is just Saturday, so do come along! And did I mention that it's all FREE? Details on the Pop Up Festival website. And click here for our fabulous comics creator lineup and the day's comics event schedule!
The three Central Saint Martins art students are working their tails off to turn it into a fun comic space, and I was so thrilled when I walked in. Here's the fabulous team: Isa Caruncho, Maddy Rita Faye and Chiahui Liao.
Look at these critters, aren't they brilliant?! I was trying not to get in the way of their work, but I couldn't help running around examining everything.
And check out these Story Wheels! There will be three of them, and people can spin them (like fruit machines) and combine the words to get ideas for their stories, such as a deep-sea diver giraffe in a prehistoric swamp or a mermaid London sweet shop owner. (Candy Gourlay reminded me that this was her idea when we had the first brainstorming session! And I know Emma Vieceli and Jim Medway both do similar things when they lead comics workshops.)
Here's Chiahui Liao working on the big panel you'll see when you first walk up to the Comics Big-Top of Awesome.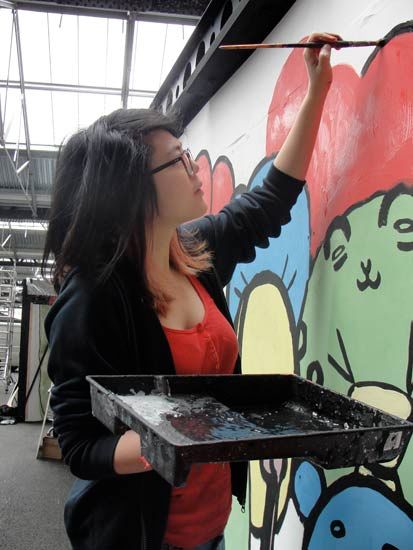 Maddy Rita Faye is working on the monkey logo image here.
And Isa Caruncho is painting a big interior panel.
A back story: Isa's from the Philippines and Candy Gourlay is featuring a Filipino-style fiesta, so Candy and I had a huge fight at the first meeting over who would get to work with Isa. I loved her illustrative work and she was wearing a Kate Beaton comics t-shirt and I claimed her for comics and I'm so glad I won, ha ha. (Apologies, Candy!)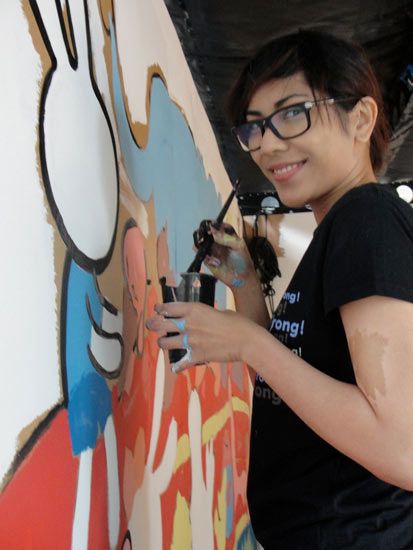 Here's Production Coordinator Jessica Hudsley checking our our robot.
Writer Marcus Sedgwick has been hugely ambitious in organising a whole vampire-themed theatrical production based on his young adult novel, My Swordhand is Singing.
Rehearsals have been going for awhile, and I think it's going to be quite scary, so probably not for the younger children. But should be pretty amazing.
James Mayhew's pavilion will go up for Sunday's part of the festival, he'll be working with Clara Vulliamy and Vanessa Stone, and people will be able to walk right into famous paintings, just like his book character Katie. Here's art student Fabrizio Panella painting a Rousseau set.
And I didn't catch this student's name, but it looks like the painting's tiger really will pop out!
You can't tell too much from Candy Gourlay's Filipino FIESTA pavilion yet because so much of her part will be live – a big band, bamboo dancers, costumes, a game show, authors, a big party! She's made a whole FIESTA website for it here, have a look!
Here's a peek at the launch event, Pop Up Director Dylan Calder giving the opening speech, surrounded by sculptures made by french artist Herve Tullet with Archway schoolchildren. (You can see photos of the process on a Pinterest page here.)
Comedian/performance artist/illustrator/writer Laura Dockrill and I had fun dressing up and being generally colourful.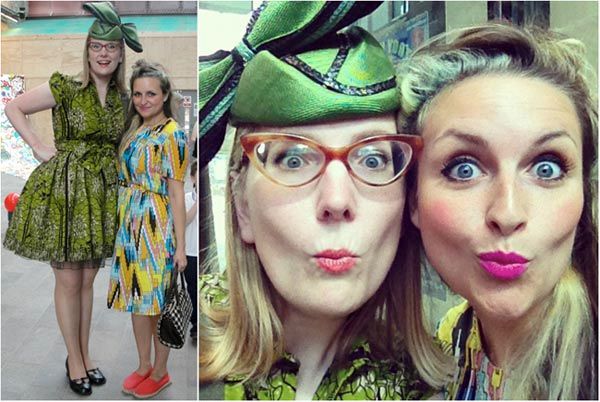 And here's our lovely, very hard working director, Dylan Calder! Dylan's been working on this festival all year, and for the first half of the year all by himself, and he's put a tremendous amount of time into applying for our funding. So send him lots of love and medicinal chocolate when this is all finished.
Some more Herve Tullet/schoolkid artwork. Another back story: remember The Book with the Hole that I kept taking photos of people posing with at my studio mate's Stitch London book launch? (a href="http://jabberworks.livejournal.com/431958.html">Click here and scroll down to see.) Well, this is the guy wot done it.
Herve gave a short speech, but we were all rather smitten.
There's SO MUCH STUFF going on at Pop Up! Here's storyteller Ed Wicke, who's going to be part of the Society for Storytelling's tent on Sunday.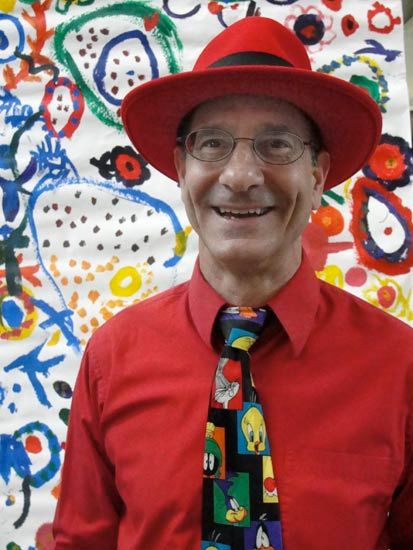 Laura Dockrill loves Roald Dahl's books and her pavilion on Sunday's going to be all Dahl-themed. I think it may even be inside a giant peach!
Here's Doug Wallace who's a trustee and one of top people running Pop Up. I already know him as a comics publisher at SelfMadeHero, so this festival really is soaked in comics! Doug's going to be giving us a hand at the Comics Big-Top of Awesome tomorrow.
And (somebody please remind me of her name!) this is the person in charge of running the Central Saint Martins side of things, and organising our work with the art students to build the Pop Up sets.
Here's organiser and logistics person Nichola Dryburgh who is MEGA BUSY today!
And more of the Pop Up team! Thanks for all your hard work everyone! SEE YOU TOMORROW!