pop up festival 2012 – the comics big-top of awesome!
The big day finally came, and it was AWESOME! The Comics Big-Top of Awesome totally rocked London's Pop Up Festival and kids and adults alike were pumping character drawings and comics out of that pavilion.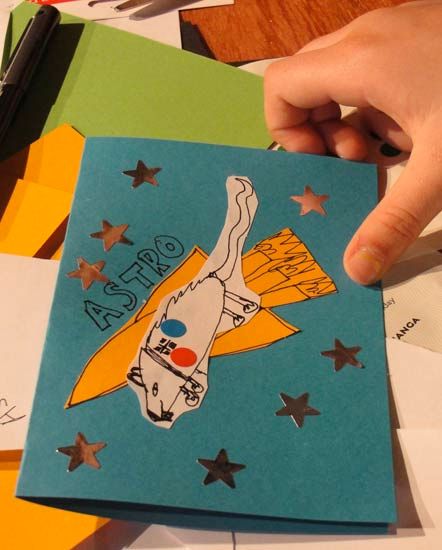 Here was our amazing team: Neill Cameron, Nana Li, me, Gary Northfield, Jamie Littler, Jamie Smart and David O'Connell. (You can see the books they make if you click here.) When Pop Up Director Dylan Calder offered me the chance to curate one of the festival venues and do anything I wanted, it could have been daunting, but it wasn't, because I knew I could get my awesome comics friends to come along and help me run it. And most of them do a lot of comics festivals and events, so they know how to work with kids and get them excited and eager to make up their own stories. Being able to draw and tell stories, combined with a sense of humour means this stuff comes pretty naturally to them.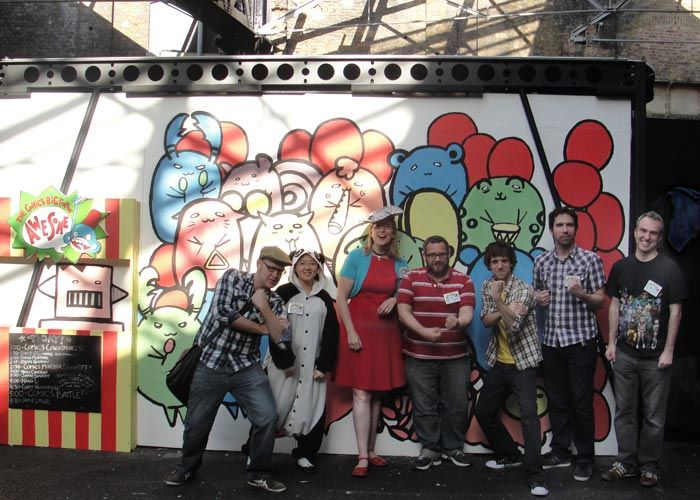 And the day DID run amazingly well! All the creators had a good idea of which kids needed guidance making their comics, and sat alongside them, drawing and chatting with them. And besides the comics making that went all on day, we had a solid programme of awesome events!
David O'Connell shot footage of one round of the COMICS BATTLE, a fiercely fought drawing duel: Gary Northfield vs Jamie Littler!
It was fun coming home and seeing the tweets:

When Dave, Stuart and I arrived in the morning, the incredibly talented and dedicated art student team from Central Saint Martins had been working hard until site closing time the night before and the place looked AMAZING!

They'd worked with me on a layout for the venue, and as for decorating it, Neill Cameron and I came up with the idea of making it a comics circus theme, fellow Pop Up curator Candy Gourlay suggested the idea of the Story Wheels, and I asked them to make it bright and fit in as many animal characters as possible. And I was absolutely thrilled at what they came up with! (You can see more photos of the team – Isa Caruncho, Chiahui Liao and Maddy Rita Faye – on my last blog post here.)

Our team was actually bigger than the seven adult comics artists, we had four more people on board, selling comics they'd made and drawing portraits: Frankie, Katie, Staizie and Zoom Rockman. It was one of the first times the three girls from Winchester House School had sold their comics, and they were making a comics diary of their trip to London with their art teacher, fab printmaker Tobias Till. Zoom, age 11, has been making and selling comics for several years, and I heard that he'd even been flown out to Korea to talk about comics there! The guy doesn't let being young stop him, which is the height of awesomeness.
Here's Zoom giving a talk about comics on our stage. He's pulled his brother, Ace, out from the audience to show how he draws him. (Ace has featured in quite a few of his comics, although Zoom said it was tricky when his brother was younger because his teeth kept changing number and size.)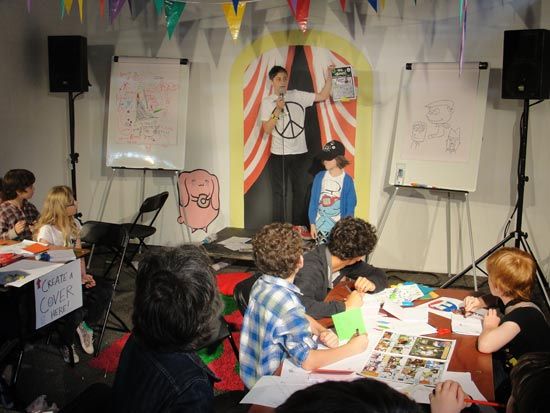 Zoom has his own website and publishes his own web comic (which is more than a lot of adult professionals I know manage to get around to doing!)

My biggest Pop Up debt of gratitude goes to David O'Connell, who made running the Comics Big-Top of Awesome possible for me. I tend to get bogged down in e-mails, and Dylan gave me a decent budget, so the first thing I did was ask Dave if I could hire him to take over the logistical details, e-mails and general admin. Dave's incredibly organised, and has run lots of comics events, self-published comics, run a weekly web comic, and edited a comics anthology, so he knows about working to deadlines and chasing people up to make sure things happen. It was such a relief knowing I could rely on him. THANK YOU, DAVE! He's a genuine, real-life superhero.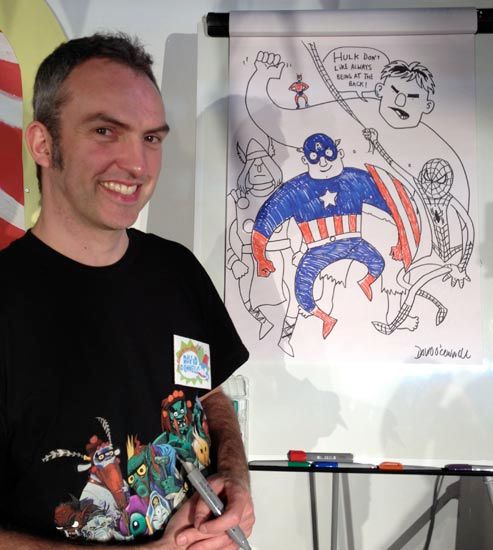 People of all ages had great fun watching our creators draw. Neill Cameron got mobbed while drawing robots from his Mo-Bot High book. We'd posted a drawing schedule, but people forgot to check on him to tell him when to stop, so he just kept drawing and drawing until he went cross-eyed.
But man, were there some HAPPY KIDS afterward! Look what this guy got to take home: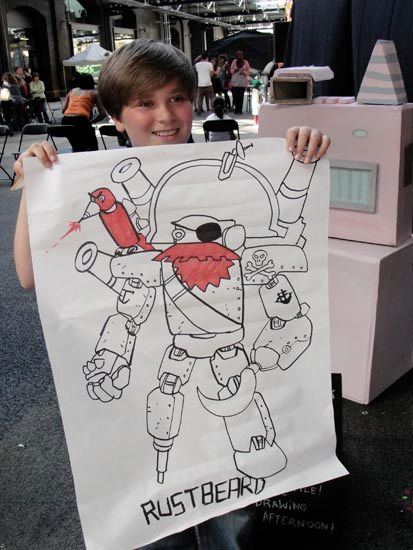 One of the coolest things was seeing kids who read The Phoenix Comic seeking out their favourite creators and just getting to hang out with them. Here's Esme, who won a Phoenix Comic competition and somehow managed to get Jamie Smart to include a blue carrot in his comic, on her request. (Here she is with Jamie, pointing out the carrot.)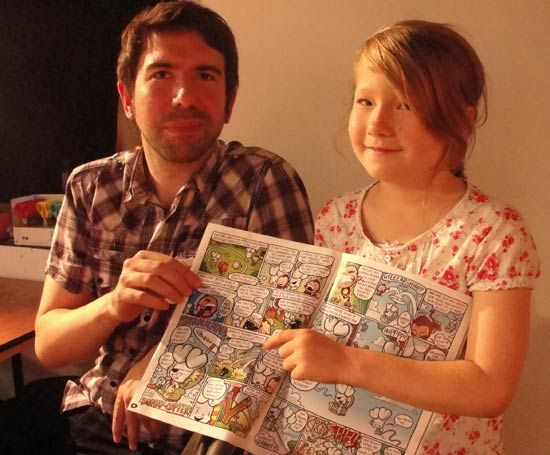 Here's my friend Dulcie, who spun the three Story Wheels and combined Mermaid – Sea Captain – Rubbish Dump to come up with her comic. She cheekily named it 'Sarah Stinker', which made me laugh.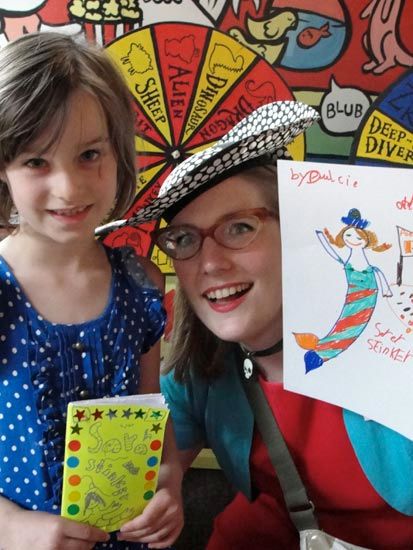 I got to see Maisie Jones, who recently interviewed me about making comics. (You can read the interview and see her comic about visiting my studio here.)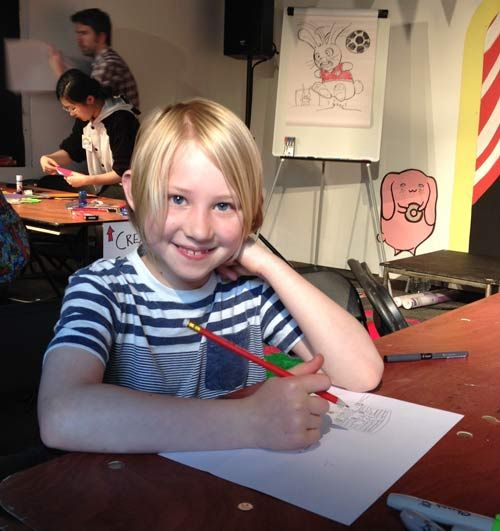 She spun the Story Wheels and came up with 'Alien Footballer'. How cool is that!
The tent was divided into four zones: AWESOME IDEAS, where we had the Story Wheels and people could design the characters for their story. Then the AWESOME MAKING zone, where they drew their comics (which fortunately spread out in front of the venue, we wouldn't have had enough room inside the pavilion!). Then people designed bright cases for their books in AWESOME COVERS, and then took their finished comics to AWESOME PROS, where they got to have one of our professional comic creators review it with them, and collect Phoenix Comic as a prize.
Check out he fabulous comics Emir made, two pages starring Sheepy and Catty: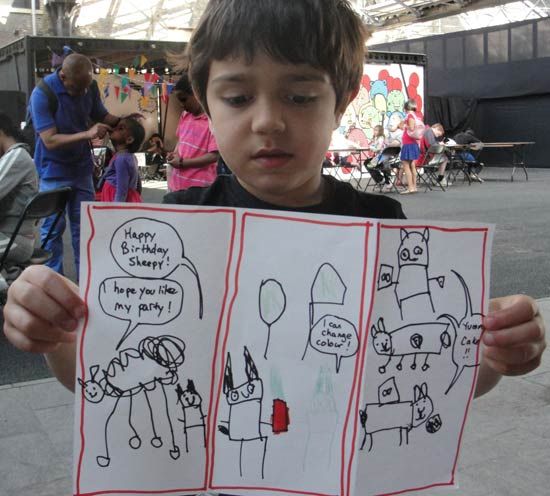 Here's Nana Li taking drawing requests from kids.
Here's Gary's nephew Thomas, who stepped up to the challenge of acting as host for a round of COMICS BATTLE while I was drawing, took up the microphone and did a great job of whipping up the audience and taking armour and weaponry suggestions from them.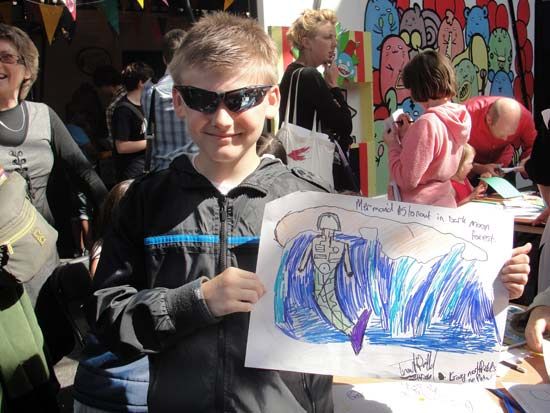 Here's Martin Bazley, who drew this excellent complicated comic, Cliché Man, in one sitting.
A larger version of Martin's comic: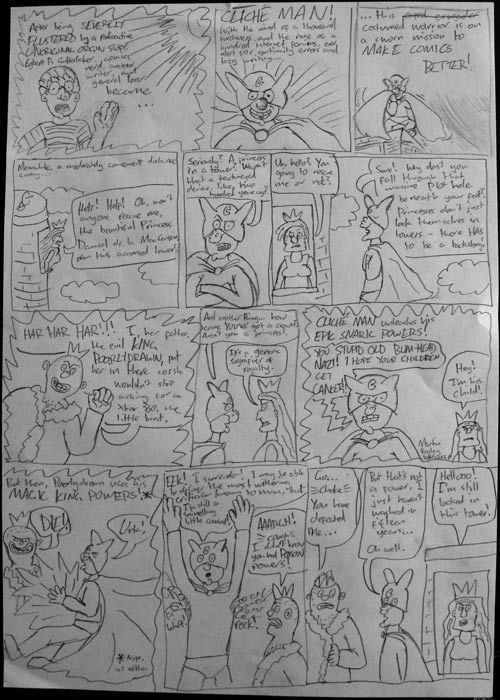 One of the cool thing about the day was watching kids grabbing comics and reading them on the spot, quite transfixed.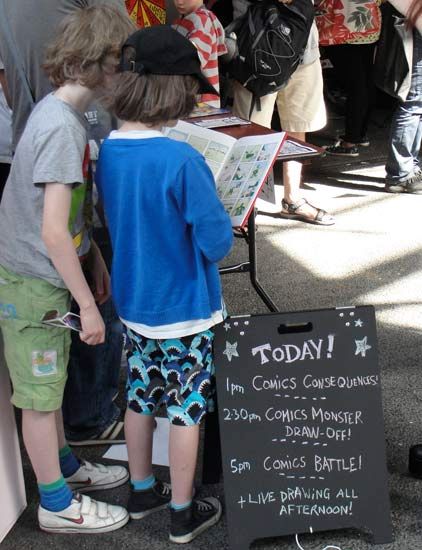 I don't often notice kids this age browsing in bookshops, so note to parents: if your kids are a bit reluctant about reading, GIVE THEM COMICS. And kids that love reading comics tend to start making them, too, and all of a sudden you have a literate kid. It's not rocket science. (Although the comic might be about rocket science.)
And strangely enough, you might find out that you like reading comics, too! Comics aren't just for kids.
Okay, this kid might be slightly young for The Phoenix Comic. But who's to stop him from picking up something so bright and shiny?
Here's Nana, talking comics with visitors:
We had two flip charts on stage, and while the professionals were doing individual drawing sessions, it was fun seeing the other flip chart manned by kids, working side by side with the pros. Here's Ace, who can turn out LOTS of monsters at one go.
I don't know who made this comic, but its character's resemblance to Mr Gum made me laugh.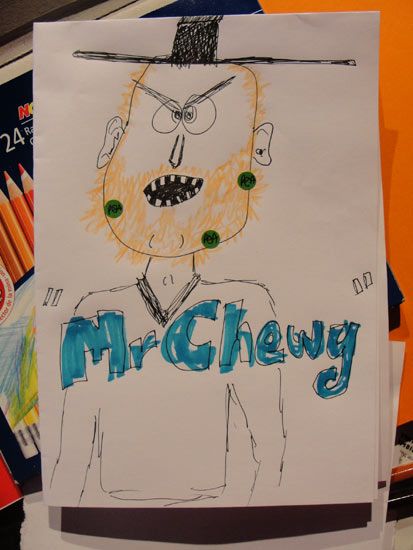 And we had some more amazing comics artists drop in on his! Here's Beano legend Laura Howell, the first female comics artist to draw Dennis the Menace:
And the amazing John Aggs, who left us with some great drawings!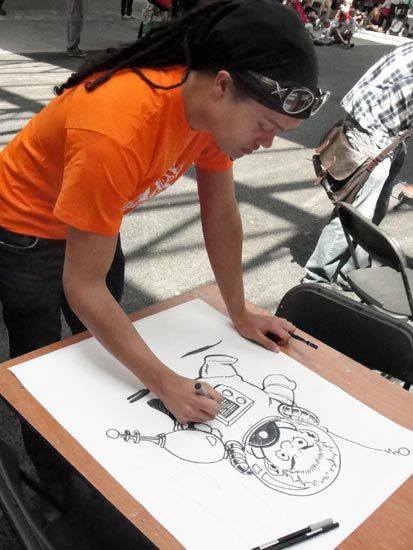 Jamie had a great time taking drawing requests; some of them were wonderfully silly, like this boy who wanted a sausage eating a cat. And he got it!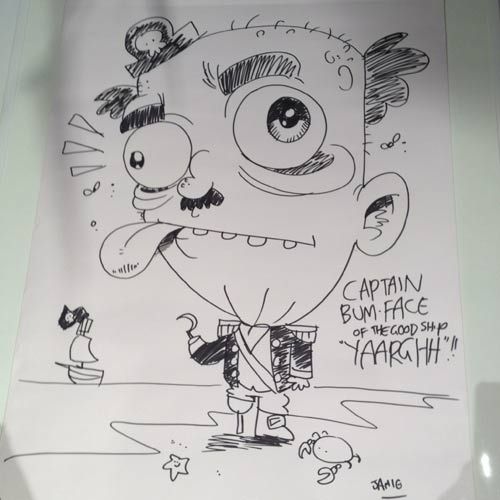 My studio mate, Gary Northfield, was doing his drawing session, so Jamie drew Gary drawing: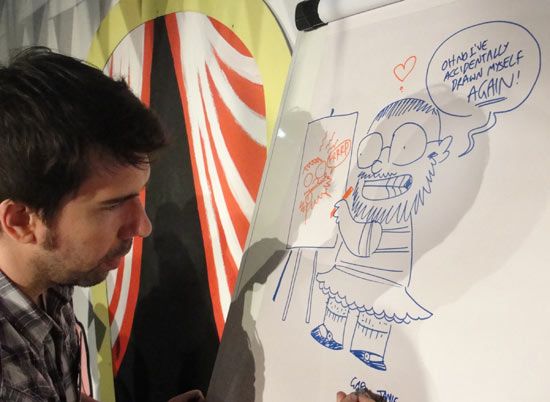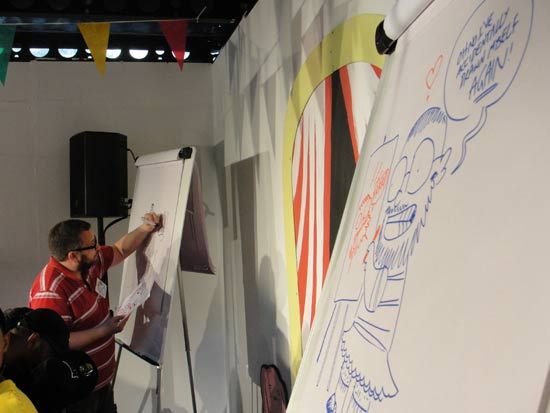 This girl was a bit young to be drawing comics, but I loved her drawings. They were abstract, but they weren't scribbles, they were very carefully designed, almost like 1950s textiles. I think this chick might be one to watch.
Here's her drawing of a penguin:
I loved this guy's comic: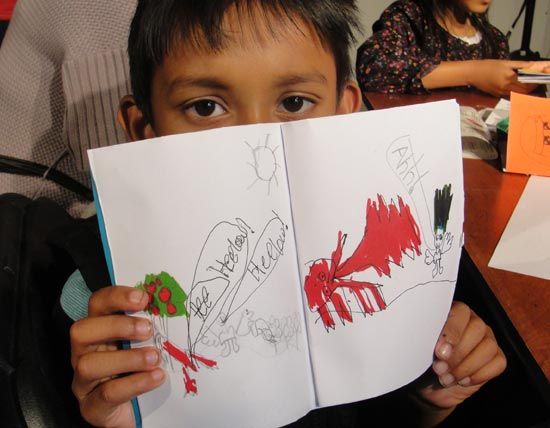 Jamie Littler and Neill Cameron: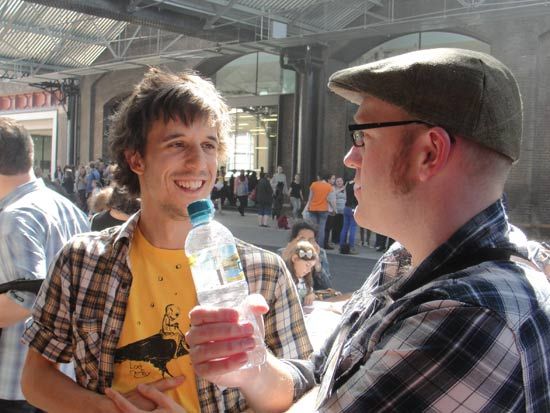 More Mo-Bots: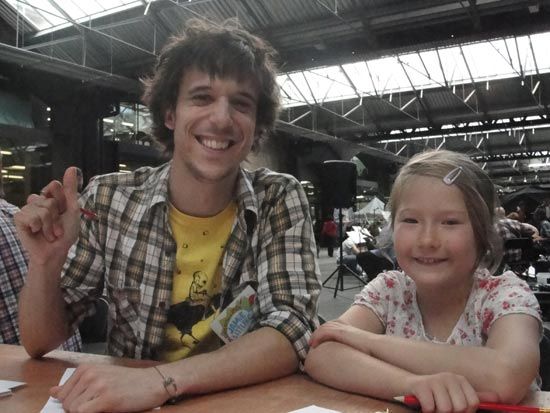 Gary signing Derek the Sheep and doing his Derek face:

Here's Jazzmine B, who's been doing a lot of tweeting for Pop Up.
And happy but very tired Director Dylan Calder with Pop Up trustee Doug Wallace, publisher at SelfMadeHero comics, who helped out at our venue. Thanks for all your hard work, guys!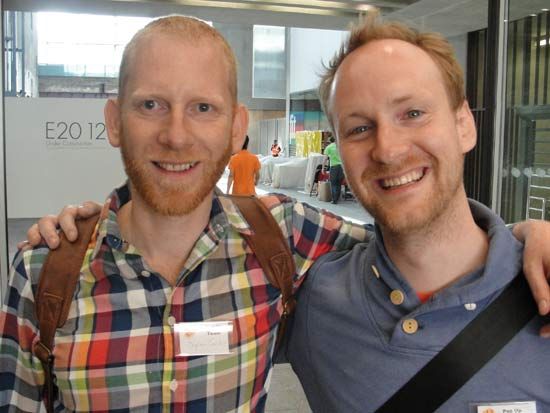 Here's writer Jon Mayhew with Pop Up trustee Daniel Hahn, also happy but very tired.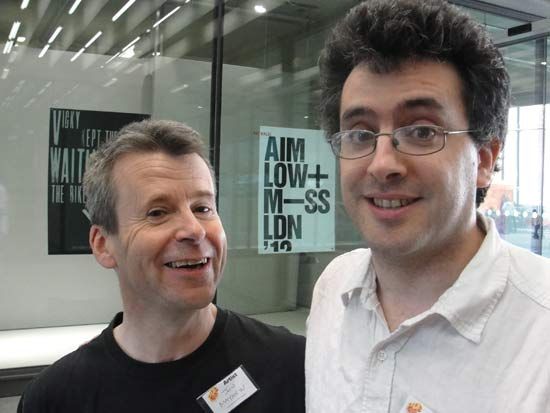 Thanks to everyone who ran the Guardian Bookshop, selling our books!
Heh heh, by the end of the day our robot was looking a little droopy.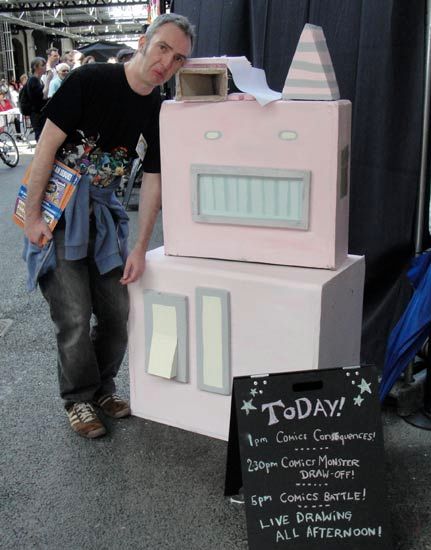 And the Story Wheels were holding firm, but we had to be a bit careful.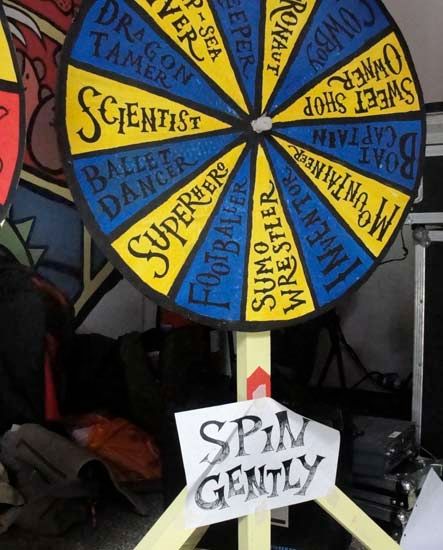 And here are our fine comics artists by Regents Canal, having their well-deserved pints and spinning gently. Thank you so much, everyone! Everything went so smoothly and you guys were truly awesome.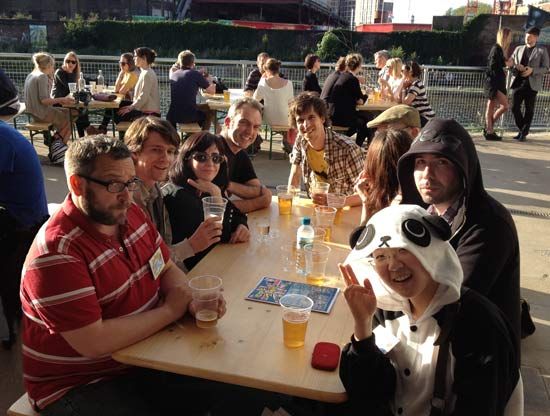 Lest you think the Pop Up Festival was just about comics, let me give you a peek into some of the great stuff that was going on around us! Fellow curator and writer Candy Gourlay was running a Filipino-style FIESTA and had some amazing bamboo dancers performing!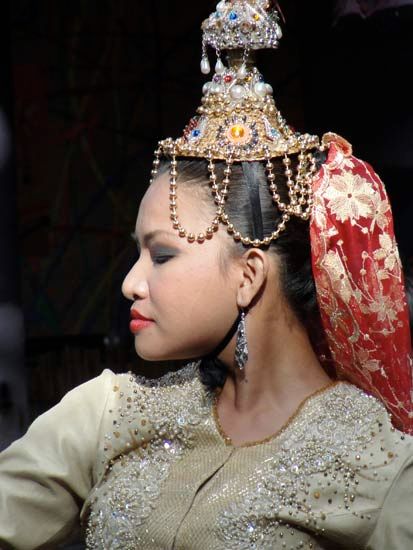 Two ladies were dancing and balancing glasses (of rum?) on their heads!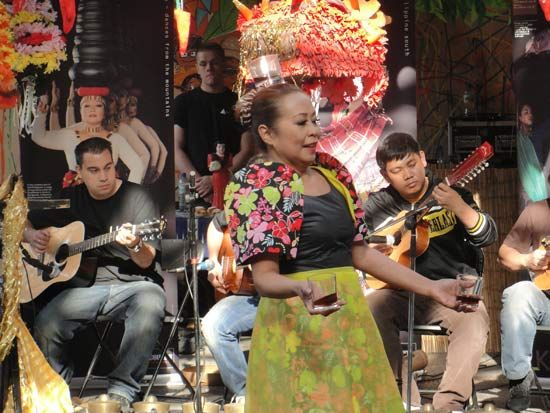 Candy also ran a writer game show! You can read about it over on the FIESTA website she set up.
Oh, and did I mention she invited a band?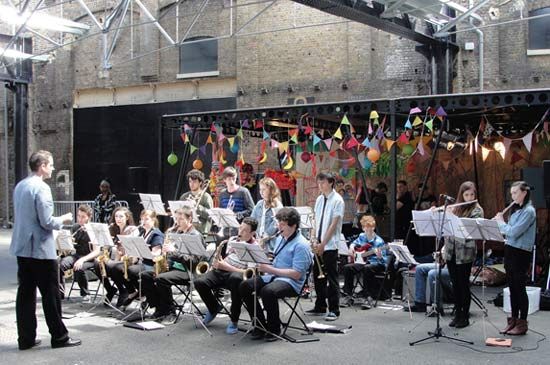 I don't have any photos of Marcus Sedgwick's neighbouring vampire theatre, as it was all swathed in darkness, but every once in awhile we could hear the haunting strains of a Bulgarian folk song, Pilentze Pee, drift though the Comics Big-Top.
I didn't get to see writer Nii Parkes' events, but I caught waves of energy off him every time we ran past each other.
And here's writer Sarwat Chadda, giving a talk in the big Central Saint Martins atrium, decorated with sculptures by Herve Tullet and the Archway kids he was working with.
What an amazing day! Thanks to all the organisers and everyone who visited and made it such a success! If you'd like to read more about the Comics Big-Top of Awesome, head over to Neill's blog!