pollarded tree on telegraph hill
I think this must be the longest stretch of time I haven't posted something on the blog when I wasn't actually on holiday, but it's been a bit nuts here. Lots of projects on the go. It can get so overwhelming that I think I'm really going to have to make regular time to keep up the tree drawings to keep my head in a good state.
Here's one I did this morning, I felt a bit out of practice. It's one of the pollarded trees on Jermingham Road in New Cross (see my earlier post about pollarding) but it's had time to sprout new branches. As I was walking back to the studio, I bought a coffee from Mr Tan's station caff and when I gave Mr Tan my coins, he jumped and said, 'Ow! Where have you BEEN? This change is like ice!'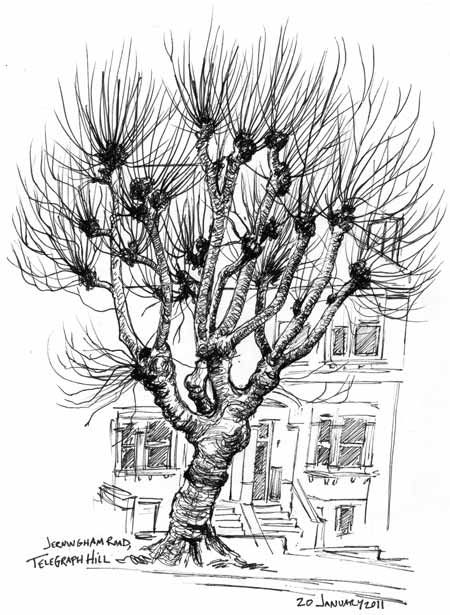 I've had a whole lot of festivals get in touch this past couple weeks, so I can announce a whole bunch of new dates! Have a look and see if any are near you and if you fancy coming along! Here's the full list. I'm even going to MoCCA in New York City and Stumptown in Portland, Oregon!
Sat, 5 March: Surrey Libraries Children's Book Festival:
Comics Jam with Sarah McIntyre: Comics are great fun to make together with other people. Illustrator Sarah McIntyre will help you to design characters and set them flying in directions you never could have predicted. And there'll be an opportunity to ask Sarah lots of questions about making your own comics.
Ewell Library, 10.30am – 11.30am. £3 per child. Age 8+.
Make Your Own Monster!: Illustrator Sarah McIntyre will introduce children to Morris the Mankiest Monster, and then there will be lots of fun as they create their own monsters.
Stoneleigh Library, 2pm – 3pm. £3 per child. Age 4 – 8 Children must be accompanied by an adult.
Thurs, 17 March: Oundle Festival of Literature
When hungry aliens kidnap King Cupcake, it's up to his feisty daughter, Princess Spaghetti, to save him from becoming their dinner. She blasts off into space to show those naughty aliens who's boss, and introduces them to a delicious alternative to people: chocolate! Join illustrator and comics creator Sarah McIntyre as she introduces you to her alien and monster friends and learn Sarah's secret tips on how to invent funny or scary characters in an action-packed event.
1:30, Great Hall, £4 (£3) (Recommended by years 1 & 2)
Just got this from Racheal at Stratford's Discover centre, where they're excitedly gearing up for Monsterville. Exciting!
And I can't figure out if this Facebook photo album is public, but Garen Ewing has posted thumbnail images of some of the pages of the comic he was making for the DFC, Charlie Jefferson and the Tomb of Nazaleod. Even if it doesn't get published, I'm still very proud of making an appearance in one of the panels! That's me in the orange, coming back through Oxford station after a meeting with David Fickling. Vern the sheep also makes a tiny appearance elsewhere in the comic, if you can spot him.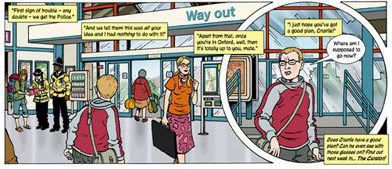 I was very pleased at Chelmsford's Just Imagine storytelling centre to see Garen's The Rainbow Orchid comics on display on the main table. They represent a heap-load of hard work and are wonderful books