pollarded nubbin
Now the weather's turned a bit more mild, I'm trying to get back into my landscape drawings. Here's a close-up of a tree near my house. I must go up to Telegraph Hill and draw some of the rows of trees up there which have been pruned by a rather brutal technique called pollarding. My dad used to do it to the fruit trees in our back garden and it would send my mum into fits. Pollarded trees are so ugly that they're almost kind of cool-looking, in a weird sculptural way. This one looks like the head of some strange monster.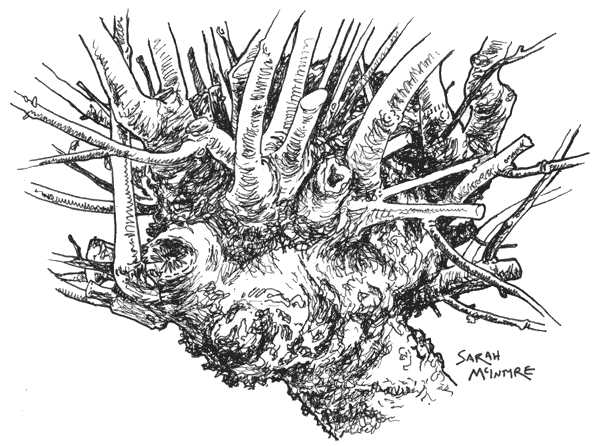 I changed drawing technique about three times while doing this, so it's a bit of a mish-mash, but I was trying to get my pen to capture the scaliness of the bark without drawing each individual flake. Speaking of pollarding, when I first saw the television show Little Britain, I thought the name of one of its characters, Vicky Pollard, is possibly one of the most ingenious literary names ever chosen. I went off the show fairly quickly, but Vicky Pollard's name sticks with me; the words 'victorious' and 'pollard' seem so opposing. But despite being skanky, stunted and misshapen, Vicky has an in-your-face, finger-at-you attitude, refusing to let you beat her down. The pollarded trees are just like that, so utterly abused looking, but still they look like they're driving fists up toward the sky in outrage. Brilliant.
Apparently people have been pollarding trees since medieval times. Here's a Van Gogh drawing I turned up in a quick web search: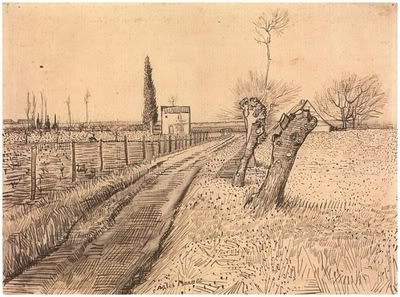 Don't forget, this Saturday in Chelmsford, Essex, I'm doing a big Make-A-Monster Mega-Challenge with Steve Cole at the launch party of the amazing Just Imagine centre! Come along and bring your kids! Details here.
Other links: Drew Weing let us glimpse pages of his exquisitely drawn comic Set to Sea. I love his ink work so much that I've bought one of the pages as well as the book. I think Scott McCloud said of him in one of his books, talking about pens, that you can have good pens, but that Drew Weing, 'he can get a good line with a Mars bar'. (Thanks, FPI blog, for the link here.)
I've made a recent discovery in Will Morris, who's studying on the same MA Illustration course at Camberwell that I finished in 2007, with course leader Janet Woolley. Have a look at his website, some lovely drawing there. (He has some big boots to fill with a name like that.)
And The Comics Journal has reviewed Darryl Cunningham's remarkable comic Psychiatric Tales, do go have a look!