playing princess for the day
While you can't quite see the corgis in this photo, I did feel like I was making a royal visit to Roding Primary School in Essex, what with the fancy hat and getting to flounce about majestically all day.
Today was my first Scholastic Book Fair, which meant the school had a big book stall and I did lots of events and even opened their brand-new library! Here I am with the governors and Hazel, the former school head, cutting the big red ribbon.
It feels great, opening a library when so many other libraries are having to close. This one's in a school, not a public library, but one more library in Britain is definitely a GOOD THING. Hurrah, Roding! You are fighting the good fight.
Another good thing at Roding Primary is the well-stocked staff room. Or at least it was when we went in. Strawberries. Cupcakes. Mmmm. And here are The Mighty John and Clever Corinne, who came along with me from Scholastic and helped run everything.

Publicist Corinne Gotch, Senior Marketing Coordinator John Gerrard

And we made aliens. Lots of aliens! (Feel free to download your own free Design-you-own-Alien pack from my website.)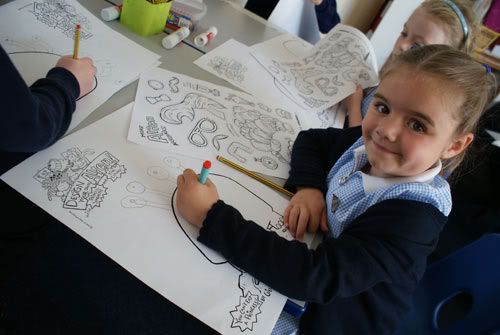 Here's a Morris the Mankiest Monster storytelling session with the reception classes. (I think it's what we call kindergarten in the States.)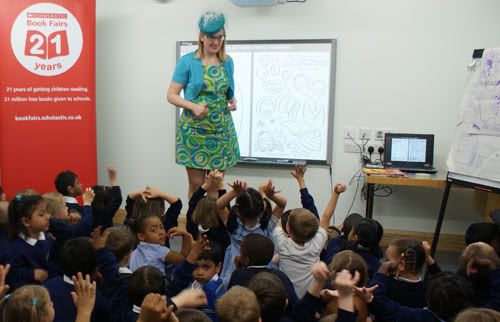 Thanks to Sarah and Laura, who gave us a tour and were a big help in running between all the different classes.
And another thanks to the headmaster, who hosted us and kept a room full of us entertained before the library opening.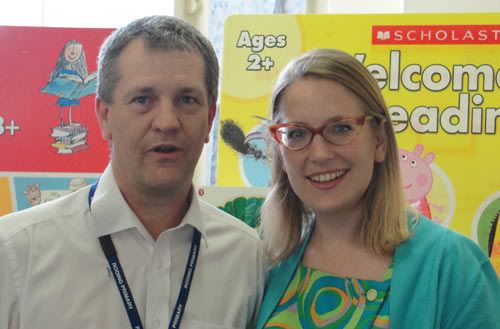 A good day, I could get used to this princess thing!