pirate shenanigans at imagine children's festival!
Wow, yesterday was a BIG day! I'm still feeling a bit overwhelmed by it all, but in a good way. I led three storming pirate events for the IMAGINE Children's Festival at the Royal Festival Hall on the Southbank. It's running for another week, so if you're around London, do have a peek at their great line-up! Here's a picture I drew just before my first workshop event:
And then there was a huge stage event! It was PACKED! At least 500 kids and their families. It's one of those times when I think, wow, when I decided I wanted to make children's books, I never even dreamed this would be part of the job.

Photo by Lauren O'Farrell
And it was great having some familiar faces in the audience. Here are fellow tweeters, my studio mate @deadlyknitshade and @_MissLWS. Oh, and the festival hashtag is #ImagineFest.
When I do smaller events, I tend to let the kids direct me in what I draw, but since there were just so many people, I thought I'd try doing a step-by-step drawing with them, of Captain Waffle from You Can't Scare a Princess!. I was amazed how well even the youngest of the kids seemed to keep up with me, and I was thrilled at the end, when I had people hold up their drawings to show me, and there was a sea of pirates, all slightly different and funny and quirky, but all totally AWESOME.

Photo by Lauren O'Farrell
A lot of the kids came and showed me their pirates when I was doing the signing and I'm sad I didn't get photos of more of their drawings. But here are a couple (ooh, those two look familiar again!):
Here's our pirate from the first workshop, that the kids helped me draw before designing their own pirates. Meet Cap'n Fish-hat Pong! He's eating bogey-covered chicken on toast, and no, that wasn't my idea, the kids get full credit for that one.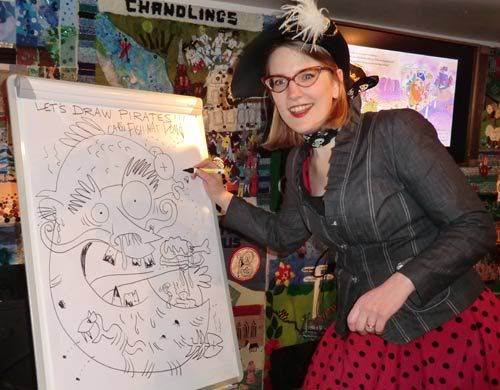 Photo by Catherine Stokes
Just a note, if anyone wants more of the activity sheets from the event, I have free, downloadable, printable activity sheets for each of my books over on my website, just click on the book cover to find the sheets for each book.
Scholastic UK have this great way of mixing round publicists, editors, marketing people, etc at events. So it's not uncommon to get an editor coming along with me instead of a publicist, and it's great, because they get to see how things work in a different side of the business, and I get to hang out with an editor for the day. Yesterday, I got the head of Scholastic! Publishing Director Lisa Edwards came along with me, and she totally helped me rock the house. Thanks so much, Lisa! (She's @Redwoods1 on Twitter.)
Here we are, having ginger beer. Which seemed like an appropriate piratey drink when I thought of Polly from the Narnia book, The Magician's Nephew, who loved to drink ginger beer while she wrote her stories in the attic: She had often drunk a quiet bottle of ginger-beer in there: the old bottles made it look more like a smugglers' cave.

Photo by Lauren O'Farrell
Ha ha, it wasn't a 'quiet bottle of ginger-beer' at all all, the Royal Festival Hall was heaving. Here's Cap'n Skeleton Smelly-breath from my first workshop. He has a big pie on his head, also not my idea, but a cracking one, all the same!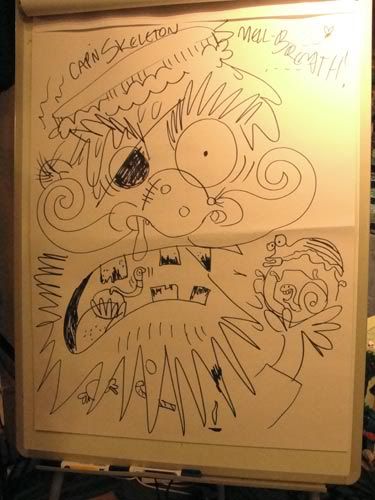 Photo by Lisa Edwards
I never in a million years would have thought of myself as an actor, but when it's my books, I know the characters pretty well, and what I'm doing with them in the books is kind of like making them act. So I have to get into their heads, and it seems natural to pull a Princess-Spaghetti-style strop on stage.
I actually used to be quite shy, this is all a bit weird, but cool, too. Now I really like doing stage events, it's fun to hear when something in the book or performance works and makes everyone laugh or get very quiet and go big-eyed. And it feels good to know I'm learning and picking up new ideas each time I do it. It's fun trying new things.

Photo by Lauren O'Farrell
One of the great things about a festival is getting to see the other acts! Here's the very funny, wildly energetic writer of Astrosaurs, Cows in Action, Slime Squad, Doctor Who novels and loads more books, Steve Cole… in action! Steve's a great friend, we've done occasional events together (such as the Make-a-Monster Mega-Challenge!) and he's very skilled at getting kids to come up with their own story ideas.
I got to meet several people I'd only ever chatted with online, including Zoe Toft (@playbythebook on Twitter), who runs a great blog about children's books and activities they inspire. Her daughter's a big fan of Vern and Lettuce, yay! Here's she's wearing amazing writer Geraldine McCaughrean's pirate hat. I need to give Geraldine back her hat soon, I've been borrowing it for an awfully long time and she has Peter Pan in Scarlet events to do. Give me a shout, anyone, if you see a quality pirate hat for sale anywhere! (Or if you have a good one you want to off-load on me…) 🙂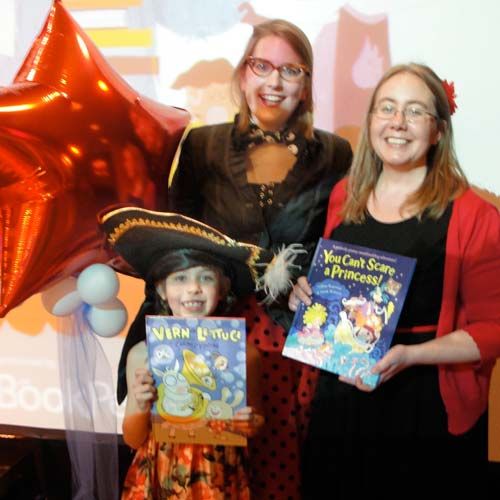 Photo by Lauren O'Farrell
Lauren, Laura and I stuck around to watch Steve's event, and Laura said she's definitely coming back to the Royal Festival hall next weekend for more festival fun. Lauren just gave me A LOOK. Ha ha…
I'm incredibly grateful to organiser Ruth Huddleston who invited me, the fabulous people who helped me set up for events and cleared up afterward and dealt with all the tech stuff, The Book People who sponsored the events, Foyles bookshop for supplying my books, my Scholastic publicist Catherine Alport who organised me before the event, and Lisa Edwards, who looked after me on the day and was such great company. Thanks so much, everyone!